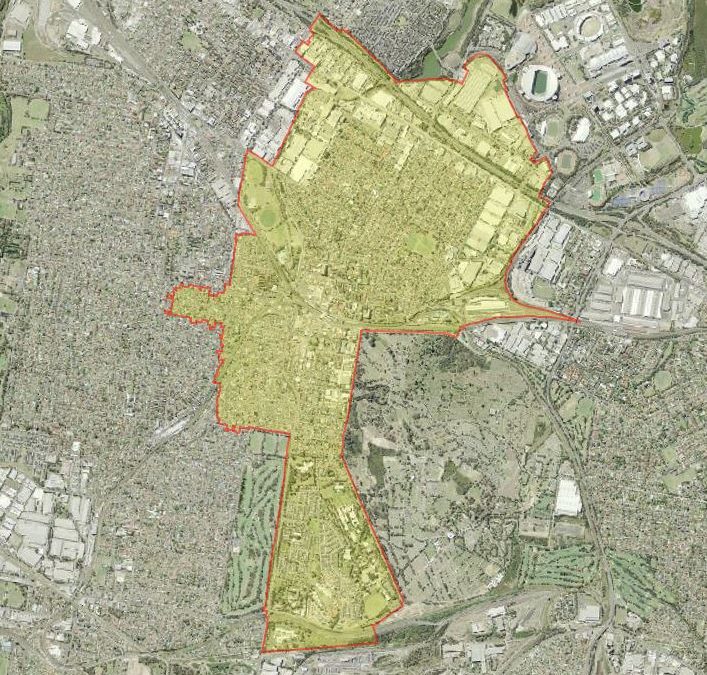 Aerial photograph of Lidcombe (Source: Six Maps)
Few towns have enjoyed as many names during the course of their existence as the present township of Lidcombe. Originally, it was Haslem's Creek (1859),a station bearing that name having been opened when the railway line from Sydney to Parramatta Junction was built. Samuel Haslem was the owner of various land grants intersected by the creek, which the railway line crosses near Lidcombe station. Haslam's Creek name was changed to Rookwood in 1891. It was renamed as Lidcombe (Lid+Combe) in 1914 after two mayors Frederick Lidbury, 12 years as an Alderman and twice Mayor and H. J. Larcombe, 26 years as an alderman and 8 times Mayor. Lidcombe was merged into Auburn Council in 1949. In 2016 when the new councils emerged, Lidcombe became a part of Cumberland Council and City of Parramatta Council.
The first land transaction in Haslem's name is a lease of one acre on the Parramatta River, and the date is 11th August 1804. Subsequently he obtained grants of 50 acres on 1st January, 1806; 50 acres on 8th October, 1816; and a later grant on 19th October, 1831. The second grant faced the creek now generally known as Haslem's Creek; then, however, it was called Hacking Creek. The bridge carrying the Parramatta-Sydney Road over the creek was known for many years as "Haslem's Bridge." Haslem was a member of the old Loyal Sydney and Parramatta Association. He also held a war license, and apparently dispensed that cheerful medicine at his farm on the Parramatta-Sydney Road. It would appear, too, that he had opinions of his own, for on one occasion he bought himself into prominence by questioning the decision of the Bench on some matter of public interest, and was soundly berated by that august body for his pains.
Lidcombe is a suburb in Cumberland Council. Previously it was a part of Auburn Council. The traditional lands of the Darug people. By 1828, land in this area had been granted to free settles and ex-convicts. Land was granted to free settlers and to ex-convicts. Most grants were small, often only 30 to 100 acres, and were awarded to people such as the government official Edward Gould, the merchant Henry Marr and John O'Donnell. Larger grants went to prominent merchants and officials, such as Joseph Hyde Potts, who was given 410 acres. The area was then known as Haslam's Creek.
The railway to Parramatta junction, now Granville, was opened in 1855. Haslam's Creek Station was opened in 1859. After much debate as to the routing of the line further west, it reached Parramatta in 1860. The Tooheys Brewery adjacent to the Haslam's Creek Bridge to the south of Parramatta Road opened in the late 1970s, replacing the company's breweries at Taverners Hill near Leichhardt and Central Station. Haslam's Creek Post Office opened in 1858.
Agriculture did not thrive in the area, and the slaughtering of livestock was one of the earliest significant industries in the district. The Sydney Meat Preserving Company was established where Haslam's Creek met Parramatta Road in 1869. Wright's glue works factory was established using animal by products from the Sydney Meat Processing works at Lidcombe from 1890.
Lidcombe Town Hall:
Lidcombe Town Hall foundation stone was laid in 1896. In 1916, a State Abattoir complex was opened – the actual buildings were situated close to where the Olympic Park Train Station is situated (this was, originally, the station where the livestock were unloaded). Carter Street and Uhrig Street site was used as part of the State Abattoir stock yards, up until the mid-to late 1960s. Abattoirs developed at Lidcombe to replace the public abattoir at Glebe which featured prominently in the Royal Commission into Noxious and Offensive Trades in 1882.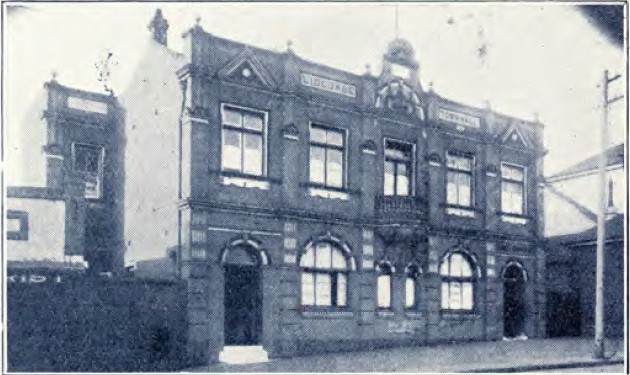 Lidcombe Town Hall (Source: Lidcombe Gala Week Program)
Lidcombe Hospital:
The first buildings were constructed at Lidcombe Hospital during the period of 1885 – 1887 and were to be used as a Boys' Reformatory and a model farm. This would have been the first boys' reformatory in New South Wales but did not open due to the lack of security. The buildings consisted of a magnificent Victorian Mansion to be used by the Superintendent, a large dining hall/kitchen, 4 dormitories and a small herdsman's cottage. Most of these buildings remained empty for 6 years except for the superintendent who lived in the Victorian Mansion and some farming staff who were employed there to grow crops.

Lidcombe State Hospital and Home (Source: State Archives and Records)
Rookwood Cemetery:
By the mid-nineteenth century, Sydney needed a new cemetery. This was a perfect site where soil was suitable for the digging of graves. After examining a number of sites for a new cemetery, on 15 August 1862 the government accepted the offer by Cohen and Benjamin of a large area of land at Rookwood.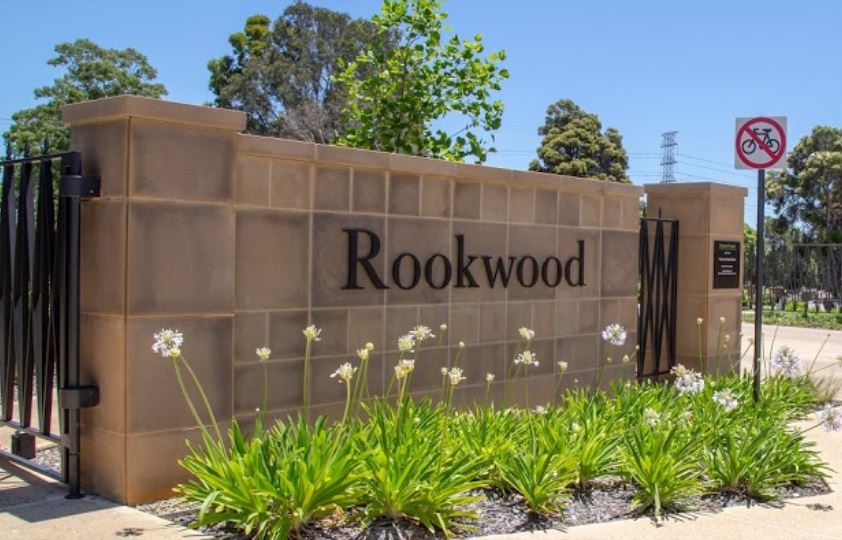 Rookwood Cemetry (Source: Neera Sahni)
To cater for travel to the new cemetery, a branch line of the western railway was constructed and completed on 26 May 1897. The last funeral train service ran on 3 April 1948.  Gravediggers, stonemasons and people involved in the funeral business were needed, so the development of Haslams Creek was approved as a new township.
And although Rookwood was developing as a village in the late 1870s, there were still few stores. The Post Office Directory for 1878 listed Alfred Abbott as dealer at Rookwood, along with Simeon Gazzard's refreshment rooms, Ann Godfrey's store, and Bernard Gormley's and Henry Moore's pubs.  In March 1879, the first retail butcher, a man named Onus, started trading, and Cornwell started his butchery later in the year.  Bernard Gormley, a cattle dealer at Rookwood, commenced business as a storekeeper about 1881.  He also built the Railway Hotel at Rookwood, first licensed in 1876. By 1890, its license was held by Joseph Abrahams. The Royal Oak was built by S Gazzard around 1878.
The main groups to settle in this township were workers. They tried to stay close to work place and started building homes. Frederick Lidbury was one of the first residents, who moved to Rookwood about 1893 and built a large Gothic two-storey stone mansion opposite the cemetery. He had been manager of the decorating department of James Sandy from about 1882. He became active in local government and was Mayor of Rookwood on a number of occasions.
The State Abattoir Slaughterhouse and The Sydney Meat Preserving Company:
Until the mid-19th century, the killings of animals for meat in Sydney was carried out by private slaughterhouses. The State Abattoir Slaughterhouse was opened in 1869 and was in operation till 1930s. Alban Gee was Manager from 1872 to 1917. By 1920s this abattoir was one of the largest in the world employing 1600 employees with a killing capacity of upto 20,000 sheep, 1500 cattle, 2000 pigs, 1300 calves per day. With 117 cool rooms, this abattoir could store 23,000 carcases of mutton, 3000 of beef, 5000 of veal and 4000 pork.
The abattoir produced an array of by-products from the slaughtering process. Bullock hair sold for furniture upholstery, bullock hooves exported to Japan for working into 'tortoiseshell', cat-gut made from sheep intestines, shank bones used for cutlery handles, horns for buttons and so many other households, medical and domestic products. After 1930s it became a part of the F.J. Walker Group (1910-1983) in 1983 company was taken over by Kimpton Minifie McLennan Limited (a subsidiary of Elders IXL).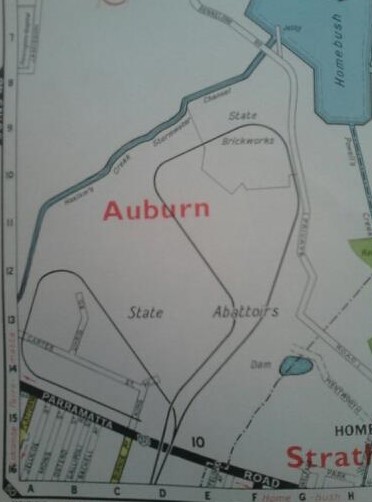 The State Abattoir site (Source: Gregory's Directory, 1966)
Wright's glue works factory:
Factory using animal by-products from the Sydney Meat Preserving Works at Lidcombe from 1890.
Bennett's Boot Factory:
Boot factory operating near Sydney Meat Preserving Works in Lidcombe in 1890.
Tooheys Brewery adjacent to the Haslam's Creek Bridge:
Tooheys is a brewery in the suburb of Lidcombe. It produces beers and ciders under the Tooheys and Hahn Brewery trademarks. This brewery was started by brothers John Thomas Toohey and James Matthew Toohey who were Irish immigrants. After arriving to Australia, they settled in Melbourne and ran pubs there before moving to Lidcombe in 1967. In 2009, Japanese Kirin Company took over Toohey as part of the Lion beverages group.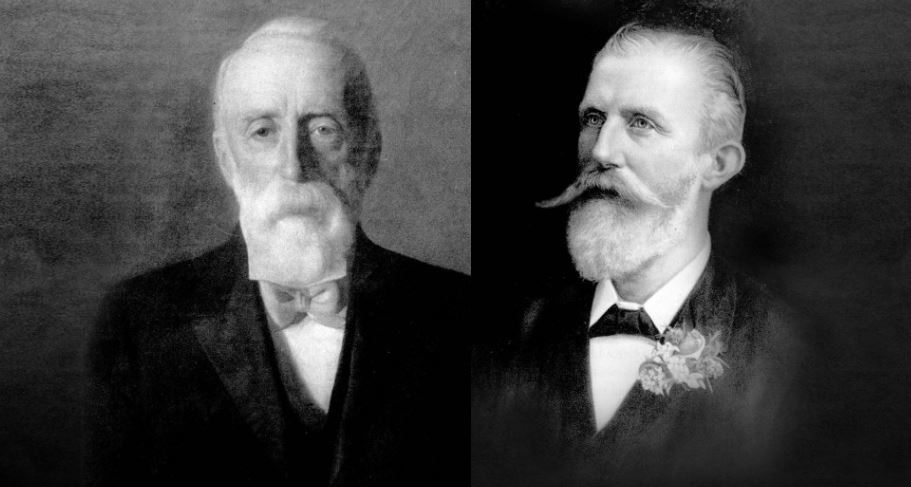 Toohey Brothers – John Thomas Toohey and James Matthew Toohey (Source: Toohey's website)
Alban Gee:
Alban was a technologist and company manager of The Sydney Meat Preserving Company from 1872 to 1917. He implemented advanced meat preserving techniques. He was engaged in the meat preserving trade practically the whole of his life.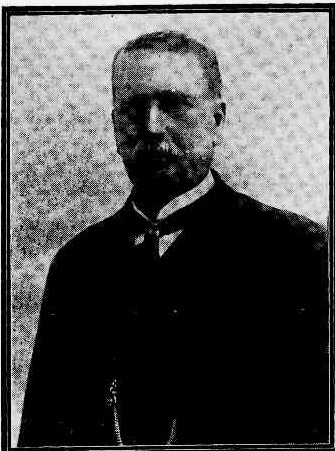 Ablan Gee (Source: National Library of Australia)
Alban was born in Cheshire, England in 1847 and died on 21 April 1917. Alban Gee came to Australia in 1866 as a technologist for C.G. Tindal's meat canning plant in northern New South Wales. He was manager of Australian Meat Preserving Company, Ramornie, Clarence River in 1868 and then moved to Melbourne as manager, Melbourne Meat Preserving Company. He returned to Sydney in 1872 as General Manager, Sydney Meat Preserving Company. This preserving company, in one year, got through 1,250,000 sheep and 10,000 bullocks. He lived in Auburn and Homebush. He was Mayor of Granville and Lidcombe.
Alban died at the age of 70 on 21 April 1917 at his residence at Homebush. He left a widow and seven children. Two hundred relations and friends of late Alban Gee attended his funeral.
Samuel Haslam:
Samuel the son of Samuel Haslam and Ellen Gratton. He was born in England and was Baptised on 9th November, 1766 in Derbyshire, England. Samuel had seven siblings. He was 33 years old when convicted for a term of 7 years for sheep stealing. Arrived in Sydney as a convict on 18th May, 1798 on Barwell, East India Company ship.
The first grants, in 1793, was in the vicinity of today's Homebush, Lidcombe, Auburn and Strathfield area. Samuel and his family were subsequently granted additional portions of land further east, to the south of Parramatta Road. Haslam's Creek is named after Samuel Haslam in the early 19th Century. Haslam's Creek flowed into Homebush Bay on the Parramatta River. Haslam's Creek Bridge is now on the New South Wales heritage register. Samuel got married to Maria Davis and they had 4 children.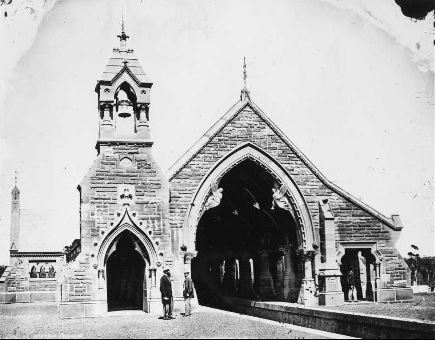 Haslem Creek Cemetry Station 1865 (Source: State Rail Authority of New South Wales Archives Section)
Samuel was granted a "Beer Licence" for an Inn on Parramatta Road in 1811. It served travellers between Sydney and Parramatta. Part of Samuel's grant now forms some of Rookwood Cemetery. Samuel died in 1835.

Neera Sahni, Research Services Leader, City of Parramatta, Parramatta Heritage Centre, 2020
References:
A Brief History of The Auburn Area, The Auburn District Historical Society Inc.
The History of Granville 1919, Thomas Fowley
To Feed a Nation: A History of Australian Food Science and Technology, Keith Farrer
https://books.google.com.au/books?id=CJwsXU5sFqYC&pg=PA35&lpg=PA35&dq=Alban+Gee&source=bl&ots=NJNLCS0pKU&sig=w9njKbDVH3xNV5o4nSrH6ZBb5Tk&hl=en&sa=X&ved=0ahUKEwji592u7dHaAhUB2LwKHW2eCg8Q6AEIRjAG#v=onepage&q=Alban%20Gee&f=false