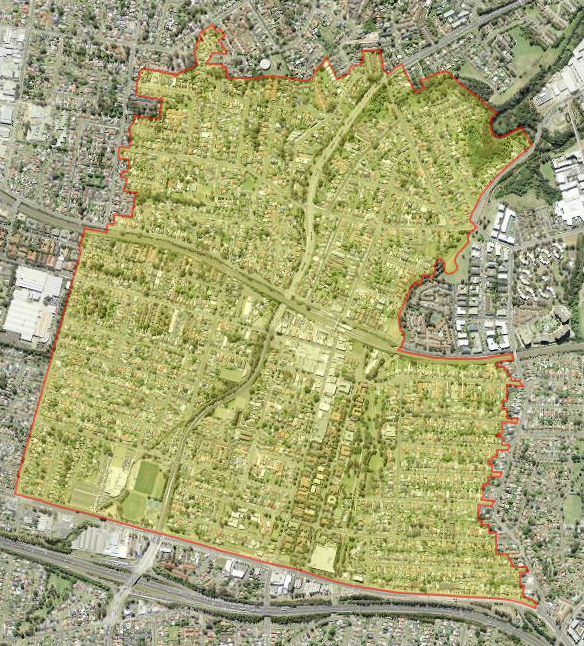 Wentworthville Aerial Map (Six Maps NSW)
The traditional custodians of the land are the Boolbainora clan of the Durag people.
Wentworthville is a suburb west of Parramatta.  Named in honour of D'Arcy Wentworth a well-respected and admired colonial surgeon and landowner.
Wentworthville is a suburb in Greater Western Sydney, in the state of New South Wales, Australia. Wentworthville is located 27 kilometres west of the Sydney central business district and is part of the Greater Western Sydney region. Wentworthville is part of both the local government areas of the City of Parramatta and the Cumberland Council.
The estimated population of Wentworthville in 2018 was 8084.
D'Arcy Wentworth
In 1796, Wentworth became assistant surgeon at Parramatta and later principal surgeon. He leased land which is today near D'Arcy Street in Parramatta. Then in 1799, he was granted another 6 acres in the same area.  Wentworth was an astute businessperson and became very wealthy. By 1821, Wentworth was holding grants that totalled 17'000 acres, he also had added to this with purchases.  This large estate was named, Fitzwilliam Place and the house that stood there, was called Wentworth Wood House.  Fitzwilliam Place was primarily used for grazing livestock. The Wentworth Estate covered much of what is now present day Wentworthville.
In the 1840's there was a great deal of traffic along the Western Rd, now the Great Western Highway. Traffic that passed on to the Wentworth Estate, today this is the corner of Ettagong Rd. William Fullager, the son of convicts saw this as an opportunity and leased a portion of land on the Wentworth Estate. This was in 1841 and was quickly followed by the opening of the Star Inn in 1843.  In 1845, Fullager opened cattle yards, these, over time became the main sale yards for the colony. The Star Inn became a hub of social activity during this time and attracting the patronage of judges such as Sir Alfred Stephen as well as other high placed legal professionals. The Inn was a convenient half waypoint on the legal circuit of the day. It also provided rest for graziers who were transporting their cattle. By 1890, there was no trace of the Fullagar's home, the inn or the yards.
Subdivisions become Westworthville Estate.
In November 1881, Thomas Richard Smith purchased 500 acres of land owned by Fitzwilliam Wentworth. This land was part of the land west of Parramatta Domain, named Fitzwilliam Place. The land was subdivided by auctioneer W. Pritchard and was to be sold as a Township. The land was given the name Wentworthville Estate and the auction occurred on the 17 December 1881.
The plots did not sell completely and a new set were divided up.  This now included land used by the old Fullagars Cattle Yards. These plots were marketed to the men working at the water supply construction at Prospect. There was a special train platform built to service the auction and this became known as the T.R. Smith platform.
In 1885 the Wentworthville Estate Lands and Building Company was established. They brought out the remaining land owned by T.R. Smith. After this, roads were constructed, and new houses were build. This was also the year the suburb was given the name of Wentworthville.
In the late 1890's the population of suburb, was still small and somewhat spread out. Even so, in 1891 there was seen to be a need for both a post office and a public school. After negotiations regarding land and staff, a post office opened in October 1890 and Wentworthville Public School in January 1891.
World War 1
More than 200 men enlisted to fight at the Front during World War 1, from the Holroyd Area, many from Wentworthville. After the war, the War Service Homes Commission purchased land on Fullagar's Rd Wentworthville. Fifteen homes were build and offered to twenty ex-servicemen in 1920. Some of these properties still exist today.
Bonds Manufacturing Ltd
Bonds Manufacturing Ltd, or just Bonds as it is known today, began as a small business in Redfern run by George Allen Bond. It specialized in importing hosiery and underwear. However, with the outbreak of the First Word War, Bond began to manufacture his own products. Business did well enough that he could expand and in 1920, George A. Bond and Co Ltd became a public company. Bond moved his family to home in Wentworthville and then his factory in the paddocks nearby.
The Bonds factory began production in 1923 and was the first cotton-spinning mill in Australia. They made a range of products including; stockings, underwear, sheets and towels. In the 1930's the famous Chesty Bonds singlet was manufactured in Wentworthville and at its height, it employed over one thousand staff from the Holroyd area. Despite hard economic times and long working hours, the staff at the factory were like family and many were connected though marriage. Post war the Wentworthville site expanded and it was only in 2010 that the factory closed. The site is now heritage listed.
Continued Growth.
By 1922, Wentworthville had a number of successful businesses. These included a blacksmith, a farrier, four real estate agents, three grocers, a bakery, two butchers, a bootmaker and a harness repairs shop. There was an open-air cinema in Wentworthville from 1915. The first film to be aired, was Woman with Charlie Chaplin.
A new theatre built in 1934, called, the Regent Theatre. This was situated on Station Street. In 1935, the suburb gained its first fire station. There had been a voluntary fire service in existence since 1920. Over five hundred people attended the opening ceremony of the new building. Despite this, and the innovation of electricity into the area, many residents still had drainage problems, travelled on dirt roads and most houses were not connected to the sewage system.
Today:
Wentworthville today is a small suburb of approximately 8084 people. It is a thriving, diverse, and young community. With 67% speaking a language other than, English at home and 47% having a university or trade qualification. Today, it is a suburb that is well serviced with schools, sporting facilities and other services.

Emma Stockburn, Research Facilitator, City of Parramatta, Parramatta Heritage Centre, 2020
References:
Holroyd: a social history of Western Sydney. Grace Karskens, NSWUPress, 1991.
Book of Sydney Suburbs: Frances Pollon, Angus and Robertson, 1988.
Wentworthville: https://en.wikipedia.org/wiki/Wentworthville,_New_South_Wales (Accessed 8/02/2020)
Aboriginal People and Place: https://www.sydneybarani.com.au/sites/aboriginal-people-and-place/ (Accessed 8/02/2020)
Darug Sydney: https://www.darug.sydney/history Source: http://www.historyofaboriginalsydney.edu.au/west/darug-clans (Accessed 8/02/2020)
The Star Inn and Sale Yards https://trove.nla.gov.au/newspaper/article/86273723?searchTerm=&searchLimits=l-publictag=Star+Inn+and+Saleyards (Accessed 8/02/2020)
Community Profile: Wentworthville: https://profile.id.com.au/cumberland/highlights-2016?WebID=290 (Accessed 8/02/2020)
Betty Bemrose
Thank you for a very interesting historical journey. Unfortunately the Wentworthville shopping centre over recent years is no longer the thriving community where families did all their shopping. A fire saw the demise of this sociable area. A new shopping centre with units sometime soon and also on the Bonds site.