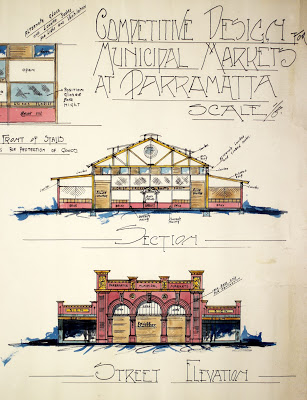 One of the market building designs submitted (Source: City of Parramatta Council Archives)
As early as 1920 Parramatta Council put forward a proposal to establish a municipal market in the centre of Parramatta. The proposal was to eventually create huge debate within the community.
What was it about the markets that caused such community interest leading to "one of the most strenuous municipal battles Parramatta has witnessed .." 1 accumulating in a referendum in the 1922 local elections where Parramatta ratepayers were left to decide if the market proposal should proceed?
When Council, in 1921, adopted the plan to build a municipal market for Parramatta it purchased the Southern Produce and Livestock Company sale yards land in George Street for £4000.
Council then invited competitive designs in April 1922 for a market building not to exceed an estimated cost of £5000.
Peddle and Thorpe Architects were informed by Council in May 1922 that their design was chosen as the winning design and was to be exhibited with others in the shop window of Murray Bros for public viewing and comment. In the true spirit of community participation the public did comment.
By October Peddle and Thorpe were informed by Council that work could not continue owing "to unforseen circumstances having arisen in connection with our loan"2
For Council to fund the cost of the construction of the market it needed to borrow the money. Ratepayers of Parramatta were opposed to Council borrowing such a large amount of funds and lodged a petition requesting a referendum be held to determine if Council should proceed. Enough signatures were gathered for Council to allow the referendum to proceed with the result being Council shelving plans for the construction of the market.

Neera Sahni, Research Services Leader, City of Parramatta, Parramatta Heritage Centre, 2020
References:
1. Municipal Elections Final Results. (1922, December 6). The Cumberland Argus and Fruitgrowers Advocate p.1 Retrieved August 9, 2013, from http://nla.gov.au/nla.news-article103305438
2. Letter Parramatta Council to Peddle and Thorp, 4/10/1922. Parramatta Council Archives. PRS30/037