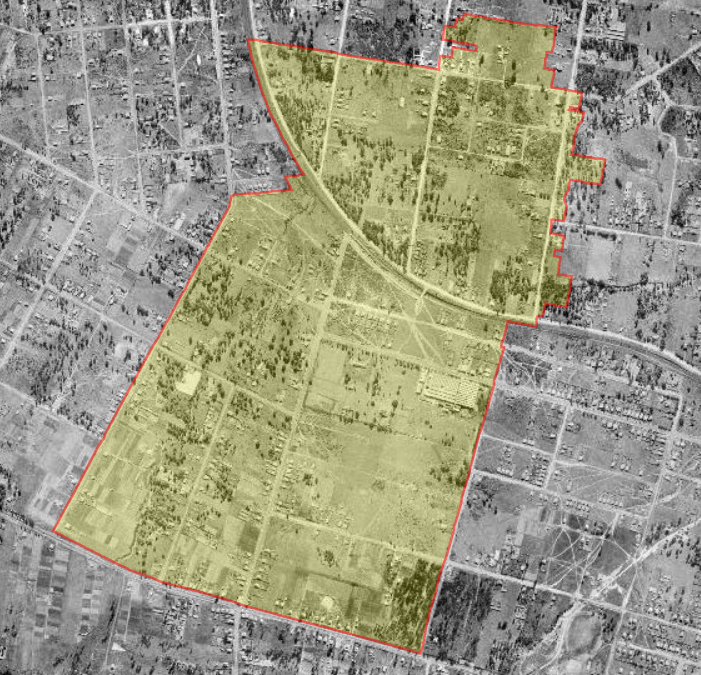 Aerial photograph of Pendle Hill. Source: Six Maps
The suburb of Pendle Hill is located to the north-west of the Parramatta CBD and since 2016, the suburb has been administered jointly by the City of Parramatta and Cumberland Council. The area included in the Parramatta Ward of the City of Parramatta lies to the north of the Main Western Railway Line and is roughly bounded by Burrabogee Road in the north, Binnalong Road to the east and Wentworth Avenue.
In 2016 there were 7,247 persons living in Pendle Hill as a whole. Of these 38.7% of people were born in Australia with the balance originating in India 20.1%, Sri Lanka 12.3%, China (excludes SARs and Taiwan) 2.0%, Philippines 1.8% and New Zealand 1.6%. Just under half of the dwellings were separate houses with 18% semi-detached or townhouses and 33% flats or apartments. [1]
In April 1788, Governor Arthur Phillip made a number of exploratory journeys in the area. Accompanied by a party of officers and marines, he reached Prospect Hill and viewed the surrounding country. Surgeon John White in his account of the journey noted that they camped overnight on the banks of a creek (now Pendle Creek) on 25 April, 1788. [2]
In August 1819, D'Arcy Wentworth was granted two large tracts of land in the area amounting to over 2,750 acres (1113 ha.). European settlers commenced clearing of the land for farming purposes seriously diminishing the supply of native plants and animals on which Aboriginal people relied.
In 1923, George Alan Bond, an expatriate American who had commenced an import business in Sydney prior to World War One, established a cotton spinning mill in Dunmore Street, Pendle Hill with the raw cotton being supplied by the two farms in Queensland owned by his company. By 1925, the factory was manufacturing 25 per cent of the country's output of hosiery and knitted goods. [3]
Originally known as Wentworthville West, the name of the suburb has been associated with Bond who brought out a group of workers from Pendleton in Lancashire, England however, according to post office records, the name Pendle Hill was in use from 1917, six years before Bond established his factory in the area. The railway station designated Pendle Hill opened between Toongabbie and Wentworthville on the Main Western Line on the 12 April 1924.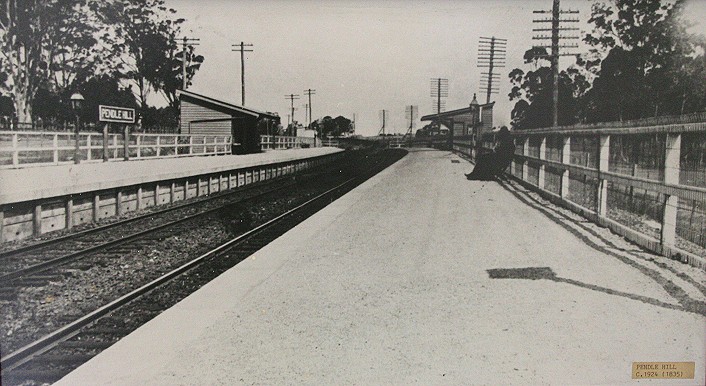 Pendle Hill Railway Station c. 1924 showing the original weatherboard station building. Retrieved on 17/01/2020 from https://www.nswrail.net/locations/photo.php?name=NSW:Pendle%20Hill:1?iframe=true
The combined effect of the new station and the establishment of the cotton mill stimulated residential development in the area. The Cotton Mills Estate comprising over eighty building sites was advertised for sale in March 1924 [4] and the Pendle Heights Estate of over one hundred lots close to the new railway station in February 1925. [5] In 1926, Blow's Pendle Hill Estate on the corner of Binalong and Burrabogee Roads advertised thirty-four building sites we advertised for sale by auction on 6 November 1926. [6] Residential land in the new subdivisions sold for under £100 per block.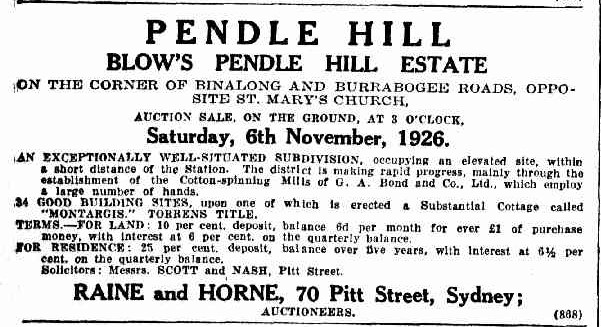 Blow's Pendle Hill Estate situated on the corner of Binalong and Burrabogee Roads was advertised for sale on the 23 October 1926. Retrieved on 15/01/2020 from https://trove.nla.gov.au/newspaper/article/245910660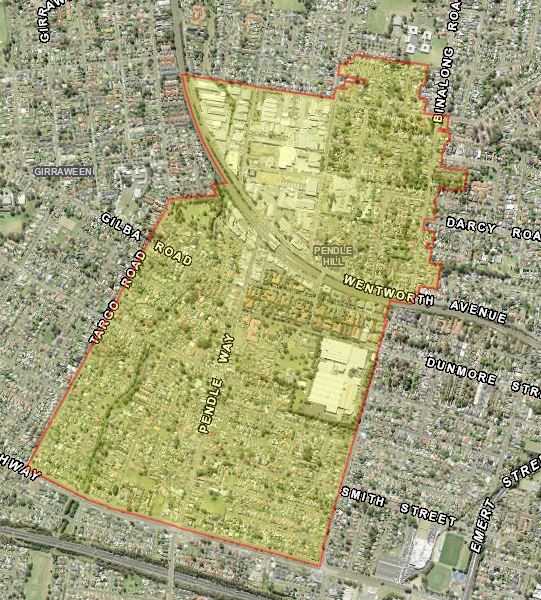 Aerial photograph of Pendle Hill in 1943 showing large areas of open space with housing subdivisions located along major roads. The large building south of the railway line is the Bond's factory. Retrieved on 15/01/2020 from www.six.nsw.gov.au
After the end of World War Two, the County of Cumberland Scheme instigated by the NSW state government in 1948 had a significant impact on the Parramatta area. The scheme was concerned with producing a regional plan to assign prescribed land use zones to enhance the efficient development of the area. Part of Pendle Hill bounded by Wentworth Avenue, Burrabogee Road and Bungaree Road was zoned 'A' for industrial uses, excluding residential housing within this zone. [7]
The growing population of the suburb after World war Two resulted in the provision of a public school in 1955 and a high school in 1965. Pendle Hill today remains a largely residential suburb with a mixture of single and medium density dwellings. An area of light industry is still located north of the railway line.

Cathy McHardy, Research Assistant & Neera Sahni, Research Services Leader, City of Parramatta, Parramatta Heritage Centre, 2020
References:
[1]        ABS Statistics for Pendle Hill 2016. Retrieved on 15/01/2020 from    https://quickstats.censusdata.abs.gov.au/census_services/getproduct/census/2016/quickstat/SSC13182
[2]        No author. (2014, October 19). First European Exploration of Parramatta, 22 to 28 April 1788. [Blog post] Retrieved on 15/01/2020 from http://arc.parracity.nsw.gov.au/blog/2014/10/19/first-european-exploration-of-parramatta-22-to-28-april-1788/
[3]        George Allan Bond, (1979). Australian Dictionary of Biography. Retrieved on 17/01/2020 from http://adb.anu.edu.au/biography/bond-george-alan-5285
[4]        Advertising. Cotton Mills Estate. The Daily Telegraph, 1924, March 22, p. 10. Retrieved on 17/01/2020 from https://trove.nla.gov.au/newspaper/article/245890467
[5]        Advertising. Pendle Heights Estate. The Daily Telegraph, 1925, February 18. P. 13. Retrieved on 15/01/2020 from https://trove.nla.gov.au/newspaper/article/245275936
[6]       Advertising. Blow's Pendle Hill Estate. The Daily Telegraph, 1926, October 23, p. 10. Retrieved on 15/10/2019 from https://trove.nla.gov.au/newspaper/article/245910660
[7]        Kass, T., Liston. C., & McClymont. J. (1996). Parramatta: A past revealed. Parramatta: Parramatta City Council. p. 369, 370.