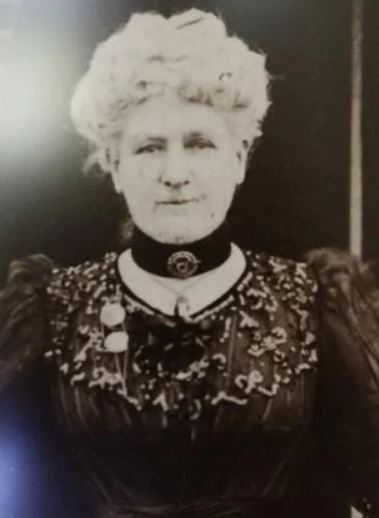 Portrait of Matron Maggie Gertrude Quinn of Parramatta Hospital for the Insane (Source: Parramatta Advertiser)[1]
Margaret 'Maggie' Gertrude Quinn was born on 9 February 1852.[2] She was trained at the Coast Hospital (later known as the 'Prince Henry Hospital, Sydney') in Little Bay, N.S.W. which was established by the Board of Health in 1881 as the first government controlled public hospital in response to an outbreak of smallpox. The Coast Hospital was also where the first complete ambulance service in N.S.W. was established given the isolated location of the hospital.[3]
Miss Quinn was first appointed in the N.S.W. Government service as of 1 November 1887.[2] On 1 January 1894, she was appointed Head Nurse.[3] Later that year in September 1894, Miss Quinn resigned from her position as Senior Nurse at the Coast Hospital to take the position of Matron of the Newcastle Hospital for the Insane where she also worked with Dr. Williamson.[4]
After two years, she was promoted upon the recommendation of the Public Service Board to be Matron of the Parramatta Hospital for the Insane from 2 November 1896. Matron Quinn was the first Australian trained Matron of the Parramatta hospital.[5]
She remained in Parramatta until under the Public Service Act 1902, Act no. 56, 1912, she retired on 13 March 1914. Prior to her retirement, there was a social gathering at the recreational hall of the Parramatta Hospital for the Insane to wish her a farewell in her retirement[4]

Anne Tsang, Research Assistant, Parramatta Heritage Centre, City of Parramatta 2020
References
A former matron at the hospital [Matron Maggie G Quinn] in Morris, Cathy. (2015, November 21). Cumberland Hospital Museum charts history of mental health treatment, Parramatta Advertiser. Retrieved from 

https://www.dailytelegraph.com.au/newslocal/parramatta/cumberland-hospital-museum-charts-history-of-mental-health-treatment/news-story/e1f17994f8c831fc57ea820441d5b7f4

 

 

State Records Authority of New South Wales (1906). Public Service Lists 1906 (Blue Books). Returns of the Colony; Series: NRS 1286, pp. 4-5. Kingswood, N.S.W. Available online via Ancestry.com.
Government Gazette appointments and employment (1896, October 30). New South Wales Government Gazette, p. 7833. Retrieved March 21, 2020, from http://nla.gov.au/nla.news-article222365524
Social. Presentation to Miss Quinn. (1913, June 7). The Cumberland Argus and Fruitgrowers Advocate, p. 11. Retrieved March 21, 2020, from http://nla.gov.au/nla.news-article85970453
Smith, Terry. (1996). An overview of the history of 

Cumberland

 

Hospital. Westmead, N.S.W. : Wistaria Fete Committee, p. 23