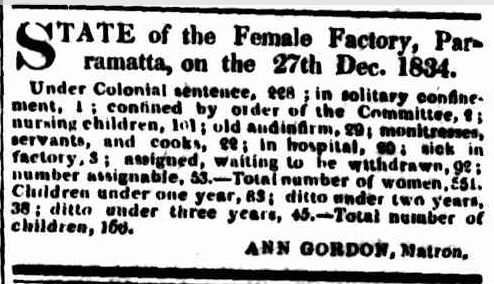 Sydney Herald, 5 January 1835.
Ms Murphy, was a free immigrant who was employed as a midwife at the Female Factory in Parramatta in 1835.
According to records, she had qualifications and references as to her position. Margaret didn't serve for very long as the midwife at the Factory and left the same year, in 1835.

Emma Stockburn, Family History Research Facilitator, City of Parramatta, Parramatta Heritage Centre, 2020.
References
Potter, Lesley; Mistress of her Profession: colonial Midwives of Sydney 1788-1901, Anchor Books, 2017.
Gail Hendriksen, Dr Carol Liston, Women Transported: Life in Australia's Convict Female Factories, Parramatta Heritage Centre, 2008.
Salt, Annette, These Outcast Women, The Parramatta Female Factory 1821-1848, Hale and Iremonger, 1984.
STATE of the Female Factory, Parramatta, on the 27th Dec. 1834. (1835, January 5). The Sydney Herald (NSW : 1831 – 1842), p. 4. Retrieved April 2, 2020, from http://nla.gov.au/nla.news-article12851253