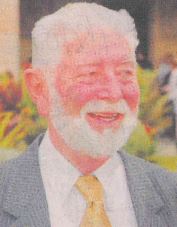 John Edwin Mcclymont was born on 29th December, 1927 at 9 Dora Street, Mayfield, a suburb of Newcastle, New south Wales, the eldest child and only son of Robert and his wife, Emily Hendy (Hemmings).  His father, of Walney, Lancashire, was the son of a Scottish family, from Glasgow, and  was a boiler-maker who worked at Walsh Island Dockyard and Engineering Works, Newcastle, when John was born. John had two sisters, Patricia (Pat), and Jean.
After an education at Newcastle  Boys High School, Waratah, John gained a Department of Education scholarship at Sydney Teachers' College in 1945. He moved to Sydney, where he boarded with his mother's Eastern Star friends, the Ibbertsens at Five Dock. Emily, John's mother, was, for a time,  the Worthy Matron of the Mayfield Chapter of the Order of the Eastern Star, which had been founded in Mayfield with the help of Robertina McClymont, John's grandmother, who was a member of the Supreme Grand Chapter of Scotland and England.
John's boyhood activities with the Sea Scouts led him towards a career in recreation and he undertook a three year Diploma Course in Physical Education at the College. During this period he also had the opportunity to assist on the staff of the National Fitness Camps, a movement set up in 1941 by Mr Gordon Young, Director of Physical Education, which was still in its infancy.
Bushwalking, particularly in the Blue Mountains and Barrington Tops, became a great love while he was at the College, and with three friends, Frank Fielding, Malcolm Chesworth and Joe Bagnall, they founded, and he was elected the foundation President of the Teacher's College Kameruka Bushwalking Club. The aims of the club being to provide bushwalking facilities by holding regular walking and camping trips and to encourage conservation of the natural flora and fauna.
In 1946, John met a 3rd Year Physical Education student at the College, who shared his keen interest in bushwalking and was also a National Fitness Camper. Her name was Beverley Johnstone, and in 1947 they became engaged, and married on 17th December, 1948.
John and Beverley's first child, a daughter, Adrienne Jill, was born on 22nd October 1950 at Macksville, where John and Beverley both had teaching appointments at Macksville High School
The family returned to Sydney in 1952 when John was appointed to the National Fitness and Physical Education Branch of the Department of Education, in charge of the Three Day Camping Programme. A revised Physical Education curriculum had been introduced and attendance at school camps was increasing. John was soon promoted to Camps Supervisor at the Branch, in charge of the Department's  Camping Scheme. He was only 25 years of age at the time.
His enjoyment of the outdoors continued when he joined the Army Reserve (CMF), in the Royal Australian Engineers, 33 Small Ships Squadron, as a sapper. He thrived in this activity and was seconded to the Regular Army, as Lt McClymont and soon after completed a mission to Japan to bring back four LSM's (Landing Ship Medium). He completed his Captain's exams in 1962 and retired to the Reserve of Officers.
It was in 1962 also that John retired from his teaching position with the Department of Education and decided on a career in private enterprise. He took up a position as a Training Officer with the Ford Motor Company, Homebush.
Two sons, Robert Lachlan and Andrew James Lennox were born in 1959 and 1965, respectively, and the family moved to a larger house in West Ryde, opposite the Brush Farm which would become an abiding interest for Beverley.
During these years a shared interest in local history and architecture was developing for John and Bev, which led to them joining Parramatta and District Historical Society. They also attended WEA courses led by Ian Jack, Associate Professor of the History department of Sydney University, at Hawkesbury Agricultural College, Dr John Turner at Morpeth and David Millar at Bathurst.
A three year intensive Course in Local History conducted at University of Sydney with Ian Jack followed, and this resulted in their absorbing interest in local history becoming a passion.
The involvement with the P.& D.H.Society led to John and Bev becoming members of the Council. John was Treasurer for three years, then a Vice-President and President between 1984 and 1989. He was elected a Fellow of the Society in 1991, and in 1999 he was elected Senior Vice President of the Royal Australian Historical Society, where he had been a member since the mid 1970's, and had been nominated to the R.A.H.S.Council in 1989.
For many years John had been extolling, researching and writing about the history of Parramatta and in 1988 he was invited to teach a course at the Parramatta Evening College for the Bi-Centennial year. The course was called- "200 Years of Parramatta History" . the classes were extremely successful and in 1997 were expanded to include a guided walks programme as well.
During these years John was also giving lectures for the Sydney University Continuing Education Programme as well as numerous Historical Societies, Service Clubs and special interest groups.
This deep involvement with Parramatta's history culminated in winning a contract in 1991 with two historians, Carol Liston and Terry Kass to write the official history of the city. The book, "Parramatta: A Past Revealed " was launched by Premier, Bob Carr, in 1996.
It was enthusiastically reviewed and received, and in 1997 it won the National Trust Award for the most outstanding book published during that year. In 1998, John was awarded the City's Achievement Award for Services to history, and in 1999, he was nominated and accepted as a Fellow of the Society, FRHS.
In 2001, John produced the first in a series of Pictorial Histories, "A Pictorial History of Parramatta and District"  and was also awarded a Centenary Medal,  a Medal introduced by the Prime Minister, John Howard, to acknowledge those who contributed to the success of Australia's first hundred years as a federal nation.
Following the publication of the first of the Pictorial Histories, John began work on the second,  "A Pictorial History of Baulkham Hills Shire" which was published in 2003, and soon after that he began work on a biography of one of Parramatta's colonial architects, James Houison (1800-1876).
His many years of service to Parramatta and Australian history were recognised with the award of the Order of Australia Medal in 2005, and about this time, John also began writing an article on the history of the suburb of Camellia, which he contributed to the Dictionary of Sydney early in 2007. He also completed his biography of James Houison, titled  "James Houison 1800-1876 : Parramatta's Forgotten Architect"   early in 2007.
On 14th February, 2007, John's 98 year old mother, Emily, passed away, and it was only a few months later on 3rd July, following a sudden illness, that John too passed away, just a few months short of eighty years of age.
This brief outline of John's life is extracted from notes given to Geoff Barker, Alison Lykissas and Noela Vranich by John's wife, Beverley McClymont during a visit to her home on 15th January 2016.

Neera Sahni, Research Services Leader, Parramatta Heritage Centre, City of Parramatta, 2020
References
John McClymont History Award, An Award given to the top History student in the Parramatta District, http://www.parra.catholic.edu.au/news-details/latest-news-global/catherine-mcauley-student-honoured-for-excellence-in-hsc-history-units
James Houison 1800-1876: Parramatta's Forgotten Architect, http://trove.nla.gov.au/work/32525671?q=john+McClymont&c=map
John McClymont, Parramatta & District Historical Society Incorporated, 2010, Architects
John McClymont, Carol Liston, Terry Kass, Parramatta: A Past revealed, 1996