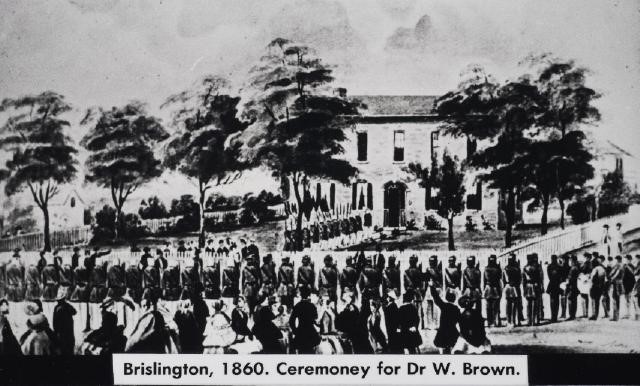 Brislington, north west corner of George and Marsden Streets, Parramatta, view of a ceremony with military figures conducted in front of house, from a sketch, 1860 (Source: Local Studies Photograph Collection – LSP00613)
John Hodges was transported to the colony in 1806, escaped in 1807 but was recaptured in Timor, and returned to Port Jackson. Subsequently pardoned by Governor Macquarie, he became a landed proprietor and was eventually granted a liquor licence in 1821.
Early Parramatta history has it that one night, ex-convict John, won the sum of £1,000 pounds in a game of euchre at the original Woolpack Hotel, situated on the north/east corner of George and Marsden Streets, in 1821.
The story goes that John, having won the money with the use of the '8 of diamonds' incorporated the '8 of diamond' pattern into a black brick mosaic pattern on the rear wall. This pattern still remains and can be easily seen. The building is a solid dark brown brick residence set well back on a large raised block of land in about 1¼ acres. The entrance being central opposite the small front gate. A very large fig tree shades the dwelling on the southern side. The roof was of galvanised iron, above which brick chimneys appeared towards the rear. A surrounding fence comprised of white painted wooden tapered pickets. The residence comprised of four rooms downstairs and four upstairs, approached by a wooden interior staircase. The floors are of solid wood. The outhouses, kitchen and pantry, servants quarters and bedrooms, a four stall stable and coach house, and a private water supply from a small well, (one of the first in the town) have all been subsequently demolished. Later a verandah was added on the southern side, replacing the original entrance.When Hodges was found guilty of stealing stones from the Government Quarry amongst other misdemeanours, he was forced to sell the property. The following advertisement appeared in the "Sydney Gazette" on 14th April, 1825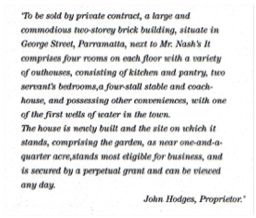 The property was purchased by Sir Wigram Allen in about 1840. He later sold it to a Dr. W. S. Brown, a Medical Practitioner in 1857, whose son followed in 1888, and subsequently his grandson, Dr. K. S. Macarthur-Brown who also practiced medicine, while residing in Brislington.
During the mid-1960 the dwelling was utilised by the State Government as a nurses home for the nearby Parramatta Hospital.
Brislington is the oldest two-storey residence within the city limits of Parramatta.The property has been recognised as being of historical significance due to its association with notable people, playing a major role of colonial and state government in Parramatta.It was resumed by the New South Wales Government who, after letters and requests, finally restored it in the late 1990's to its former glory. 
The Medical & Nursing Museum was put together in November 1983 in response to Parramatta Council's request to have a display on medicine. The Board of Directors made funds available for the establishment of the display, and members of the Graduate Nurses Association and other interested locals have been volunteer workers and guides for 30 years.
Brislington Medical and Nursing Museum pays tribute to a by-gone era, shows a "then", and "now" picture of Medical Science and Hospital Care in Parramatta.
Timeline:
1819:    Ex-convict John Hodges purchases land where Brislington House now stands.Hodges wins £1,000 in card  game at Woolpack Hotel.
1820:   Construction of the two storey house is commenced.
1821:    The house is completed.
1825:    Hodges advertises the house for sale, "a large commodious two storey red brick building comprising four rooms on each floor with a variety of outhouses".
1840:   Sir George Wigram Allen purchases the house and property.
1851:    Thomas Robertson resides in the house.
1857:    Local Doctor Walter Brown purchases Brislington House from Sir George Allen. Dr. Brown names the house, "Brislington", after the suburb in Bristol, England. The Port Jackson Fig tree on the property was there when brown moved in.
1858:   Dr. Brown marries Sigismunda, and they set-up a doctors' surgery in a down-stair front room.
1889:   Dr. Walter Sigismund Brown (second son of Walter Dr. Brown) marries Margret Macarthur and they take over the Brislington House residence and practice.
1890:   Keith Sigismund Macarthur Brown, (son of Walter and Margret) is born at Brislington House.
1897:    Dr. Brown dies, wife passes away in 1903.
1915:    Dr. Keith Macarthur Brown graduate from Sydney University Medical School.
1916:    Dr. K. Macarthur Brown marries Ayesha Borthwick and they reside in Brislington.
1919:    Dr. Keith Macarthur Brown after active service with the A.I.F. returns to Brislington as Dr. K. S. Macarthur Brown.
1947:    The Brown family, still in residence, are informed that the Parramatta Hospital will be resuming Brislington for expansion after 92 years of family occupation.
1949:   Brislington House becomes part of the Parramatta Hospital, nurses quarters.
1970:    White ants and borers create major damage. Plans to demolish the structure are considered.
1977:    An estimated $40,000 to 50,000 would be necessary to restore the building.
1983:   The Heritage Council issues a "preservation order" on Brislington.
1990's:   Brislington is saved and is utilised as a Medical and Nursing Museum.

Neera Sahni, Research Services Leader, Parramatta Heritage Centre, City of Parramatta, 2020
References:
Taperell, Quentin, Taperell's Bicentenary Parramatta: Australia's Most Historic City, R. Bright and Sons, Fairfield, 1988, p31.
This is Parramatta, Cumberland Press, Parramatta, 1960, p41.