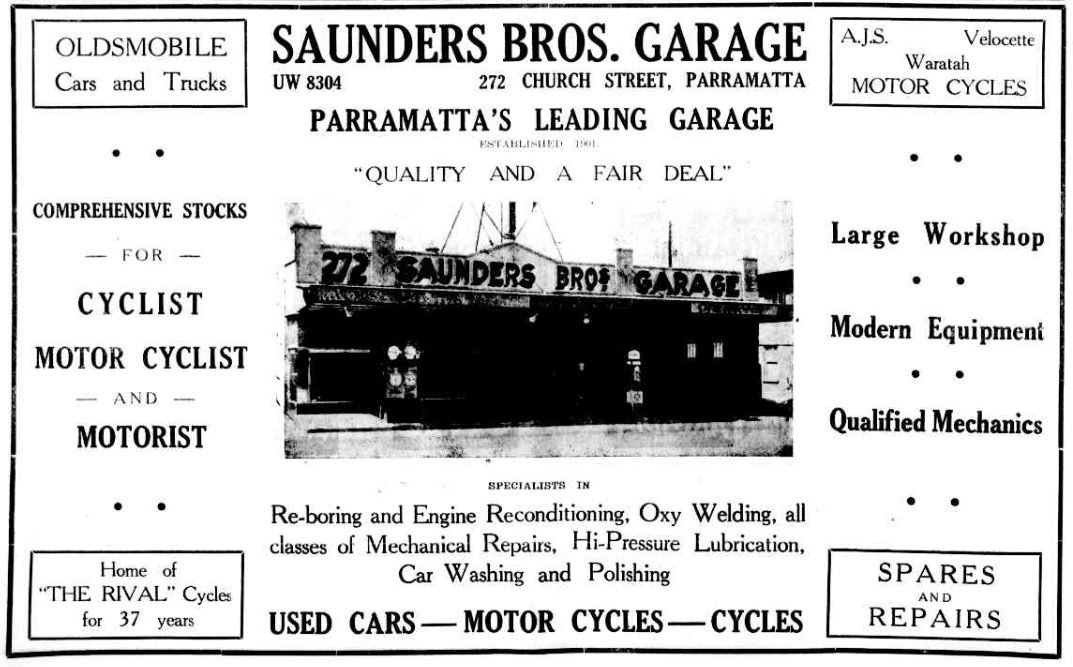 Advertisement for Saunders Bros. Garage, Church Street Parramatta (Source: The Cumberland Argus and Fruitgrowers Advocate)[1]
In 1900, Harold Oliver Saunders (1881-1946) and his older brother Norman John Saunders (1880-1979) took over their grandfather Oliver Saunders's (1826-1901) business in Parramatta. It was a gunsmith shop and Oliver Saunders was also a Justice of the Peace.
Oliver Saunders, J.P. was born on 21 October 1826 in Gloucestershire, England, the fourth child of John Saunders (1799-1875) and Mary Ann (nee Hole) (b.1801). In November 1839, his whole family arrived in Australia as assisted immigrants per the ship Orestes. On 17 November 1852, he married Mary Ann Ellis in Jerry's Plains where he also had a post office store until he moved with his family to Parramatta.  He was registered as the proprietor of a gunsmiths business first at Fleay's Buildings and later the former Mr. Alexander Johnson's tailor store in Church Street, near Mr H.R. Sainty's ironmonger's establishment corner Phillip Street, Parramatta from 1886 to 1902. After his death on 6 October 1901 at Royal Prince Alfred Hospital, near Newtown, aged 74, he was buried at the Jerrys Plains Old Anglican cemetery.[2]
An interest in cycling, led the brothers to build the first bicycle in Parramatta. This would lead to the manufacturing of 'The Rival' a bike that was used by the second, third, seventh and others to finish the Bathurst to Sydney road race in 1908[4] and won the event in 1922 when used by N.S.W. Road Champion Mr F. L. Post to win in record time.[5] They also built and produced the first motorcycle side car chassis in Parramatta and were agents for the 1929 A.J.S. Motor cycles and from 1925 to 1950, were agents for Velocette motor cycles for 25 years.
Around 1910, they expanded their business into the automotive industry with a motor garage workshop added at the rear of their cycle works store. Their enterprising business included a large workshop and showroom showcasing Holden, Bedford, Hupmobile cars (in 1922), Buick and Oldsmobile (in 1924), General Motors products (until 1934), Oldsmobile (1934-1940, exclusive). They were also agents for Qualcast British manufactured lawnmowers, and Lawnmaster motor motors, just to name a few.[6]
As motoring pioneers, they are credited as having the first petrol pump bowser installed, first hydraulic hoist used for lubrication of motor vehicles, and first fast-battery charger at their Parramatta garage. It was located in their shop at 272 (later renumbered 338-340) Church Street, east side in between Lennox Bridge and Phillip Street. This premise was the former site of Alfred Thomas Leabeaters juniors' Alfred Theatre.[8]
After the dissolution of the partnership between Harold and Norman on 1 July 1920 by mutual consent,[9] Harold would eventually bring in his children – Harold 'Leslie' Dugdale Saunders (1906-1969) and Reginald Olive Saunders (1910-1996) who had completed their motor mechanic apprenticeship with their father, as well as his daughter Winifred Fairless Saunders (the future Mrs. Robert Wellesley Bradley in 1940) (1904-1982) into his empire.
On 14 January 1946, Harold passed away in Parramatta Hospital after 50 years in the motor industry.[10] His sons Leslie and Reginald would inherit the business equally after returning and being discharged on 30 September 1945 from serving with the Australian Army, 19 Battalion Volunteer Defense Corps as Lance Corporal (service number N192033 and N192098 respectively) during the Second World War.[11]
On 28 October 1959, the business premises was sold to Scotts (Newcastle) Investments Limited[12] which after buying a number of neighbouring shops later developed into the former David Jones building, at 330 Church Street, Parramatta in 1962[13]. This is the current site of The Meriton Altitude towers which were completed in April 2017.[14]

Anne Tsang, Research Assistant, Parramatta Heritage Centre, City of Parramatta 2020
References
Saunders Bro's. garage [Advertisement] (1938, October 26). The Cumberland Argus and Fruitgrowers Advocate, p. 38. Retrieved from

http://nla.gov.au/nla.news-article104974035

Death of Mr. O. Saunders, J.P. (1901, October 9). The Cumberland Argus and Fruitgrowers Advocate, p. 2. Retrieved from

http://nla.gov.au/nla.news-article85832307

Saunders's gun exhibit (1892, May 7). Australian Town and Country Journal, p. 25. Retrieved from http://nla.gov.au/nla.news-article71237760; Oliver Saunders, gunmaker, and importer of guns, rifles, revolvers and ammunition, Church-Street, Parramatta, and at the manufactory, Whittan-Street, Birmingham, England. [Advertisement] (1900, October 6). Australian Town and Country Journal, p. 63. Retrieved from http://nla.gov.au/nla.news-article71385320
The "Rival" bicycles. (1908, August 22). The Cumberland Argus and Fruitgrowers Advocate, p. 4. Retrieved from http://nla.gov.au/nla.news-article85983779

Rival cycles [Advertisement]. (1922, October 14).

The Cumberland Argus and Fruitgrowers Advocate

, p. 9. Retrieved from

http://nla.gov.au/nla.news-article103306397

Pioneered growth of vast motor centre (1952, June 11). The Cumberland Argus, p. 5. Retrieved from

http://nla.gov.au/nla.news-article132146828

(i) The Rivals (1905, December 16). The Cumberland Argus and Fruitgrowers Advocate, p. 25. Retrieved from http://nla.gov.au/nla.news-article86176844; (ii) Personal. Our celebrities – no. 70. Mr. H. O. Saunders (Parramatta) (1926, November 5). The Cumberland Argus and Fruitgrowers Advocate, p. 16. Retrieved from http://nla.gov.au/nla.news-article104950629 ; (iii) 1929 A.J.S. Motor Cycles : saddle tanks and dry sump lubrication are new features : more comfortable yet faster. (1928, November 15). The Cumberland Argus and Fruitgrowers Advocate, p. 18. Retrieved from http://nla.gov.au/nla.news-article107093494 ; (iv) The new 1929 "Silver anniversary" Buick (1928, November 1). The Cumberland Argus and Fruitgrowers Advocate, p. 6. Retrieved from http://nla.gov.au/nla.news-article107096490 ; (v) Singer super sports junior. (1929, September 5). The Cumberland Argus and Fruitgrowers Advocate, p. 13. Retrieved from http://nla.gov.au/nla.news-article104722864 ; (vi) On parade: Everyone a famous singer (1929, October 3). The Cumberland Argus and Fruitgrowers Advocate, p. 13. Retrieved from

http://nla.gov.au/nla.news-article104721936

; (vii) What is your car worth? (1926, May 28). The Cumberland Argus and Fruitgrowers Advocate, p. 11. Retrieved from

http://nla.gov.au/nla.news-article104956161

The Alfred Picture Theatre. (1915, September 29).

The Cumberland Argus and Fruitgrowers Advocate

, p. 2. Retrieved from

http://nla.gov.au/nla.news-article86099291

Notice is hereby given that the partnership between Norman John Saunders and Harold Oliver Saunders, trading as "Saunders Bros.," of Parramatta, motor garage proprietors, has been dissolved as from the 1st day of July, 1920, by mutual consent. (1920, July 23). Government Gazette of the State of New South Wales, p. 4474. Retrieved from

http://nla.gov.au/nla.news-article224609145

Death of H. O. Saunders (1946, January 16). The Cumberland Argus and Fruitgrowers Advocate, p. 2. Retrieved from

http://nla.gov.au/nla.news-article105737259

Commonwealth of Australia. Dept. of Veterans' Affair. (2020) World war two service : veteran details. [Saunders, Leslie Harold]. Retrieved from https://nominal-rolls.dva.gov.au/veteran?id=385969&c=WW2#R and [Saunders, Reginald Oliver] Retrieved from https://nominal-rolls.dva.gov.au/veteran?id=386011&c=WW2
City of Parramatta Council Archive Collection. Valuation Books
Stockburn, Emma (2013, December 19) Australia's Retail History – the David Jones building Parramatta. Retrieved from http://arc.parracity.nsw.gov.au/blog/2013/12/19/australias-retail-history-the-david-jones-building-parramatta/
Meriton. (2015, November 12). The tallest tower in Parramatta – Altitude, is now more than half way there. Retrieved from https://www.meriton.com.au/the-tallest-tower-in-parramatta-altitude-is-now-more-than-half-way-there/