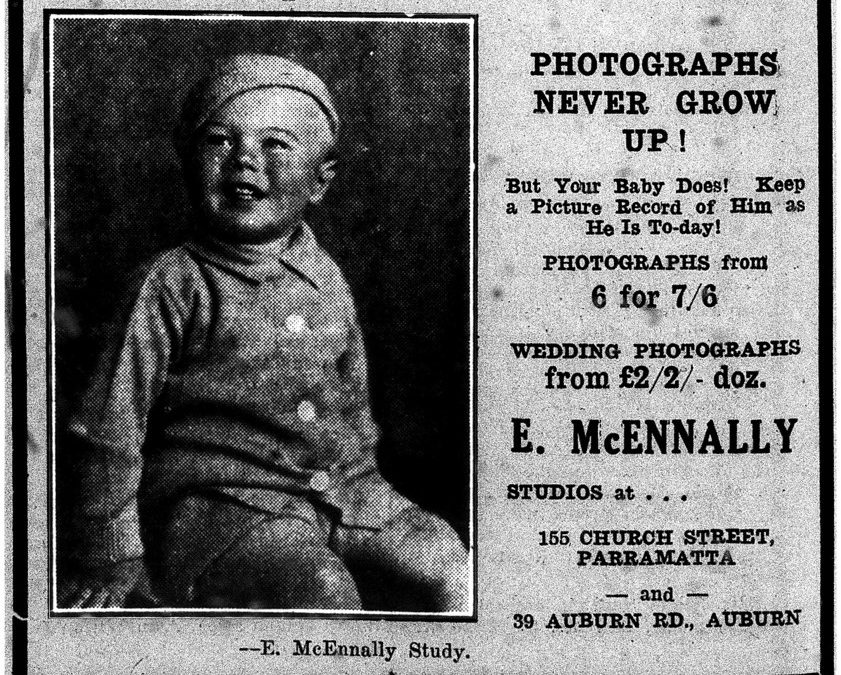 1936 Advertisement of McEnnally's Studio. (Source: The Cumberland Argus and Fruitgrowers Advocate, 3 September 1936, p. 4)[1]
In the book 'Living history of Parramatta: a tapestry of life in the cradle city 1992′ by Rosslyn Blay[2], for one of the brain teasers on page 189 is a do you remember McEnally Photographs?
McEnally Photographs was a photographic studio operated by Eric Robert McEnnally (1904-1993) and his wife Eulalie May née Huxley (1907-1978) on the first floor of Vauxhall Chambers at 247 Church Street, Parramatta, New South Wales[3]. According to a  May 6, 1959 'Let's go shopping with Marguerite' editorial piece published in the local newspaper The Cumberland Argus, McEnnally's studio had been established since 1933.[4] At the time, the property was originally numbered 155 Church Street[5]> and was opposite retail store Erby's, later Ashley's and now Mayfair Plaza
Eric McEnnally was the son of former Glebe Council Alderman Robert Morrow McEnnally (1878-1955)[6] and Helena Ada née Smith (1883-1979) and brother of fellow photographer Neville Harcourt McEnnally (1912-1998) who had a studio at 240 Beamish Street, Campsie.[7]
He was also a well-known and experienced photographer specialising in wedding photographs, portraits and taking photos of children. In 1930, it was reported that McEnnally returned his former job as manager of the Howard Harris Studios at [180] Church Street, Parramatta after a 2 year absent (possible in Orange based on Australian electoral roll records). By 1936, McEnnally had 2 photographic studios. The first in Parramatta and the second was at 39 Auburn Road, Auburn, New South Wales.
In 1938, he extended his existing studio in Parramatta leasing rooms 2, 4 and 8 from the local dentist Leslie Walter Pye (1871-1949)[8] to enlarge his studio with perfect lighting effect and workroom and an extra darkroom installed for re-touching.[9]
In 1947, during a blackout in Parramatta, McEnnally's studio was the only shop with light as he had installed his own portable generator.[10]
Although it is unknown when he closed his shop in Parramatta, it appears McEnnally continued to operate in Parramatta in 1962 and was living in Parramatta around 1972. But by 1977, his family had moved away to Harbord, Manly and later interstate.[11] His former studio has since been changed into other businesses. At present it is a law firm, an international student agency and a vocal training business.

Anne Tsang, Research Assistant, City of Parramatta, Parramatta Heritage Centre, 2020
References
Photos never grow up! [Advertisement]

(1936, September 3). 

The Cumberland Argus and Fruitgrowers Advocate,

p. 4.

Rosslyn Blay, ed., 1992, 

Living history of Parramatta: a tapestry of life in the cradle city 1992

,

Parramatta, N.S.W. : Soroptimist International of Parramatta, p.189

Sands Directory 1930

Let's go shopping with Marguerite

(1959, May 6).

The Cumberland Argus

, p. 5.

Photo by E. McEnally's [

Advertisement]

(1934, December 6). 

The Cumberland Argus and Fruitgrowers Advocate

, p. 6.

City of Sydney Council. (2020). Robert Morrow McEnnally. Retrieved from https://www.sydneyaldermen.com.au/alderman/robert-morrow-mcennally/

Australian Electoral Rolls for New South Wales

NSW Land Registry Services (NSW LRS) (2008, 1938). [Lease no. C724060]. In NSW certificate of title. Register book vol. 4995 fol. 98. Available online at https://hlrv.nswlrs.com.au/ 

Studio extensions

(1938, May 18).

The Cumberland Argus and Fruitgrowers Advocate

, p. 23.

This man laughs at blackouts

(1947, April 30).

The Cumberland Argus and Fruitgrowers Advocate

, p. 2.

Australian Electoral Rolls for New South Wales