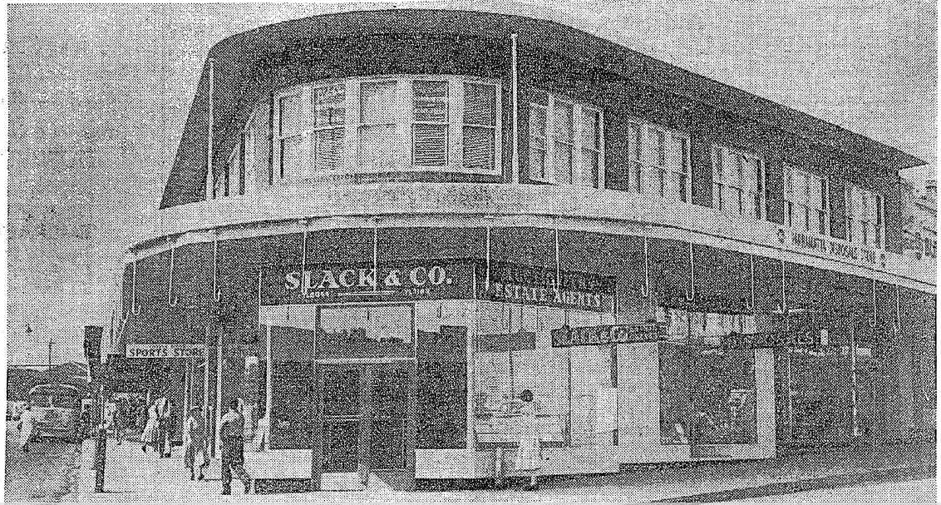 Slack & Co.'s former new building in 1956. (Source: The Cumberland Argus, 11 April 1956, p. 8)
The above image was featured in The Cumberland Argus (11 April 1956, p. 8) and marked the reopening of the remodelled Slack and Company building on the corner of Church and Argyle Streets. Formerly number 134 Church Street in the 1920s, it was later renumbered 158 Church Street from the 1950s. It was located on the east side of Church Street, between Argyle Street – where the bus interchange is now – and Fitzwilliam Street opposite the Railway bridge. According to the article, its completion herald another link in the chain of Parramatta's rapid progress.[2]
The beginnings of Slack and Co.  
From small humble beginnings started in Parramatta in 1896[6] by Isaac Platt Slack near the Woolpack Hotel.[5] This local business grew to considerable proportions of its time.[2]  
Isaac Slack was described as 'a genial obliging man' who 'was very popular'.[2] He was a Parramatta real estate agent and auctioneer. He was also Chairman of the Wentworth Falls Group of the Blue Mountains Sights Reserve Trust. The Slack Stairs in Wentworth Falls which were first constructed circa 1932 is named in his honour as he was the one who pushed for the addition of this missing link between the National and Wentworth Passes to allow a circuit walk.[4]
When Mr. Slack relinquished Slack and Co., it was purchased by former employees Charles Dean Collins and his brother-in-law Thomas Graham. Both of these men were highly esteemed and trusted in the real estate world and had worked at Slack and Co. for many years.[5]
In 1938, Roland 'Ron' Edward Trowell acquired the business, having gained experience with city real estate firms.[3] During World War Two, Trowell served for six years from 15 July 1940 to 27 November 1945 as a Sergeant (service number 32289) with the Royal Australian Air Force.[7]
After the war the interior of the old building was modernised before management decided the need for up-to-date premises to meet the requirements of a growing clientele, with rapidly expanding business demands. The neighbouring business known as Gwilliams Arcade at 154 Church Street was purchased to make way for the modification of the old Slack's building at 158.[1] The new premises were drawn up by architects Leslie J. Buckland and C. Druce[8], showing modern offices upstairs.[7]
Reconstruction commenced in 1955 with three shops facing Church Street, and three facing Argyle Street. Modern offices were on the top floor of this "ultra-modern climatic designed two storey building".[7] Sadly, the above building has long since been demolished and is now part of Westfield Parramatta. 

Anne Tsang, Research Assistant, Parramatta Heritage Centre, City of Parramatta 2020
References