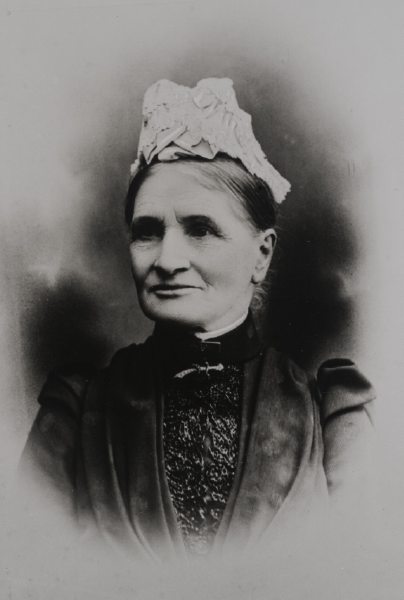 Jane Burn, Matron of the Parramatta, Lunatic Asylum ca.1880s (Source: Local Studies Photograph Collection, Object Number LSP00073)[1]
Jane Burn was appointed matron of the Parramatta Lunatic Asylum on 1 June 1865[2] following the death of former Matron Elizabeth Statham in 1864. Elizabeth Statham was previously Matron Superintendent of the Parramatta Female Factory before it was re-purposed as an Asylum for Lunatic and Invalid Convicts in December 1848. James Robertson Firth was appointed Storekeeper at the same time as Jane, succeeding Edward Statham, widower of Elizabeth.The first Surgeon Superintendents were Dr Patrick Hill who died a few months after taking up the position in 1852, and Dr Richard Greenup (1803-1866) who joined the asylum as medical superintendent in July 1852 at a salary of £600.[3] 
During Matron Burn's administration of the female division of the asylum, which lasted for 28 years until she retired in 1892, there was never a hint of impropriety or corruption on her part[4]
In 1878, the Parramatta Lunatic Asylum became known as 'Parramatta Hospital for the Insane'.
Matron Burn retired on 5 October 1892 under the Civil Service Act 1884[5] and received a civil service pension of £98 and 2 shillings per year from 1 September 1892 when she was 72 years old. It was reported in the newspapers that even in 1912, when she was in her nineties, she was still receiving a pension[6] 

Anne Tsang, Research Assistant, Parramatta Heritage Centre, City of Parramatta 2020
References
Jane Burn, Matron of the Parramatta, Lunatic Asylum ca.1880s [portrait]. Local Studies Photograph Collection, Local Studies Library, Object Number LSP00073. Available online at: 

http://heritagecentre.parracity.nsw.gov.au/search.do?id=90119&db=object&page=1&view=detail

Ministerial visit to Parramatta. (1866, August 8). 

The Goulburn Herald and Chronicle

, p. 2. Retrieved March 6, 2020, from 

http://nla.gov.au/nla.news-article100870838

 

Parragirls. (no date). Lunatic & invalid asylum. Retrieved from http://www.parragirls.org.au/lunatic-asylum.php
Smith, Terrance Gordon. (2005). "With tact, intelligence and a special acquaintance with the insane": A history of the development of mental health care(nursing) in New South Wales, Australia, Colonisation to Federation, 1788 – 1901, p. 267. University of Western Sydney. Retrieved from 

https://researchdirect.westernsydney.edu.au/islandora/object/uws%3A3767/datastream/PDF/view

Government Gazette Appointments and Employment (1892, October 7). 

New South Wales Government Gazette (Sydney, 

NSW :

 1832 – 1900)

, p. 8062. Retrieved March 6, 2020, from 

http://nla.gov.au/nla.news-article222206383

 

Civil Service Pensions. (1912, January 2). 

The Armidale Express and New England General Advertiser (

NSW :

 1856 – 1861; 1863 – 1889; 1891 – 1954)

, p. 3. Retrieved March 6, 2020, from 

http://nla.gov.au/nla.news-article191949660

Parramatta Lunatic Asylum. (1895, January 12). Australian Town and Country Journal (Sydney, NSW : 1870 – 1907), p. 26. Retrieved March 20, 2020, from http://nla.gov.au/nla.news-article71224464