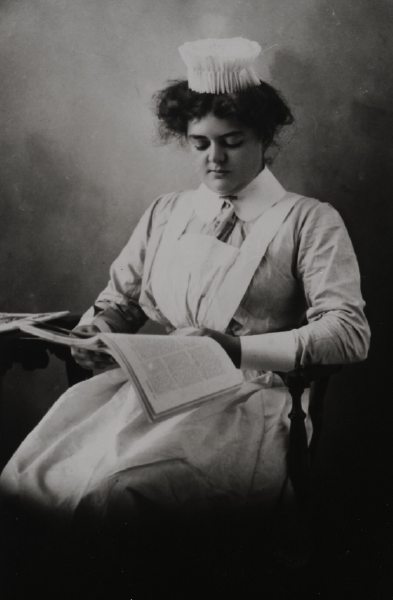 Nurse Rebecca Margaret Williams from Parramatta Hospital for the Insane, ca. 1907. (Source City of Parramatta Council, Parramatta Heritage Centre, Local Studies Photograph Collection, LSP00074)[1]
Rebecca Margaret Williams was born on 24 September 1882 in the district of Camden, New South Wales. She was the daughter of Charles Williams (1852-1905) and Eliza (nee Tomkins) (1864-1953) and was baptised on 19 November 1882 at St. Marks, Picton by Frank Elders. Her father is recorded as being a farmer on her baptism record.[2] She was the oldest of four children including brother Charles Edward Williams (1884-1958), Annie Amelia Williams (1886-1961), and Eliza May Williams (1896-1974).[3]
'Becky', as she was affectionately called at times, was trained at the Parramatta Hospital for the Insane. She was the sole Parramatta candidate who sat and passed the first Mental Nurse's Registration Examination in August 1911.[4]
During the First World War, Miss Williams volunteered her services and joined the Australian Imperial Force. On 21 August 1915, she left Sydney aboard the R.M.S. 'Morea' as a staff nurse attached to the 10th Australian General Hospital. At the time, she appears to be living in Cabramatta. Sister Williams was discharged from the Australian Army Nursing Service and returned to Australia on 31 March 1919.[5]
She was recorded as a mental nurse on the Nurses' Registration Board, Register of general nurses as of 2 September 1926 in Cabramatta.[6] In 1934, in the Australian electoral roll, she is recorded as living on Cabramatta Road in Cabramatta and still working as a nurse.
She died a spinster on 9 February 1961, aged 78, in Manly/Dee Why, NSW.[7] Her will and probate was granted by the Supreme Court of NSW on 12 May 1961[8] and Supreme Court of Victoria on 4 July 1962. After her death, her niece Mrs H. Wallis donated her original nursing certificates and photographs in 1990 for a display in the Cumberland Hospital museum.[9]

Anne Tsang, Research Assistant, Parramatta Heritage Centre, City of Parramatta 2020
References
City of Parramatta Council, Parramatta Heritage Centre, Local Studies Research Library. (2020). Nurse from Parramatta Hospital for the Insane, ca. 1907. Local Studies Photograph Collection, LSP00074. Retrieved from http://heritagecentre.parracity.nsw.gov.au/search.do?id=90131&db=object&page=1&view=detail
Anglican Church Diocese of Sydney & Ancestry.com (2017). Baptism, Burial, Confirmation, Marriage and composite registers in the Anglican Church Diocese of Sydney Archives [

database on-line]. Lehi, UT, USA: Ancestry.com Operations, Inc.

Ancestry Library Edition. (). Bailey Family Tree. 

Smith, Terry. (1999). Hidden 

heritage :

 150 years of public mental health care at Cumberland Hospital, Parramatta 1849-1999. Westmead, 

N.S.W. :

 Greater Parramatta Mental Health Service, p. 23

 

 

 

Australian War Memorial (n.d.) First world war embarkation roll: Rebecca Margaret Williams. Retrieved from 

https://www.awm.gov.au/collection/R2052030

 ; First world war nominal roll: Rebecca Margaret Williams. Retrieved from 

https://www.awm.gov.au/collection/R2265085

 ;

 

National Archives of Australia SODA Barcode: 1811048. Retrieved from https://discoveringanzacs.naa.gov.au/browse/person/9392
Ancestry.com. (2014). New South Wales, Australia, Medical Registers, 1925-1954 [database on-line]. Provo, UT, USA: Ancestry.com Operations, Inc.
Public Record Office Victoria (1961). 

Wills and 

Probate and Administration Files

 28/ 

P4,

 unit 

2614

, item

 583/773. In 

Victorian Wills, Probate and Administration Records 1841-1925,

Series: VPRS 7591

.

 North Melbourne, Victoria:

Registrar of Probates, Supreme Court

In the Supreme Court of New South 

Wales. – 

Probate Jurisdiction. – In the will of Rebecca Margaret Williams. (1961, September 1). 

Government Gazette of the State of New South Wales

, p. 2764. Retrieved March 21, 2020, from 

http://nla.gov.au/nla.news-article220283897

Smith, Terry. (1999). Hidden 

heritage :

 150 years of public mental health care at Cumberland Hospital, Parramatta 1849-1999. Westmead, 

N.S.W. :

 Greater Parramatta Mental Health Service, p. 23