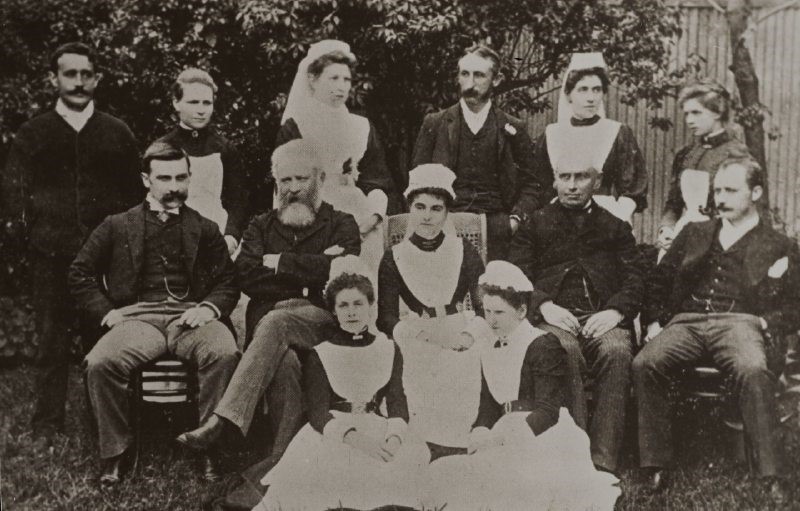 Staff at Parramatta District Hospital, c.1890. Source: Heritage Centre – Local Studies Photographic Collection, LSP00098
The photograph above shows Matron Florence Mary Greenwood in 1890 seated in the centre row, surrounded by Parramatta Hospital staff. Seated on chairs from left to right are:  Doctor Walter Sigismund Brown, Doctor Isaac Waugh, Matron Florence Greenwood, Doctor Walter Brown and Doctor Reginald Bowman.
Florence was born in 1866 in Hampstead, Middlesex England as the youngest daughter of the London based solicitor George Wright Greenwood. She was appointed Matron at Parramatta Hospital on the 10 June 1890 following the resignation of Matron Budd in May of that year. The position of Matron was held until her resignation on 7 December 1891, when she was replaced by Matron Lee.
Whilst acting as Matron at Parramatta Hospital there was a severe economic depression in Australia that lasted between 1890-1893, which resulted in severe budgetary conditions at the Hospital. In the 1892 Annual Report, Matron Greenway was praised for having reduced the dispensary drug bill considerably. Upon her resignation the appreciation for her diligence, care and skill is evident in the address from her fellow staff:
On this, the eve of your resigning the matronship of the Parramatta District Hospital, it is with feelings of sincere regret that we bid you adieu. During your regime, your many acts of kindness have endeared you to us all: and in parting from you a sincere and true friend. We feel that we cannot allow you to leave the walls of the Hospital without some slight token of our love and esteem for you. [1]
Florence Greenwood became Florence Macallister when she married Doctor John Francis Macallister on April 6, 1892, at St. Philips Church Sydney. They were married by the Reverend J.D. Langley. Macallister is often misspelt McAllister and McAlister. Unfortunately not long after their marriage John died in 1899. Florence never remarried. Her bereavement was documented in the Parramatta Hospital monthly meeting minutes where on the motion of the chairman all present offered their condolences. [2]
Florence died on the 22 June 1914 in Stanmore, Sydney, leaving behind her only son Keith Macallister. Keith at this time was reportedly studying to enter the medical profession. The Cumberland Argus' obituary noted that Florence had trained at Prince Alfred Hospital and that she was held in very high esteem as both a nurse and administrator. The tribute continues:
It was under her that Parramatta District Hospital started first as a training school for nurses, and under her Nurses McLaren, Hill and Kinneally (the latter now Mrs Wade, wife of Constable Wade, trained). She left the Hospital to be married to Doctor Macallister, who after filling the position of Medical Superintendent of Prince Alfred Hospital started practice in Stanmore where he died a few years afterwards. Mrs Macallister then took up nursing again, and for several years filled the post of Matron of the Newcastle Hospital, which institution she left a few months ago, when she received a splendid testimonial from the citizens, in recognition of her good work. [3]

 Caroline Finlay, Regional Studies Facilitator, Parramatta Heritage Centre, City of Parramatta, 2020
References:
[1] Presentation. (1892, January 23). The Cumberland Argus and Fruitgrowers Advocate. p. 5. Retrieved 07/04/ 2020 from http://nla.gov.au/nla.news-article86265859
[2] Parramatta Hospital. (1899, July 15). The Cumberland Argus and Fruitgrowers Advocate. p. 4. Retrieved 07/04/ 2020 from http://nla.gov.au/nla.news-article85779206
[3] Personal Pars. (1914, June 27). The Cumberland Argus and Fruitgrowers Advocate. p. 12. Retrieved 07/04/ 2020 from http://nla.gov.au/nla.news-article85963694