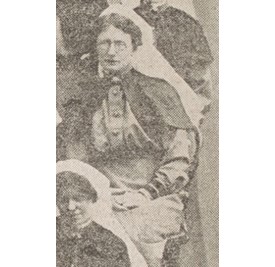 Winifred Mary Tait was born in 1876 in Goulburn, N.S.W. She was the daughter of Andrew McDonald and Isabel (or sabella/Isobel) McLean (Maclean) Tait of 'Hayfield', Carlingford, N.S.W. She was a trained nurse having graduated from Sydney Hospital. In 1913, she became matron at the Parramatta Hospital for the Insane, succeeding Miss E Grace Newton.
During the war, she enlisted on 25 November 1914, aged 39, having been a member of the Australian Army Nursing Service (AANS) since 1905. She embarked from Melbourne, Victoria on 2 October 1916 as Temporary Matron of No. 2 Section Sea Transport Staff aboard the HMAT Nestor A71[1]  During her absence, Sister L Lynch was acting matron[2] of the then renamed Parramatta Mental Hospital. After she 'put in four years of hard strenuous work with the soldiers in the field', her name was listed on the Mental Hospital, Parramatta 1914-1918 Roll of Honor.[3]
Post war, she resumed her position as matron and remained in Parramatta Mental Hospital until 1935.
At a chance Parramatta Mental Hospital nurses re-union in 1949 at the now demolished Hiawatha guest house on George Street, Parramatta, although not present due to illness, her letter of apology was read out and she was said to be living in Whale Beach.[5]
Miss Tait passed away on 9 August 1962, late of Vaucluse, N.S.W., aged 86.[6]

Anne Tsang, Research Assistant, Parramatta Heritage Centre, City of Parramatta 2020
References
Australian War Memorial. (n.d.). First world war embarkation roll 

: Winifred Mary Tait. Retrieved from

 

https://www.awm.gov.au/collection/R1904585

 ; National Archives of Australia SODA Barcode: 8097875

Brevities. (1916, April 8). 

The Cumberland Argus and 

Fruitgrowers

 Advocate

, p. 12. Retrieved March 21, 2020, from 

http://nla.gov.au/nla.news-article86079299

 

 

A pair of runaways. (1920, May 1). The Cumberland Argus and Fruitgrowers Advocate, p. 6. Retrieved March 21, 2020, from http://nla.gov.au/nla.news-article103250895
Australian War Memorial. (1914). Outdoor group portrait of nurses of No 2 Australian General Hospital who sailed from Sydney on 28 November 1914 aboard HMAT Kyarra. [photograph], accession number H18334. Retrieved from https://www.awm.gov.au/collection/C1423880

Nurses had grand re-union (1949, March 9). 

The Cumberland Argus and 

Fruitgrowers

 Advocate,

 p. 2. Retrieved March 21, 2020, from 

http://nla.gov.au/nla.news-article111531647

 

Death notice. (1962, August 13). The Sydney Morning Herald, p. 

 ;

 NSW Birth, Death & Marriages Register. (2020). Death registration no. 25904/1962. District of Hornsby