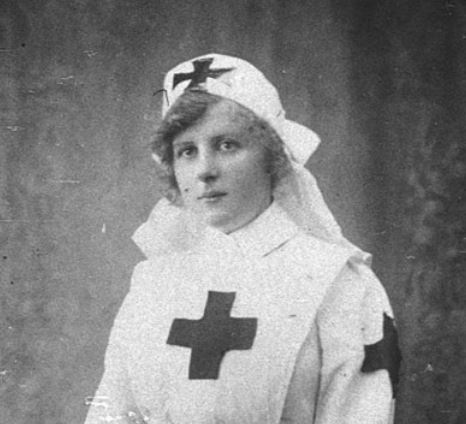 Mable Balmer, (married name Thompson) was a nurse at Parramatta Mental Hospital – Sydney, NSW (Source: State Library of NSW, Digital order no:bcp_01637)[1]
Mable Ellen Balmer (also known as 'Mabel') was born on 1 February 1898 in Waihi, New Zealand. In 1912, migrated with her father to Australia.[2] She worked as a nurse at Parramatta Mental Hospital and as of 2 September 1926 was a registered mental nurse at Parramatta (record no. 3502, certificate no. 23/3) under section 10 (1)[3]. In 1924, she took a series of photographs featuring the outside view as well as the interior of the wards of Parramatta Mental Hospital which can be found in the State Library of NSW 'At Work and Play' collection[4]. A few of her photographs capture the life of nurses who worked inside the wards of the Hospital.
Additional photos showcase her life outside of work with family and friends in the Blue Mountains and life after marriage.
In 1930, she married Thomas James Thompson in Chatswood/ Coonamble, NSW and became stepmother to his children Norma and Edna Thompson. After getting married, she relocated and the Thompsons' lived at 40 Elimatta Street, Reid ACT. Thomas worked as a clerk while Mable was listed as doing home duties according to the Australian Electoral Rolls while raising the family which would go on to include her only child – Patricia Ann Thompson (later Mrs Cornelis Degens of Wollongong, NSW). Thomas passed away on 16 June 1966, aged 88[5]. Mable passed away on 5 May 1984[6], aged 86. She was buried on 17 May 1984 in the Woden Cemetery in the Presbyterian lawn section, subsection B, headstone no. 202 (grave reference L-PR-B-202)[7]

Anne Tsang, Research Assistant, Parramatta Heritage Centre, City of Parramatta 2020
References
Mable Balmer, (married name Thompson) was a nurse at Parramatta Mental Hospital – Sydney, NSW (1920) [photograph]. State Library NSW, At Work and Play, digital order no. bcp_01637, file no. 1711228. Retrieved from 

https://search.sl.nsw.gov.au/permalink/f/1cvjue2/ADLIB110306279

 

 

Craft teachers needed (1978, January 26). The Canberra Times, p. 10. Retrieved March 13, 2020, from http://nla.gov.au/nla.news-article131711850
Ancestry.com. New South Wales, Australia, Medical Registers, 1925-1954 [database on-line]. Provo, UT, USA: Ancestry.com Operations, Inc., 2014 ; Nurses' Registration Board. Register of general nurses, 1926–1954. NRS 10855, reel 2620. The State Records Authority of New South Wales, Kingswood, New South Wales, Australia ; Nurses' Registration Board. Minute books, 5 March 1925–27 August 1959. NRS 10854, reel 2621. The State Records Authority of New South Wales, Kingswood, New South Wales, Australia.
Balmer, Mabel & State Library of NSW (1920-24). At work and play collection results https://search.sl.nsw.gov.au/primo-explore/search?query=any,contains,Mable%20Balmer&tab=default_tab&search_scope=MOH&vid=SLNSW&offset=0

F

amily Notices (1966, June 17). 

The Canberra Times

, p. 16. Retrieved March 13, 2020, from 

http://nla.gov.au/nla.news-article136928271

 

 

Advertising (1984, May 24). 

The Canberra Times

, p. 18. Retrieved March 13, 2020, from 

http://nla.gov.au/nla.news-article126997667

 ; Family Notices (1984, May 15). The Canberra Times, p. 15. Retrieved March 13, 2020, from 

http://nla.gov.au/nla.news-article126995694

 

 

Canberra Cemeteries (n.d.). Grave search. Retrieved from http://www.canberracemeteries.com.au/grave-search