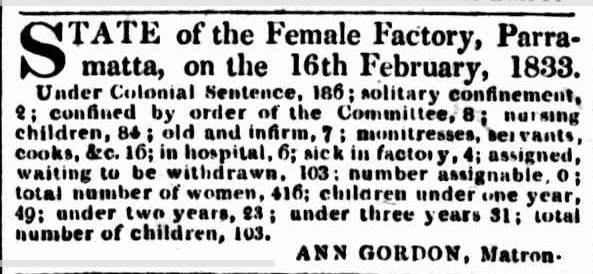 Sydney Herald, 16 February 1833.  
Mary Jackson, who arrived on the Diana, was quickly sent to the Female Factory.
In 1833 she was the midwife there. It is not know exactly how long she was at the Factory or in the role of midwife. But during this time she was paid eight pence per diem. By 1841 Mary was living at Petersham in Sydney.

Emma Stockburn, Family History Research Facilitator, City of Parramatta, Parramatta Heritage Centre, 2020.
References 
Potter, Lesley; Mistress of her Profession: colonial Midwives of Sydney 1788-1901, Anchor Books, 2017.
Gail Hendriksen, Dr Carol Liston, Women Transported: Life in Australia's Convict Female Factories, Parramatta Heritage Centre, 2008.
Salt, Annette, These Outcast Women, The Parramatta Female Factory 1821-1848, Hale and Iremonger, 1984.
STATE of the Female Factory, Parramatta, on the 16th February, 1833. (1833, March 4). The Sydney Herald (NSW : 1831 – 1842), p. 4. Retrieved April 2, 2020, from http://nla.gov.au/nla.news-article12846336