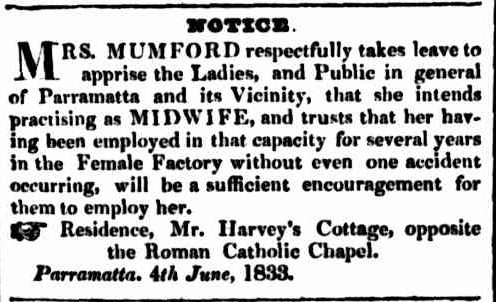 Sydney Herald, 6 June 1833. 
Mary was employed as a domestic servant near London, and while there, she stole from her employer.
This included personal items from her mistress and some household goods. She was seen by a local man, put on trial on the 11th February 1827 and sentenced to fourteen years and transportation to the colony. She was thirty seven years old when she begun her journey on the Harmony and arrived in Sydney in late 1827.
From the start Mary was assigned as a nurse at the Sydney Infirmary on Macquarie Street. And then in 1828, she was given a recommendation by the Female Factory Committee to the Colonial Secretary, to work as a midwife at the Factory. As a midwife for the Female Factory Mary was given off-site accommodation and compensated with a salary of twenty pounds. She resided at Mr Harveys cottage and she practised midwifery services here, as well as the Female Factory and the hospital.
Mary's time as a midwife for the Female Factory was a checkered one. From 1829 to 1837 she was employed as midwife twice, but also spent time in the factory for neglecting her work and for concealing provisions. Then in 1830 she found herself 'living in a state of prostitution in Parramatta.'. And yet throughout these years she was also given recommendations and character references from Dr James Bowman and the Surgeon in charge of Parramatta Hospital, Mathew Anderson. These instances speak of the uncertainty in the lives of midwives as well as the good work they did.
Mary final assignment at the female factory as a midwife was in 1838. Mary gained her ticket of leave in 1841 and it seems she married and moved to Maitland. Evidence of this can been seen in a advertisement placed in the Maitland Mercury of 1843.
Here we can see tell of an experienced and kind midwife, who has a solid reputation amongst medical professionals and a generous nature. Mary Gordon/Mumford passed away at 75 and on her death certificate; her profession is listed as midwife.

Emma Stockburn, Family History Research Facilitator, City of Parramatta, Parramatta Heritage Centre, 2020.
References
Potter, Lesley; Mistress of her Profession: colonial Midwives of Sydney 1788-1901, Anchor Books, 2017.
Gail Hendriksen, Dr Carol Liston, Women Transported: Life in Australia's Convict Female Factories, Parramatta Heritage Centre, 2008.
Salt, Annette, These Outcast Women, The Parramatta Female Factory 1821-1848, Hale and Iremonger, 1984.
Mary Gordon nee Mumford Classified Advertising (1843, December 16). The Maitland Mercury and Hunter River General Advertiser (NSW : 1843 – 1893), p. 3. Retrieved March 26, 2020, from http://nla.gov.au/nla.news-article663822
Mary Mumford: https://femalefactoryonline.org/browse/name/mary-mumford/
Mary Mumford Midwife at Parramatta: Advertising (1833, June 6). The Sydney Herald (NSW : 1831 – 1842), p. 1. Retrieved March 26, 2020, from http://nla.gov.au/nla.news-article12846958