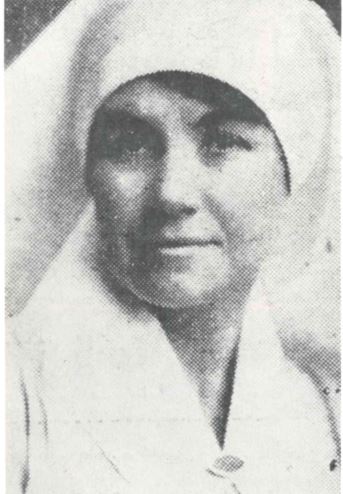 Matron E. Corderoy. Photo by Howard Harris, Parramatta. (Source: Cumberland Argus and Fruitgrowers Advocates)[1]
Eileen Tildsley Corderoy was born in 1891 in the district of Petersham, N.S.W. to parents Sydney Ernest and Georgina Kate Corderoy[2] (later of Manly, N.S.W.[3]). Her family was said to be a well-known in Parramatta with links to former Parramatta Alderman Frederick George Allen, a well-known builder.
Eileen was trained at Parramatta district hospital as a nurse, entering as a probationer in February 1914.[4] After 18 years of service, she has the distinct honour of being the first Parramatta Hospital Graduate Nurse to be appointed Matron in May 1932 after the resignation of Matron Viola Bellamy Morse, after 13 years of service. This was a milestone in the nursing history of the Hospital. She received a salary of £200 per annum.
Under the leadership of Matron Corderoy, many significant improvements were achieved at Parramatta Hospital including[5,6]:
the construction from 20 April 1933 to completion in 1934 of a new children's ward with 18 beds for children up to the age of seven. Named the 'Fairfield Ward', it was officially opened on 30 January 1935 by the then Minister of Health Hon. R. D. Weaver. The name of the ward was in acknowledgment of the £1,500 contributed by the Fairfield district in 1925 and total donations raised by a special committee for the ward amounted to £4,026/12/6;
Opening of a new Outpatients Department in 1933 (near the present Accident and Emergency Centre Casualty Room). The Department included a Waiting Room, a Doctor's Consultation Room, a Plaster Room and a small office;
installation of new X-ray equipment in 1936, replacing equipment that had been in use since 1925;
lectured on practical nursing procedures and hygiene;
administered rules registered nurses had to abide by according to the N.S.W. Nurses' Association;
organised fortnightly dances in the Nurses' Home as the President of the Hospital Ball Organising Committee for nurses and aoldiers from the Wallgrove Camp during the Second World War.
After 27 years of service at the Parramatta District Hospital, she resigned in August 1941[] from her position as matron to marry Frank Readett (also spelt Reddett) of Crookwell on 13 September 1941 at the Congregational Church, Mosman.[7,8]
On 10 June 1973, Mrs Readett passed away, aged 82. She was a late resident of Sydney Road, Fairlight and formerly Kandos, N.S.W.[9]

Anne Tsang, Research Assistant, Parramatta Heritage Centre, City of Parramatta 2020
References
New matron (1932, June 9). The Cumberland Argus and Fruitgrowers Advocate, p. 4. Retrieved March 16, 2020, from http://nla.gov.au/nla.news-article105924624
State of New South Wales (Customer Service NSW). NSW Registry of Births Deaths & Marriages. (n.d.). Births search results: Corderoy, Eileen T, registration number 29141/1891. Retrieved from https://familyhistory.bdm.nsw.gov.au/lifelink/familyhistory/search/result?3
Personal. [Mrs. Corderoy] (1932, August 18). The Cumberland Argus and Fruitgrowers Advocate, p. 10. Retrieved April 2, 2020, from http://nla.gov.au/nla.news-article105937454
Prominent district personalities (1938, October 26). The Cumberland Argus and Fruitgrowers Advocate, p. 108. Retrieved April 2, 2020, from http://nla.gov.au/nla.news-article104974637
Graduate Nurses' Association of the Parramatta District Hospital. (1979). A history of nursing in Parramatta. Parramatta, N.S.W.: PDH Graduate Nurses' Association, pp. 31, 60, 64-65.
Cumberland Area Health Service. (1988). Caring for convicts and the community : a history of Parramatta Hospital. Westmead, N.S.W.: Cumberland Area Health Service, pp. 57-60
Matron Corderoy to be married (1941, July 16). The Cumberland Argus and Fruitgrowers Advocate, p. 7. Retrieved March 16, 2020, from http://nla.gov.au/nla.news-article107300598
State of New South Wales (Customer Service NSW). NSW Registry of Births Deaths & Marriages. (n.d.). Marriages search results: Readett, Frank [and] Corderoy, Eileen T, registration number 18072/1941. Retrieved from https://familyhistory.bdm.nsw.gov.au
Readett, Eileen [death notice]. (1973, June 14). The Sydney Morning Herald, p. 30 ; State of New South Wales (Customer Service NSW). NSW Registry of Births Deaths & Marriages. (n.d.). Deaths search results: Readett, Eileen Tidsley, registration number 50735/1973. Retrieved from https://familyhistory.bdm.nsw.gov.au