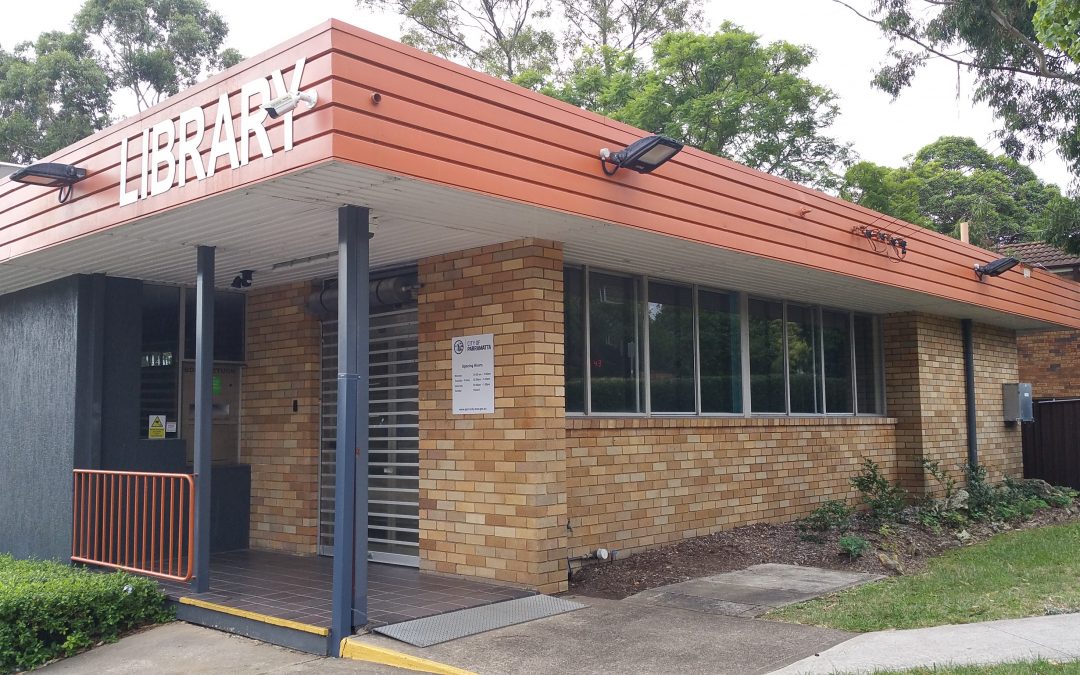 Constitution Hill Branch Library, 20 Hollis Street, Constitution Hill NSW 2145. (Source: Anne Tsang 2019)
Constitution Hill Branch Library was officially opened on Saturday 15 September 1990 at 2:30pm by the then Lord Mayor Alderman Alan Aizley Hyam. At the time, it was known as Emma Crescent Branch Library, Wentworthville.
Constitution Hill was a locality of Wentworthville until 19 January 2007 when it was officially promoted to a suburb by the Geographical Names Board of NSW.
History of the Branch Library
Preliminary plans to build a local library for the area was approved by Parramatta City Council in November 1988 and following detailed design work, approval was given to call tenders in April 1989. Initially seven companies were selected to submit tenders for the construction of the Library and in October 1989 Council accepted the tender from V.A. Gobbo Pty Ltd for the construction of the building.Funding for the construction was primarily a combination of a loan programme funds and a Bicentennial Grant.
The building was completed in August 1990, and internal fitting of the library including shelving and book stocking have been undertaken since that time. The building offered a single level library building with separate staff/work room and toilet facilities for male, female, disabled persons and staff. The work/staff room has an area of 49 metres square which is slightly larger than the other libraries in the area. Disabled access is available to all areas of the library.
The major consultant of the building was Kevin J. Curtin & Partners (Architects) Pty Ltd, with sub consultants H. G. Walter & Partners for electrical and mechanical works and Sinclair Knight & Partners Pty Ltd for structural works.
In 2002, a design brief for the extension of the Emma Crescent Library in Toongabbie was released. 
On Monday 22 August 2005 Emma Crescent Library officially reopened and was renamed Constitution Hill Branch Library after alterations and extensions. According to the Lord Mayor of the time Councillor David Borger "$1.2 million had been spent on upgrading the library" which was "double the size" of it 1990 original premises. The new library was also home to the now disbanded Toongabbie and District Historical Society and was more open with reduced shelf heights and wider aisles. It also featured a learning centre with more computers and Internet facilities, an expanded children's area, an exhibition area, a young person's area and language development space.
Today Constitution Hill Branch Library is a medium sized branch of the City of Parramatta Council Library. It is located at 20 Hollis Street, Constitution Hill NSW 2145, next to Greenleaf Park playground and Constitution Hill shops/ Emma Crescent Shopping Centre.
The Library is opening:
Monday, Thursday: 10am – 8pm

Tuesday, Wednesday, Friday: 10am – 5.30pm

Saturday: 9.30am – 12.00 noon
There is also a Justice of the Peace Service usually on: Tuesdays 10am to 1:30pm and Saturdays 9:30am to 12 noon. But do check here for times or contact the Library phone (02) 9806 5500 to check availability. A facsimile service is also available. The fax number is (02) 9896 2201

Anne Tsang, Research Assistant, Parramatta Heritage Centre, City of Parramatta 2020
Bibliographical References
City of Parramatta Council (2017). Locations and opening hours. Retrieved from 

https://www.cityofparramatta.nsw.gov.au/living-community/library/locations-and-opening-hours

 

City of Parramatta Council (2017). Parramatta library 60 year anniversary. Retrieved from  https://www.cityofparramatta.nsw.gov.au/about-parramatta/news/media-release/city-of-parramatta-library-celebrates-60-years

City of Parramatta Council (2019). Parramatta City Council – Records and archives – City Library opening, Opening of extensions (incl. Emma Crescent) [vertical file], VF821. Available at Parramatta heritage Centre Research Library.

Kellie. (2017, February 12). Constitution Hill Branch Library | City of Parramatta Council Libraries. Retreived from

http://www.parraparents.com.au/things-to-do/libraries/constitution-hill-branch-library/

 

Nationwide News Pty Ltd (2002, May 22) Gabbie book boost,

Parramatta Advertiser

, p. 13

News Ltd. (2005, December 14) Book into new library,

Parramatta Advertiser

, pp. 1 & 89