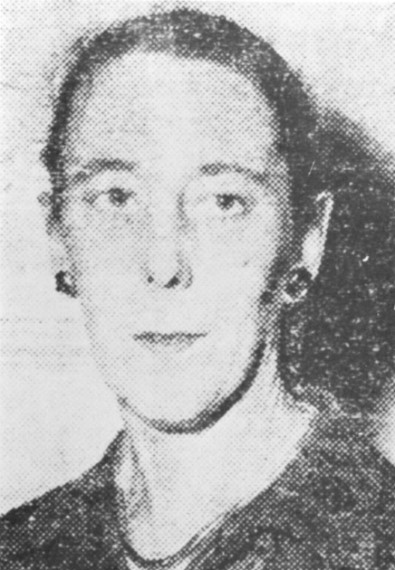 (Source: Parramatta Trust Ladies' Auxiliary)[1]
Miss Margaret Miller, B.A. was the First President of the Parramatta Business and Professional Women's Association in 1961. She is also significant to Parramatta as she being the first Chief Librarian of the first Parramatta City Library from 1958.[1,2]
Margaret was born on 29 November 1914 in Stanmore, N.S.W., the daughter of Stephen George Miller and Margaret Mary (nee O'Brien). She studied and graduated from the Our Lady of Mercy College in Parramatta, N.S.W. In 1936, she graduated with a Bachelor of Arts  degree from the University of Sydney and then in 1937, she completed a further year of training at the Sydney Teachers College. From 1938, she worked as a high school teacher for the N.S.W. Department of Education until she transitioned to a career in librarianship in 1945.[3]
Taking a position as the Wade Shire Library Griffith N.S.W. Librarian in the Murrumbidgee Irrigation Area, she worked there from 1945 to 1948, before moving to Goulburn City Library N.S.W. as City Librarian for a year in 1949.
In 1949, Miss Miller's was appointed first librarian to the Lake Macquarie Shire.[4] She was in charge of organising public libraries in the shire from 1950 to 1952 including the commencing of the Bookmobile library service – the first bookmobile to operate in northern N. S.W. after a successful trial in mid 1950. She oversaw the opening of the Speers Point central library in early 1950 which served as administrative headquarters for the Shire; the opening of the Boolaroo Free Public Library on 28 July 1950 at the former Boolaroo School of Arts, on Third Street, Boolaroo; the Belmont Branch Library on 14 August 1950 in the Community Hall, Pacific Highway in Belmont; and the Cardiff Branch in the former School of Arts building on 10 September 1951. The collection was classified under three main headings: novels and general reading; informative or educational; and books for children.[5]
In 1952 to 1958, Margaret was a Librarian at the Public Library of N.S.W. in Sydney. She completed her Registration Examination in 1954. She was also a member of the Library Association of Australia (LAA) – the former Australian Institute of Librarians 1937-1949 and present Australian Library and Information Association (ALIA), where she was the Honorary Secretary for the Board of Examiners from 1955 to 1957, General Secretary in 1962, N.S.W. Branch general Councillor 1963-66, Branch representative on the Library Board of N.S.W., and in 1977 was briefly Acting Executive Director until the appointment of Gordon Bower as the Executive Director in early 1978 of LAA.[6,7]
She became the first Chief Librarian for Parramatta Council's first public library which was officially inaugurated on the 29 November 1958, by Alderman D. J. Mahoney. The Library was in the Jubilee Hall at Parramatta Town Hall following the vacating of Council's offices to a new Administrative Building and the Hall becoming available for the library to begin operations. Leading the library's operations, in 1965, she resigned from Parramatta Library and John Taylor was appointed.[8] Under her leadership, she oversaw:
Opening of Children's Library in Prince Alfred Square, Market Street (then known as Prince Alfred Park) in 1958
Opening of Dundas Children's Library in the front room of Dundas Town Hall on Monday to Friday 3-5pm in 1959.
Building and opening of Ermington Branch Library in 1963
Building and opening of Dundas Branch Library in 1963
Opening of Guildford Branch Library in 1964
Opening of Parramatta Central Library at Civic Place in 1964
Formation of the joint Parramatta City Council and Baulkham Hills Shire Council Library service in 1965
In 1961, Margaret was also the first President of the Business and Professional Women's Club of Parramatta, when it received its Charter. An advocate for women and librarianship, she promoted the role and career opportunities for future librarians and in an article published in The Cumberland Argus and Fruitgrowers Advocate (22 August 1962, page 3).[9]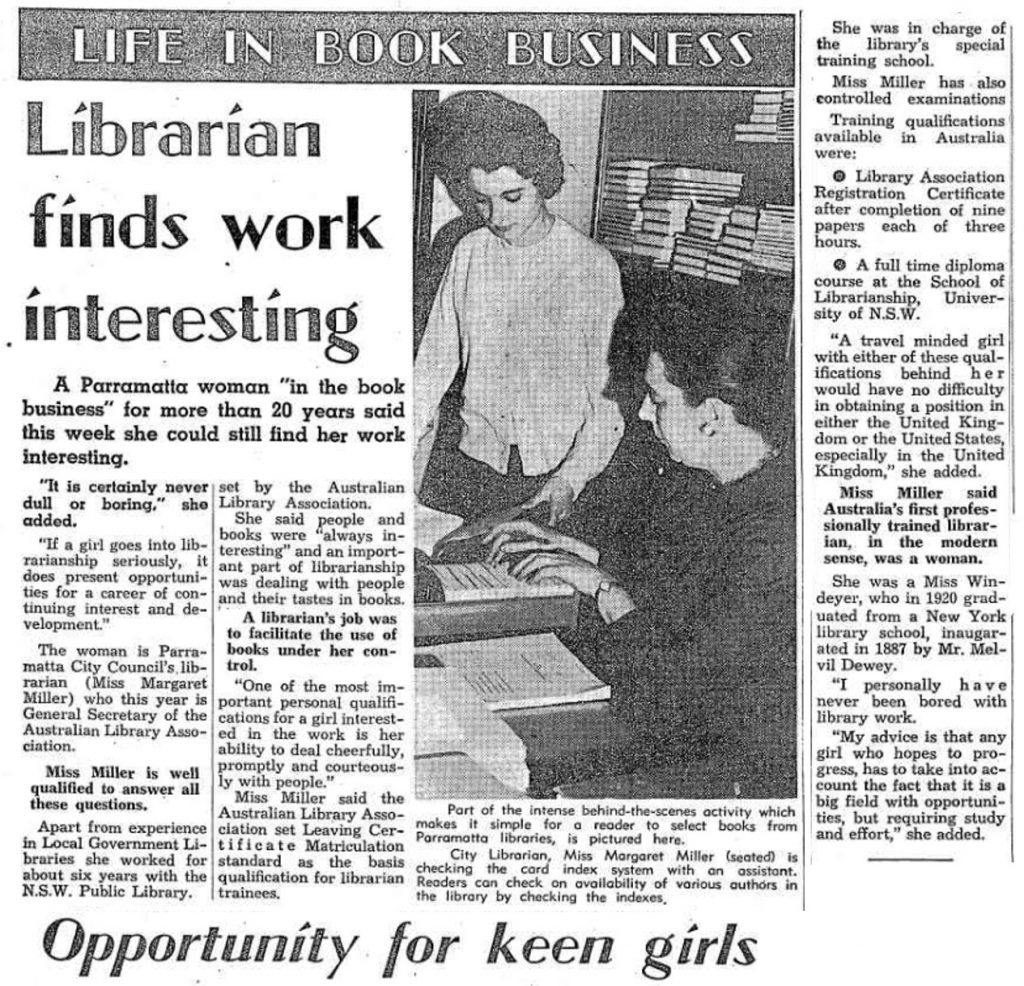 Anne Tsang, Research Assistant, Parramatta Heritage Centre, City of Parramatta 2020
References
Parramatta Trust. Ladies' Auxiliary (1977). Women of Parramatta. Parramatta, N.S.W.: Ladies' Auxiliary of the Parramatta Trust, pp. 87-88.
Arfanis, Peter. (2015, March 26). Parramatta City Library. 1 Civic Place. Retrieved from http://arc.parracity.nsw.gov.au/blog/2015/03/26/parramatta-city-library-1-civic-place/
Kosa, G.A. (Ed.). (1968). Biographical Dictionary of Australian Librarians, p. 66. In Australian Library and Information Association. (n.d.). Margaret Miller. Retrieved from https://www.alia.org.au/margaret-miller
Librarian for Lake Shire appointed (1949, December 14). Newcastle Morning Herald and Miners' Advocate, p. 6. Retrieved from http://nla.gov.au/nla.news-article134166553
Lake Macquarie City Library. (n.d.). Lake Macquarie Library History. Retrieved from https://history.lakemac.com.au/page-local-history.aspx?pid=1085&vid=20&tmpt=narrative&narid=4038
Australian Library and Information Association (n.d.). Executive directors. Retrieved from https://www.alia.org.au/executive-directors
Australian Library and Information Association (n.d.) History of the association. Retrieved from https://www.alia.org.au/about-alia/history-association
Parramatta City Library (2008). 50 years Parramatta City Library [brochure]. Parramatta, N.S.W.: City of Parramatta Council.
 Life in book business: Librarian finds work interesting. (1962, August 22). The Cumberland Argus, p. 3. Retrieved from http://nla.gov.au/nla.news-article131328606