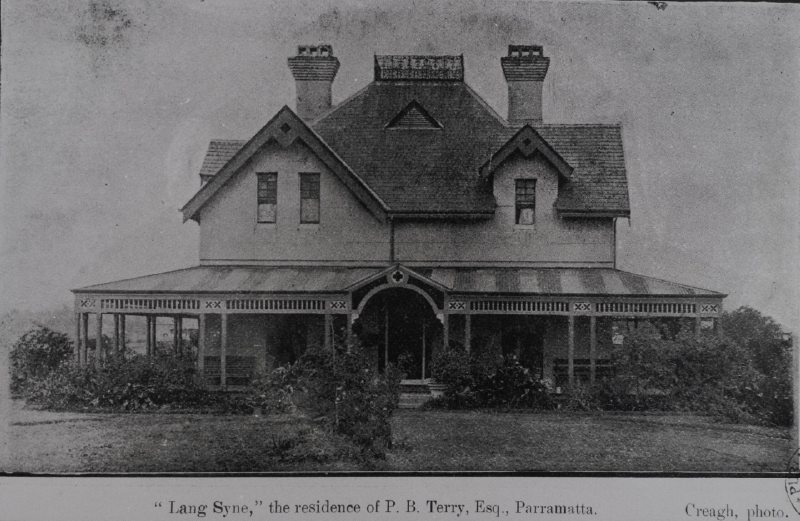 (Source: City of Parramatta, 2020, Local Studies Library, Local Studies Photograph Collection, Object Number LSP00144)[1]
"Lang Sync" was built in 1895 by Hon. George Thornton (1819-1901)[2]. A two storey "Victorian Rustic Gothic" style house, it was located on Sorrell Street, North Parramatta, N.S.W until it was demolished in 1998.[3]
George Thornton was born on 23 December 1819 and raised on Sorrell Street, North Parramatta and had hoped to buy his grandfather John Solomon's old home but instead given the opportunity-built Lang Syne instead. It was his place of residence until his death there on Saturday 23 November 1901.[4] Sadly, his only daughter Mrs Fanny Bulmer, wife of Captain George Edwards Bulmer, formerly of Ryde, also died there after suddenly collapsing on Boxing Day 1901.[5]
From 1903 to 1906, Lang Syne was the residence of P. B. Terry,[6] who in 1901 purchased Mr C. G. Hatte's "The Corner" store on Church and George Streets (later Henderson and Gregg's).[7] The photograph featured above is from our Local Studies Library photographic collection and was taken by photographer P. Creagh. It features a front view from across a grassed lawn of the house.[1] Terry later moved to Harris Park[8] and in 1906, Lang Syne was put up for sale with Mobbs & Co. The auction notice described it as "a beautiful home, with extensive well-laid-out grounds and conveniences, 3 street frontages"[9]
The next residents were Donald F Hefferman from 1908 to 1909 and then schoolmaster William T Anderson from 1910 to 1911.[6]
In 1911, Lang Syne was sold to Thomas Robert Moxham, M.L.A. (1858-1916).[10] He was a quarry master, landowner and orchardist who served four years as Mayor of Parramatta Council from 1897 to 1940 before transitioning to Parliament representing Parramatta in the Legislative Assembly.[11] The Moxham family renamed the house "Stalam"[12] and it remained in their family until the early 1960s when it was put up for auction sale for Tuesday 13 March 1962 with L.J. Hooker and advertised as an outstanding development site.[13]
Mrs Mary Agnes Moxham, wife of Thomas Moxham and was associated with many local charities and movements. She was President of the Red Cross Society Parramatta branch, President of the Parramatta U.A.P. Auxiliary, vice-president of the Parramatta and District Auxiliary for the Homes for Incurables at Ryde. It was said in a feature about this notable woman, that she was willing to let her beautiful home "Stalam" be "always at the disposal of these organisations and the lovely grounds have been the scene of many a fete with charitable objects."[14]
Based on the 1943 aerial view of the property, the land would subsequently be subdivided and Stalam (formerly Lang Syne) was demolished and replaced by the current 34 Sorrell Street, North Parramatta (CP/SP49244).[15] According to Council's My Development portal, the current building appears to be based on an approved development application (DA/212/1993) lodged on 16 April 1993 by WLDM Holdings Pty Limited for the erection of a three storey residential flat building containing twelve (12) units.[16]

Anne Tsang, Research Assistant, Parramatta Heritage Centre, City of Parramatta 2020
References
City of Parramatta (2020) "Lang Syne", the residence of P. B. Terry, Esq., Parramatta, as seen from the garden, circa 1900. (Located in Sorrell Street, North Parramatta, between Grose and Fennell Streets). Local Studies Library, Local Studies Photograph Collection, Object Number LSP00144. Retrieved from http://heritagecentre.parracity.nsw.gov.au/search.do?id=90377&db=object&page=1&view=detail ; Creagh, P. & Hillier, Robert S. (compiler) (1905). Beautiful Parramatta : descriptive and illustrative. Parramatta, N.S.W. : The Federal Printing Works, p. 88. Available online at State Library of Victoria http://search.slv.vic.gov.au/permalink/f/1o9hq1f/SLV_VOYAGER1302817
City of Sydney. (2020) Sydney's aldermen: George Thornton. Retrieved from https://www.sydneyaldermen.com.au/alderman/george-thornton/ ; McCormack, Terri. (2011). Thornton, George, Dictionary of Sydney. Retrieved from http://dictionaryofsydney.org/entry/thornton_george ; Woollahra Municipal Council () George Thornton (1819-1901). Retrieved from https://www.woollahra.nsw.gov.au/library/explore_our_collection/local_history/council_history/electing_the_first_council/first_councillors/george_thornton
Lang Syne (house) (n.d.). Dictionary of Sydney. Retrieved from https://dictionaryofsydney.org/building/lang_syne
Death of the Hon. Geo. Thornton, M.L.C. A sturdy colonial figure. He loved Parramatta, and there he wished to end his days. An Impressive Funeral. (1901, November 27). The Cumberland Argus and Fruitgrowers Advocate, p. 3. Retrieved from http://nla.gov.au/nla.news-article85830382
Death of Mrs. Bulmer. A sudden collapse. (1901, December 28). The Cumberland Argus and Fruitgrowers Advocate, 9. Retrieved from http://nla.gov.au/nla.news-article85831315
City of Sydney (2020). [Parramatta : Sorrell Street (east side) between Ross and Grose Streets]. Sands directory. Retrieved from https://www.cityofsydney.nsw.gov.au/learn/archives-history/search-our-collections/sands-directory
P. B. Terry & Co. (1901, December 14). The Cumberland Argus and Fruitgrowers Advocate, p. 17 Retrieved from http://nla.gov.au/nla.news-page8898316
The late Mr. P. B. Terry. (1935, June 27). The Cumberland Argus and Fruitgrowers Advocate, p. 4. Retrieved from http://nla.gov.au/nla.news-article105096002
If you want to rent or buy property [Advertising] (1906, October 20). The Cumberland Argus and Fruitgrowers Advocate, p. 9. Retrieved from http://nla.gov.au/nla.news-article85942421
[Mr. T. R. Moxham] (1911, April 8). The Cumberland Argus and Fruitgrowers Advocate, p. 6. Retrieved from http://nla.gov.au/nla.news-article85992703
Thomas R Moxham 1897-1900 (2014, June 17) Retrieved from http://arc.parracity.nsw.gov.au/blog/2014/06/17/thomas-r-moxham-1897-1900/ ; Moxham, Thomas Robert. (n.d.). Dictionary of Sydney. Retrieved from https://dictionaryofsydney.org/person/moxham_thomas_robert
"Stalam" (1937, March 11). The Cumberland Argus and Fruitgrowers Advocate, p. 15. Retrieved from http://nla.gov.au/nla.news-article106159549
Auction sale: Tues., 13th March, 10.30 (1962, February 28). The Sydney Morning Herald, p. 32 ; J. Hooker Limited… Order of sale. : [2. City of Parramatta] (1962, March 13). The Sydney Morning Herald, p. 19
Of feminine interest : Our notable women : Mrs. T. R. Moxham (1936, October 1). The Cumberland Argus and Fruitgrowers Advocate, p. 14. Retrieved from http://nla.gov.au/nla.news-article104692196 ; Death of Mrs. T. R. Moxham : Fine record of public service : "A great lady" (1940, December 11). The Cumberland Argus and Fruitgrowers Advocate, p. 1 and 6. Retrieved from http://nla.gov.au/nla.news-article106210455
State Government of NSW (Department of Finance and Services) (2020). Spatial Information eXchange. Retrieved from https://maps.six.nsw.gov.au/
City of Parramatta (2020). DA/212/1993. My Development. Retrieved from http://eplanning.parracity.nsw.gov.au/Pages/xc.Track/SearchApplication.aspx?id=156548