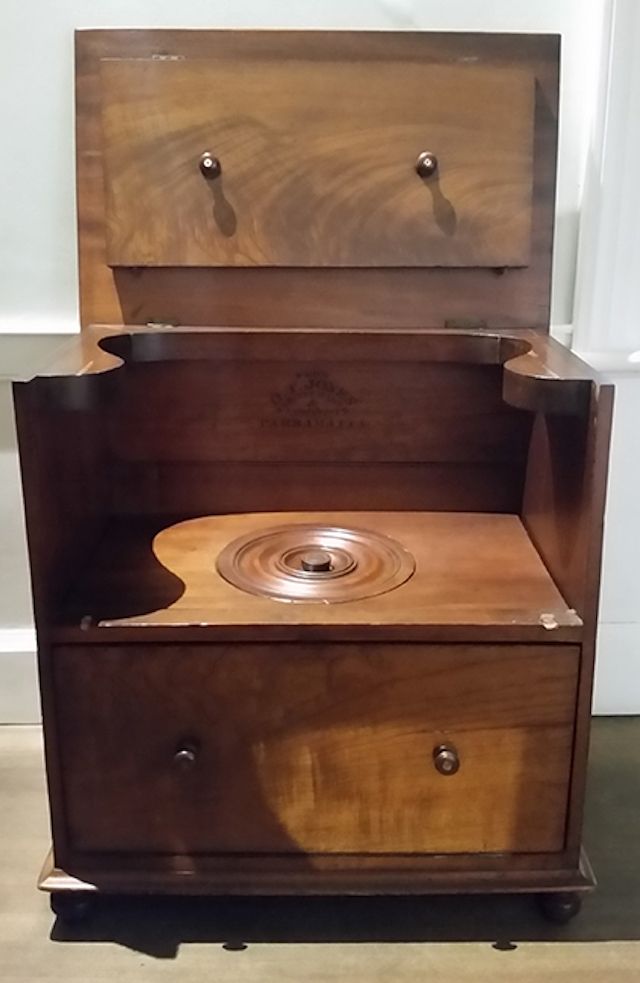 This commode is of significance to Old Government House (National Trust) due to its direct provenance to a Parramatta craftsman.
Made in 1880 by cabinetmakers Henry Tucker Jones & Sons the commode originally had a tin box that slid out through the bottom door. It is thought the cream ceramic bowl would have been a later addition.
Henry Jones was a Councillor for the Municipal District of Prospect and Sherwood (later renamed Holroyd Council), and was also Mayor for five separate terms in the period between 1875 and 1903.
We can be fairly certain that this commode was used for at least 30 years. Flushing toilets are only recently common in Australia. In fact, it wasn't until 1907 that tenders were called for a suitable sewerage scheme for Parramatta, and it wasn't until 1910 that it was installed at a cost of 100,000 pounds.
You can view this item and many more interesting objects from the collections of Old Government House, National Trust of NSW.
Note: To view the interactive model, please use the following browsers: Mozilla Firefox, Google Chrome, Opera, Safari, Edge or to view on your mobile phone iOS 8+ and Android 4.0. Click on the link below to see all the 3D models in Sketchfab.
View all the objects and find out more about the 3D scanning techniques.
Alison Lykissas, Cultural Collections Officer, Parramatta Heritage Centre, 2019

References:
Ridley, A (2019) Significance Statement: Commode c.1880, Accession No.2100, National Trust of Australia
Simpson, M (July 2018 ) Present and Past Family Life. Retrieved on 12 July 2019 from https://maas.museum/inside-the-collection/2018/07/18/present-and-past-family-life-toilets/
Parramatta Council (27 July 1910), pg 4. Retrieved on 12 July 2019 from Cumberland Argus & Fruitgrowers Advocate, https://trove.nla.gov.au/newspaper/article/86002401?searchTerm=sewer%20system%20built%20in%20parramatta&searchLimits=exactPhrase|||anyWords|||notWords|||requestHandler|||dateFrom|||dateTo|||sortby
Sewerage for Parramatta (23 Jan 1907), pg 3. Retrieved on 12 July 2019 from https://trove.nla.gov.au/newspaper/article/100556257?searchTerm=sewer%20system%20built%20in%20parramatta&searchLimits=exactPhrase|||anyWords|||notWords|||requestHandler|||dateFrom|||dateTo|||l-advstate=New+South+Wales|||sortby