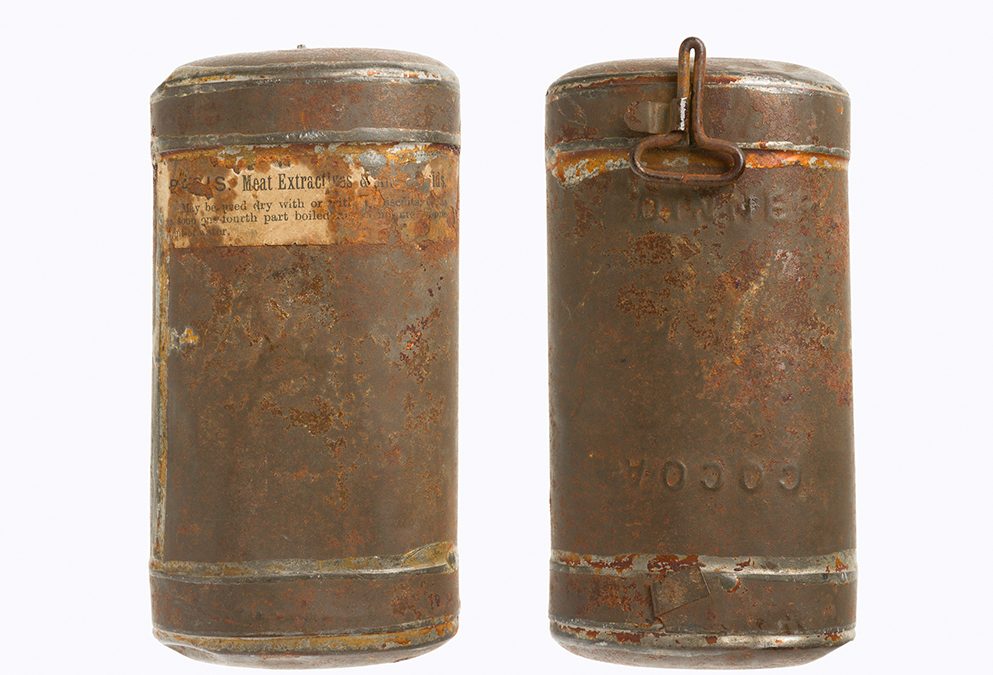 This cylindrical tin, soldered at both ends, was issued to Trooper Ash Whitney during the Boer War (1899-1902). It has a metal opening key at either end with internal divisions containing (in this example) 4 ounces of beef extract (pemmican) in one end and 4 ounces of cocoa powder in the other.
One side of the can is stamped 'dinner' and 'cocoa.' The other side has the remains of printed paper instructions reading "…meat extract….may be used with or without……..one fourth part boiled….." Full instructions would have stipulated that the can was not to be opened except by order of an officer or in extremity.
If eaten in small quantities, it was designed to sustain a soldier for 36 hours. Unfortunately, both ends of the can were sealed with lead but fortunately, for Trooper Ash Whitney, it remains unopened to this day.
Trooper Ash Whitney was just 17 years when he became part of Captain CF Cox's Half-Squadron of Lancers. They were the first Colonial volunteers to see serious military action. He later became senior Warrant Officer in the British Empire and was granted the unusual honour of Freedom of Entry into the City of Parramatta.
You can view this item and many other interesting objects by visiting the New South Wales Lancers Memorial Museum in Parramatta. The Museum collection includes uniforms, equipment, saddlery, weapons, photographs, paintings, banners, trophies and more.
View all the objects and find out more about the 3D scanning techniques.
Alison Lykissas, Cultural Collections Officer, Parramatta Heritage Centre, 2019

References:
Hawthorn, I (June 2019) Statement of Significance: Boer War emergency ration can. NSW Lancers Memorial Museum, Parramatta