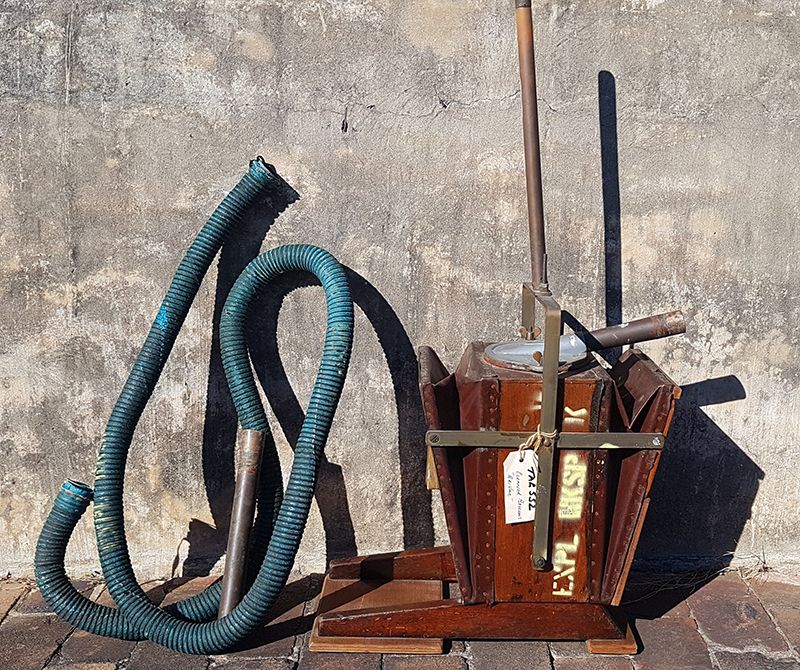 Vacuum cleaners originated in the 1800s. Operated manually by two people, they blew dust into the air.
In 1901, British engineer Cecil Booth invented the concept of sucking dust through a filter into a bag rather than blowing the dust away. His first vacuum cleaner was a horse-drawn unit that contained the vacuum and pump with long hoses that reached inside the houses. Wealthy English ladies would host tea parties for guests to watch the dust being sucked out.
This vacuum cleaner, made by the British Vacuum Cleaner Company, was used to remove explosive dust that ensued from certain ammunition operations at the workshops of the Royal Australian Navy Armament Depot in Newington, Sydney. The first 'Black Powder' and 'Explosives Room' hand operated bellows vacuum cleaner was patented by engineer H. Cecil Booth in 1901. This revolutionary machine from which the present whole world industry has sprung is extremely rare and is one of only two known to still exist.
The original design was used to suck up gunpowder, as it had no motor to spark. Explosive manufacturers and black powder users kept this simple vacuum for many years, as it was considerably safer than the more modern vacuum cleaners for this purpose.
You can view this item and many more interesting objects from the Royal Australian Navy Heritage Collection by visiting the Newington Armory, Sydney Olympic Park Authority.
View all the objects and find out more about the 3D scanning techniques.
Alison Lykissas, Cultural Collections Officer, Parramatta Heritage Centre, 2019

References:
The Museum of Power, The Story of the Vacuum Cleaner. Retrieved 12 July 2019 from http://www.museumofpower.org.uk/BVC.html
The Museum of Power, Star Vacuum Cleaner. Retrieved 12 July 2019 from http://www.museumofpower.org.uk/Star.html
Morclean Ltd, History of the Vacuum Cleaner. Retrieved 12 July 2019 from http://www.morclean.co.uk/History%20of%20the%20Vacuum%20Cleaner
F.Tucker, Statement of Significance Sydney Olympic Park Authority, (personal correspondence) 12 July 2019
Laskow, S (Oct 2014) The British Monarch's First Vacuum Cleaner. Retrieved 12 July 2019. https://www.theatlantic.com/technology/archive/2014/10/the-british-monarchys-first-vacuum-cleaner/381326/