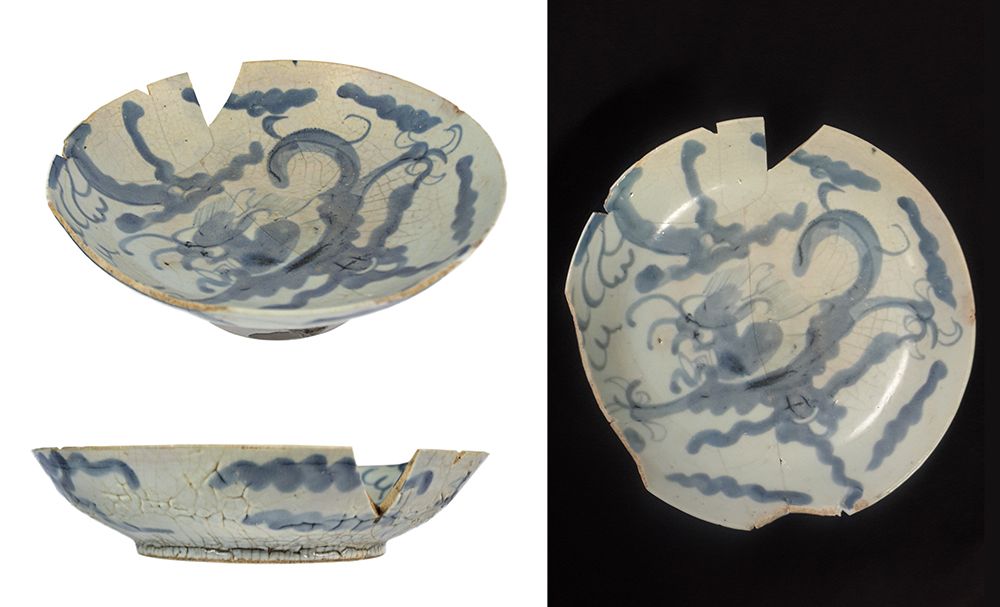 It is unknown how or why this Chinese Ming Bowl came to be at the Family Court site in Parramatta.
Dating from between 1400 – 1460, it may have come to Australia as an heirloom, purchased in China during the passage between Britain and Australia or represent early trade with China.
Found during an archaeological dig in 1985 at 1-3 George St in Parramatta, it was discovered alongside small Aboriginal stone artefacts, as well as earthenware, clay pipes, sandstone bricks and clay tiles, indicating both Aboriginal and Colonial presence. The site is one of the earliest convict built huts erected in Parramatta, 1790.
The traditional blue and white porcelain is well-known for its smooth surface, fine grain and white colour, along with its translucent quality. Traditionally associated with the imperial and noble Chinese classes, it was only during the Ming dynasty that demand increased to include Chinese commoners and overseas markets.
Note: To view the interactive model, please use the following browsers: Mozilla Firefox, Google Chrome, Opera, Safari, Edge or to view on your mobile phone iOS 8+ and Android 4.0. Click on the ParraHistoryandHeritage link below to see all the 3D models in Sketchfab.
View all the objects and find out more about the 3D scanning techniques.

Alison Lykissas, Cultural Collections Officer, Parramatta Heritage Centre, 2019
References:
"Art Sets: Chinese Porcelain", Art Gallery of NSW. Retrieved on 12 July from https://www.artgallery.nsw.gov.au/artsets/hxoca9
McDowall, C (2014) "Chinese Ceramics - Knowledge comes from seeing too much", The Culture Concept Circle.  Retrieved on 12 July from  https://www.thecultureconcept.com/chinese-ceramics-pt-1-knowledge-comes-from-seeing-much
Cartwright, M (Feb 2019) "Ming Porcelain". Retrieved on 12 July 2019 from https://www.ancient.eu/Ming_Porcelain/