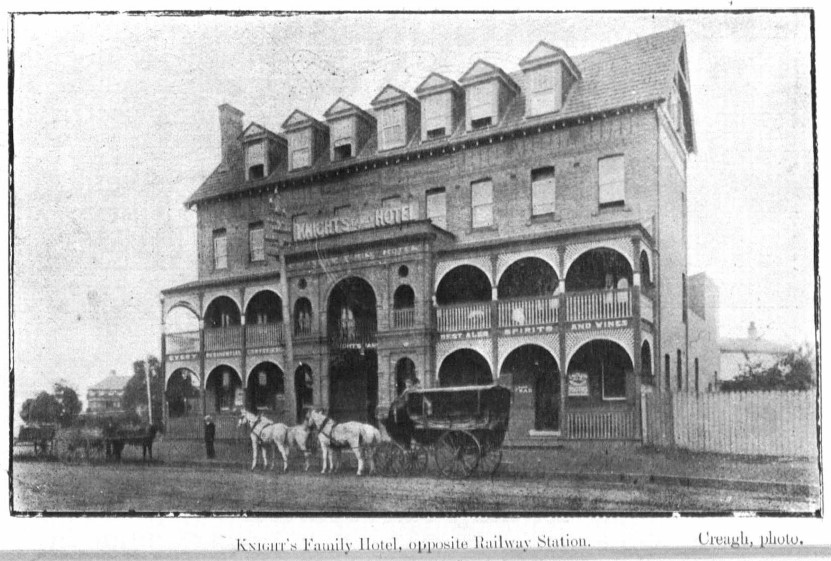 Knight's Family Hotel was originally Creasey's Family Hotel and later Hotel Parramatta. It was designed by architect Varney Parkes, son of Sir Henry Parkes and built as a first-class hotel with 32 rooms in 1902 for Margaret Creasey (nee Stein) (c1843-1926). The land was purchased from Mr Mobbs and was opposite the Parramatta railway station, adjoining Mr Mobbs and Mr Hunt's offices.[2] Margaret and her late husband John Doughty Creasey had previously operated the Tattersall's Hotel[3] at the busy intersection of George and Church Streets at Parramatta in 1874.
From 8 October 1904, The Creasey's Family Hotel was leased for the next 12 years to George A. Thomas who acted as a power of attorney and financier for Margaret as the license for the hotel was transferred at the Parramatta Licensing Court on Wednesday 5 October 1904 to John Edward Knight. Knight rebranded and advertised Creasey's Family Hotel as Knight's Hotel as seen in the photograph above taken by Pearce Rochford Creagh of Olive Studio, Parramatta.[1]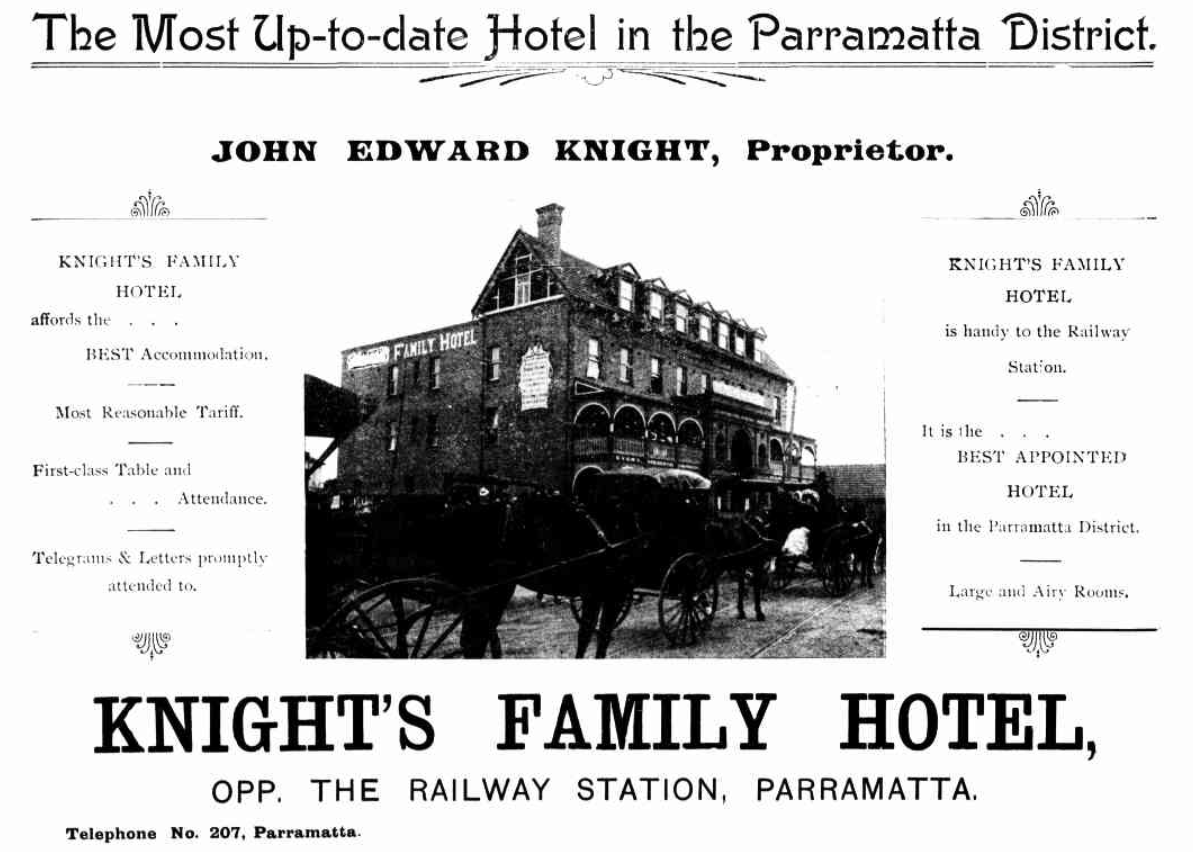 The next proprietor was Joshua E. Stubley from 2 March 1908 who reverted back to using the name 'Creasey's Family Hotel' offering first class accommodation, wines and spirits, and a billiard table as promoted in the local newspaper advertisements .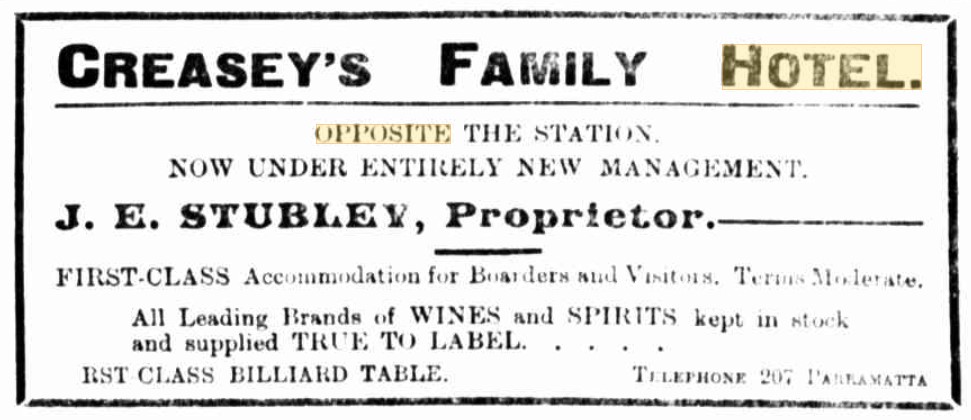 On Friday 26 November 1909, abnormally hot weather in the morning led to a thunderstorm, heavy rain and a lightning flash striking the roof of Creasey's Hotel, knocking two tiles off in the direction of the train station.[6]
In November 1915, Stubley left Creasey's to take over Tattlersall's Hotel. The publican licence was transferred back to Margaret and next leased to Alfred Nonmus from April 1916 for 10 years. Nonmus, in turn transferred his licence to Mrs May Bryan for £1750 with financing from Resch's Brewery in August 1916. Mrs Byran at the time was living separately from her husband in New Zealand and by 23 March 1917 was refused her application to renew her licensed as the Parramatta Licensing Bench felt she was not a person contemplated by the Act.[7]
On 22 December 1922, Margaret sold Creasey's Hotel to Samuel Edward Wallington for £12,000.[8]
From 19 September 1923, licensed publican Thomas Albert Wilson took over "Creasey's Hotel". On 16 July 1926, Edmund Resch, junior, director of Resch's Limited bought the hotel with Wilson extending his lease until 26 August 1941. In Easter 1927, a cyclone ripped the roof of the hotel which narrowly missed Wilson's brother. Still under Wilson's management, the hotel was renamed "Hotel Parramatta" in 1928.[9]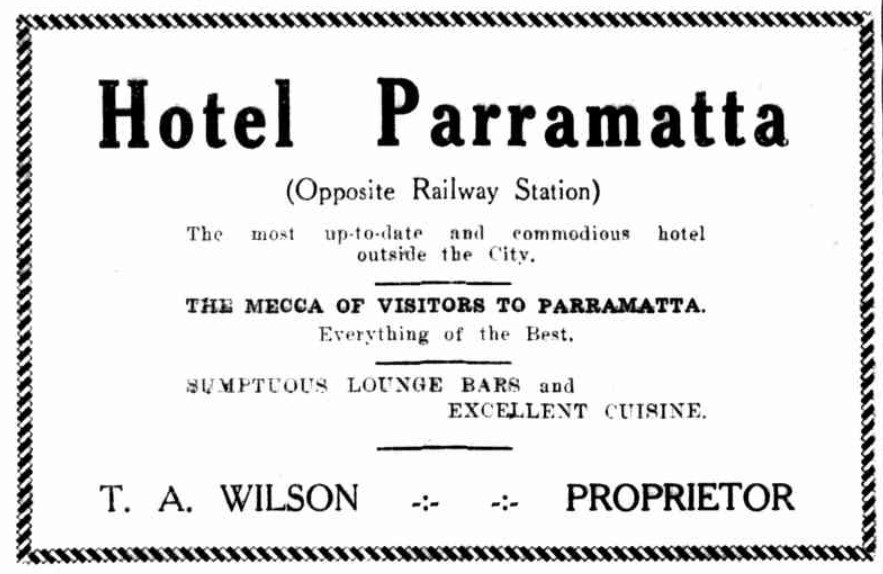 On 31 July 1929, with Resch's Limited in liquidation, Tooth & Co. Limited were the new owners. The next licensed publicans were Henry Mann from 16 July 1941 to 28 August 1946, then Albert James Dorothy from 24 July 1946 to 2 October 1963. Prior to the expiration of Dorothy's lease, on 3 March 1962 to 1963, "Hotel Parramatta" was rebuilt with Parramatta Council permitting the use of Council grounds being used for a temporary bar and beer garden. The architecture firm in charge of the build was Pollilt Malcolm and Bell.[11, 12]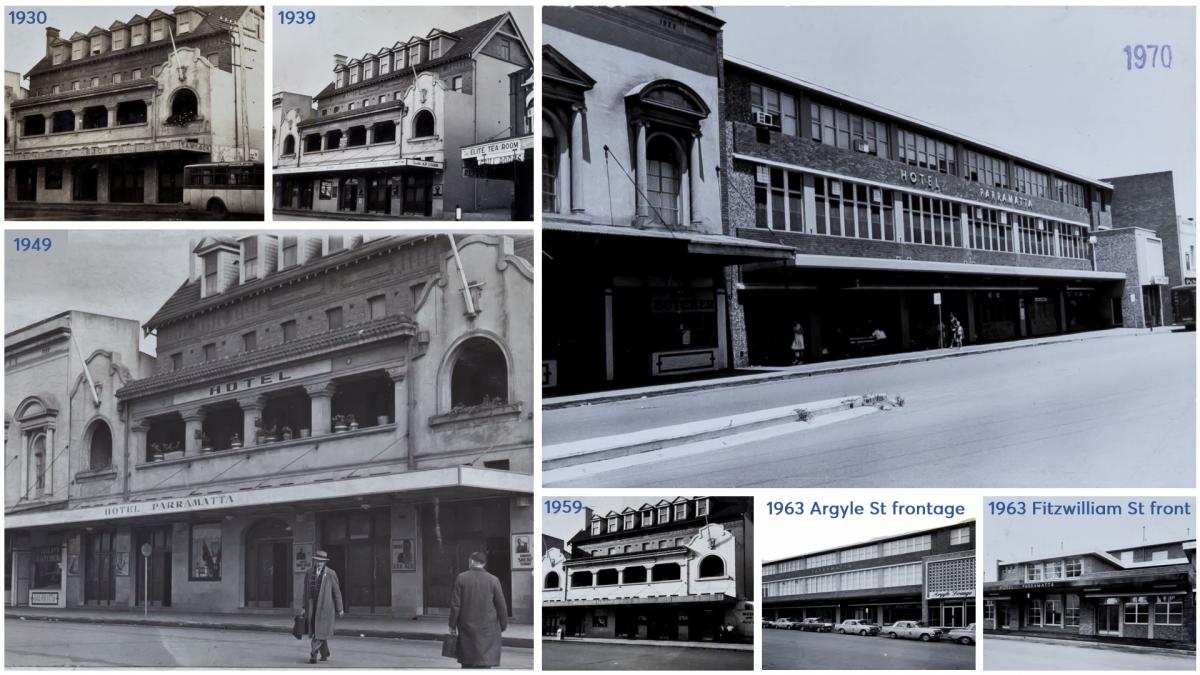 From 4 September 1963 to 17 August 1967, the new licensed publican was Liam Patrick O'Loughlin. From 19 July 1967 to 15 November 1971, the licensed publican was John Francis Maunsell. By the 1980s, with the expansion of the Westfield Limited Parramatta development, Hotel Parramatta was demolished.[11,12]

Anne Tsang, , Research Assistant, Parramatta Heritage Centre, City of Parramatta, 2021
References
Creagh, [Pearce Rochford]. Knight's family hotel, opposite railway station [image]. In Robert S. Hillier (compiler). (1905). Beautiful Parramatta : descriptive and illustrative. Parramatta, N.S.W. : Federal Printing Works, p. [106]. Available online at 

http://handle.slv.vic.gov.au/10381/82093

A first-class hotel for Parramatta. (1901, May 18).

The Cumberland Argus and Fruitgrowers Advocate

, p. 4. Retrieved from

http://nla.gov.au/nla.news-article85827931 ; 

To builders : Hotel Commonwealth. [Tenders] (1901, July 27, 1901, August 3).

The Cumberland Argus and Fruitgrowers Advocate

, p. 9. Retrieved  from

http://nla.gov.au/nla.news-article85831859

;

http://nla.gov.au/nla.news-article85834970 ; 

Parramatta licensing court. Wednesday, October 5. Mrs. Creasey's hotel. (1904, October 8).

The Cumberland Argus and Fruitgrowers Advocate

, p. 11. Retrieved from http://nla.gov.au/nla.news-article85912383 ; Another link broken : Death of Mrs. Creasey (1926, August 20). The Cumberland Argus and Fruitgrowers Advocate, p. 4. Retrieved from

http://nla.gov.au/nla.news-article104949858

Roberts, Mike (2018, October 28) Tattersall's Hotel, Parramatta,

Time Gents

[Website]

.

Retrieved from

https://timegents.com/2018/10/28/tattersalls-hotel-parramatta/

Knight's family hotel, late Creasey's. [Advertisement] (1905, October 4).

The Cumberland Argus and Fruitgrowers Advocate,

p. 3. Retrieved from

http://nla.gov.au/nla.news-article86183527 ; The most up-to-date hotel in the Parramatta district. Knight's family hotel, opp. The railway station, Parramatta [Advertisement]. (1905, December 16). The Cumberland Argus and Fruitgrowers Advocate, p. 30. Retrieved from

http://nla.gov.au/nla.news-article86176842

Creasey's Family Hotel [advertisement].

 (1908, October 10).

The Cumberland Argus and Fruitgrowers Advocate

, p. 5. Retrieved from

http://nla.gov.au/nla.news-article85978512 

The storm. Hotel struck. Men knocked down. (1909, November 27).

The Cumberland Argus and Fruitgrowers Advocate

, p. 6. Retrieved from

http://nla.gov.au/nla.news-article85918360 ; 

License transferred. (1915, October 12).

The Cumberland Argus and Fruitgrowers Advocate

, p. 2. Retrieved from

http://nla.gov.au/nla.news-article86099224 ; 

Personal par : Mr. A. Nonmus. (1916, April 1).

The Cumberland Argus and Fruitgrowers Advocate

, p. 12. Retrieved from http://nla.gov.au/nla.news-article86076602 ; 

Current news. License transferred. (1916, April 5).

The Cumberland Argus and Fruitgrowers Advocate

, p. 2. Retrieved from

http://nla.gov.au/nla.news-article86081530 ; 

Transfer of a license. (1916, August 26).

The Cumberland Argus and Fruitgrowers Advocate,

p. 6. Retrieved from

http://nla.gov.au/nla.news-article86070340 ; 

Parramatta licensing court. Friday, March 23. (Before Mr. M. H. Fitzhardinge, S.M.) : Creasey's Family Hotel, Parramatta. (1917, March 28).

The Cumberland Argus and Fruitgrowers Advocate

, p. 4. Retrieved from

http://nla.gov.au/nla.news-article86090613 ; Against the licensee. (1917, March 31). The Cumberland Argus and Fruitgrowers Advocate, p. 6. Retrieved from

http://nla.gov.au/nla.news-article86085489

Personal. Mrs Creasey has disposed of the freehold of Creasey's family hotel, Parramatta (1922, November 18). The Cumberland Argus and Fruitgrowers Advocate, p. 6. Retrieved from http://nla.gov.au/nla.news-article103313291 

Narrow escape : Hotel roof removed. (1927, April 22).

The Cumberland Argus and Fruitgrowers Advocate

, p. 12. Retrieved from

http://nla.gov.au/nla.news-article106222788

Hotel Parramatta [Advertisement]. (1928, March 9). The Cumberland Argus and Fruitgrowers Advocate, p. 11. Retrieved  from http://nla.gov.au/nla.news-article107093600
City of Parramatta (Council Archives) (2020). 1924 valuation book results for "Creasey Hotel", Argyle street, Parramatta (south side), Valuation books for the Councils of Parramatta, Granville, Dundas, Ermington Rydalmere 1925 - 1965 [database]. Parramatta, N.S.W. : Parramatta Heritage Centre, Local Studies Research Library.
NSW Land Registry Services (2020) Primary application no. 28261, Historical Land Record Viewer [database]. Available online at https://hlrv.nswlrs.com.au/ 
Tooth and Company Limited (1835 - 2010). Item 520 - Parramatta Hotel, Argyle Street, Parramatta [c.1920s - c.1970s]. In Noel Butlin Archives Centre, AU NBAC N60-YC-520. Available online at https://openresearch-repository.anu.edu.au/handle/1885/102025 ; Australian National University (2020 ; 1920). Parramatta Hotel card 1 side 1-2, N60-YC-520. Retrieved from http://hdl.handle.net/1885/104205 and http://hdl.handle.net/1885/104204