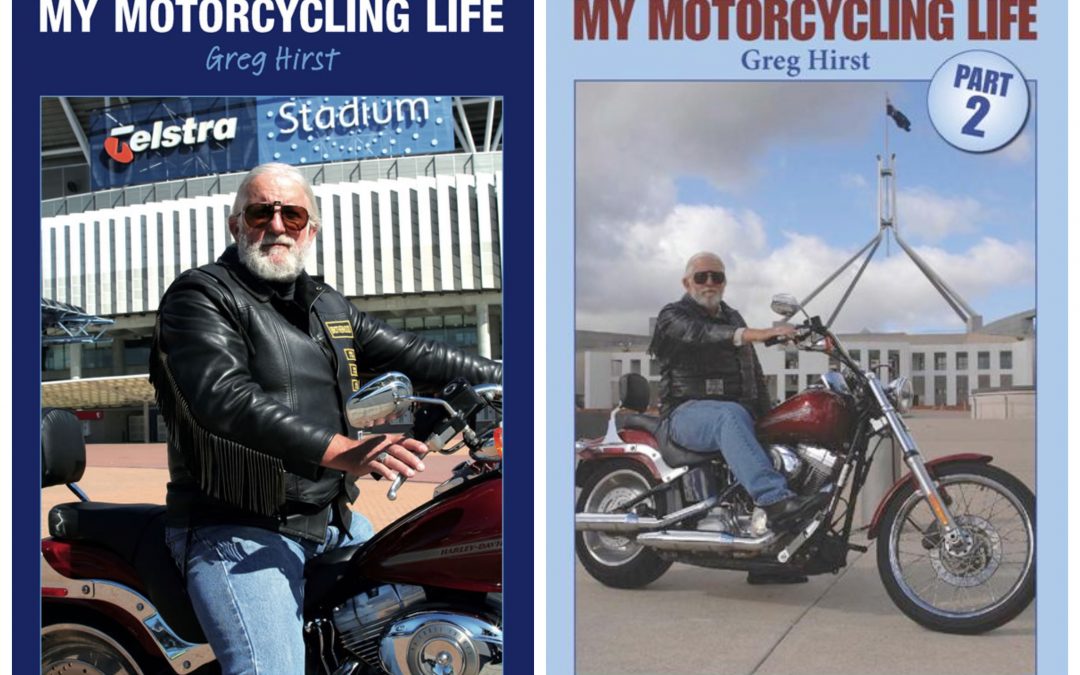 On Tuesday 6 June 2017, motorcycle activist and Brotherhood Christian Motorcycle Club senior member Greg Hirst passed away at the age of 64. His death was unexpected following complications from surgery. His funeral proceedings on Monday 19 June 2017 at Penrith Panthers Marquee, saw hundreds of motorcycle riders meet at Andrew Campbell Reserve in Prospect for a funeral processional ride along the M4 to Penrith to pay tribute to this Australian legend.[1]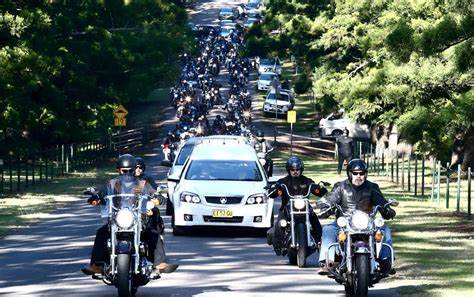 As a tribute to him Federal Member for Parramatta Julie Owens called him "a humble man who devoted his life to helping others"[3], "he did not just participate in the ride; he organised it"[4] in her statement in Parliament on 15 June 2017. In the Parliament of New South Wales Legislative Assembly on 20 June 2017, State Member for Parramatta Dr. Geoff Lee describe him as "a person admired throughout the community from grassroots level through to politicians"[5], and on 22 June 2017, State Member for Granville, Julie Owen also paid tribute to him, acknowledging that the "community lost one of it's great community advocates"[6].
A fierce advocate of motorcycling, Christianity and support for the homelessness,
"Greg was a husband, a father, a motorcyclist, and a man of God. His love for his family and his dedication and love for the motorcycling community were driven by his unwavering belief in a God who sees value and worth in every human being."[7]
A founding member of the Brotherhood Christian Motorcycle Club (CMC) since 1977[8], he rode with the club for more than 40 years, and also help establish the Christian Motorcyclists Association in 1979. He was an active member of the NSW Motorcycle Council and Bikers Australia. A political activist and Labor Party member with political aspirations, he dedicated his life lobbying for, and on many occasions achieving improved and safer conditions for the motorcycle riding community. He instigated the successful Silverwater Motor Festival, which incorporated the annual Custom and Street Motorcycle Show. He was also the man behind the popular Bathurst Bike Show.[9]
Through his work with the Street Level Christian Community[10] (an entity born out of Brotherhood CMC in 1981) and in a joint venture initially with Anglicare, he was chairman and founder of the Parramatta Street Youth Project (PSYP). In 1991, Mr Hirst organised a fundraising rock concert with Peter Garrett and Midnight Oil during the Easter Show at the Sydney Showground called 'One for the Homeless'. The money raised established the Parramatta Youth Project (later called Street Outreach) which ran for over 20 years and continues today through the support and partnership of PSYP members St. John's Anglican Cathedral and Parramatta Baptist.[11]
Mr Hirst was instrumental in organising the long running Bikers Australia Blanket Run from Penrith to Parramatta every August to coincide with the start of Homeless Persons Week in support of the street work of Parramatta Mission. A festival style event that provides an opportunity for homeless people, bikers, church people, politicians, welfare agencies and the general public to interact. He also encouraged schools to run blanket and food drives for the homeless.[12]
Since the early 1980s, Mr Hirst's continued advocacy work in Parramatta also includes assisting with Christian Scripture for high schools in Parramatta, under the auspices of St. John's Anglican Church; pastoring a house church in the Parramatta area for over 35 years, with today's Street Level Christian Community and opening up his family home as a Street Level's 'Caring and Ministry Centre' on Pitt Street, Parramatta in 2003 to provide a core place of contact and drop in for the church and those on the edges of society.[13]
Mr Hirst was a "Christian biker who was equally at ease with politicians, media personalities, the rich and famous and the homeless".[7] Since May 2011[14], he hosted a motorcycle radio program called Ride on Alive 90.5 FM every Tuesday 7pm which broadcasted across the nation. He was also the executive producer and co-presenter of the free-to-air television documentary series Temporary Australian[15] with WSFM radio personality Brendan 'Jonesy' Jones, which aimed to show a different side of the motorcycling fraternity through 5 series.[16]
"Not all motorcyclists are about tattoos and outlaw bikie clubs," Mr Hirst told the Sun in 2015. "They're people who have a passion for riding and we let them tell their stories."[17]
You can read more about this great Australian through his self-published books My motorcycling life and My motorcycling life: part 2.[18] An avid journalist, he also wrote as a columnist for Cars Guide in The Daily Telegraph and our local newspaper The Parramatta Advertiser.
Mr Hirst is survived by his wife of 37 years Colleen and their five children. His memory and legacy continues through the people he has touched.[19]

Anne Tsang, Research Assistant, City of Parramatta, Parramatta Heritage Centre, 2018
References
[1] Stevens, K. (2017, June 19). Parramatta Street Youth Project chairman and Brotherhood Christian Motorcycle Club member Greg Hirst remembered, Fairfield City Champion. Retrieved from https://www.fairfieldchampion.com.au/story/4732089/photosvideos-greg-hirst-remembered/#slide=17
[2] Jones, G. (2017, June 19). Protos/videos: Greg Hirst remembered [images], Fairfield City Champion. Retrieved from https://www.fairfieldchampion.com.au/story/4732089/photosvideos-greg-hirst-remembered/#slide=17
[3] Owens, J. (2017, June 14). Farewell Greg Hirst [Facebook note]. Retrieved from https://www.facebook.com/JulieOwensMP/videos/1380941931982870/
[4] Owens, J. (2017, June 15). Commonwealth of Australia. House of Representatives. (2017) Parliamentary Debates. (Official Hansard), p. 6658. Retrieved from http://parlinfo.aph.gov.au/parlInfo/genpdf/chamber/hansardr/3219af20-da22-4762-b08e-ad4cf9b7009e/0074/hansard_frag.pdf;fileType=application%2Fpdf
[5] Lee, G. (2017, June 20). Tribute to Greg Hirst. NSW. Parliamentary Debates. Legislative Assembly Hansard (2017). Parliamentary debates (Hansard). Sydney, N.S.W. New South Wales Legislative Assembly, pp. 60-61. Retrieved from https://www.parliament.nsw.gov.au/permalink?id=HANSARD-1323879322-98098
[6] Finn, J. (2017, June 22). Tribute to Greg Hirst. NSW. Parliamentary Debates. Legislative Assembly Hansard (2017). Parliamentary debates (Hansard). Sydney, N.S.W. New South Wales Legislative Assembly, pp. 60-61. Retrieved from https://www.parliament.nsw.gov.au/permalink?id=HANSARD-1323879322-98226
[7] Hinchliffe, M. (2017, June 13). Vale Greg Hirst – official BHCMC eulogy, Motorbike Writer. Retrieved from https://motorbikewriter.com/vale-greg-hirst-official-ecology/
[8] Hirst, G. & Rangeley, M. (ed.) (2009). My motorcycling life: part 2. Parramatta, N.S.W: Greg Hirst Enterprises.; Street Level Christian Community (2018). History [webpage]. Retrieved from http://streetlevelchristiancommunity.org.au/about/
[9] Australian Motorcycle News. (2017, July 20). Vale Greg Hirst, Australian Motorcycle News. Retrieved from http://amcn.com.au/editorial/vale-greg-hirst/
[10] Street Level Christian Community (2018). Welcome [webpage]. Retrieved from http://streetlevelchristiancommunity.org.au/
[11] Parramatta Street Youth Project. (2018). About, Parramatta Street Youth Project [website]. Retrieved from http://parramattastreetyouthproject.org.au/about/
[12] Stevens, K. (2016, August 3). Bikers Australia blanket run for Parramatta Mission to launch Homeless Persons Week, Fairfield City Champion. Retrieved from https://www.fairfieldchampion.com.au/story/4022717/blanket-run-will-warm-up-parramattas-homeless/
[13] Greg Hirst Enterprises. (2017). On the Passing of Greg Hirst, Greg Hirst Enterprises [website]. Retrieved from http://greghirstenterprises.com.au/on-the-passing-of-greg-hirst/
[14] Hirst, G. [Greg]. (n.d.). Posts [LinkedIn page]. Retrieved from https://au.linkedin.com/in/greg-hirst-56516231
[15] Greg Hirst Enterprises. (n.d.) Temporary Australians … and proud of it! [website]. Retrieved from http://temporaryaustralians.com.au/
[16] Hinchliffe, M. (2017, July 24). Call to fund Greg Hirst's final shows, Motorbike Writer. Retrieved from https://motorbikewriter.com/help-temporary-australians-end-well/
[17] Stevens, K. (2015, October 7). Meet motorcyclist Greg Hirst, executive producer of Temporary Australians on Channel ONE, Fairfield City Champion. Retrieved from https://www.fairfieldchampion.com.au/story/3408107/were-not-all-tattoos-and-outlaw-clubs/
[18] Greg Hirst Enterprises. (n.d.) My motorcycling life, Greg Hirst Enterprises [website]. Retrieved from http://greghirstenterprises.com.au/my-motorcycling-life/
[19] Senaratna, A. (2017, October 19). Bikers break bread with MPs, City Hub, p. 12. Retrieved from https://issuu.com/altmedia/docs/cityhub_19_october