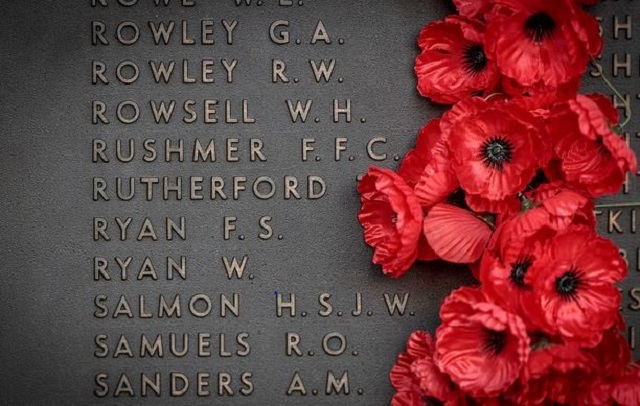 The First World War (1914-1918) and those involved with the conflict, are often remembered through a variety of monuments ranging from statues to plaques. Honour rolls are a common example of such commemorative objects and can frequently be found in schools, government buildings or public areas. These rolls are distinguished by their form as they are mostly wooden, stone or bronze and feature a list of names underneath a crest.
Honour rolls, unlike other Great War memorials, were erected to commemorate specific individuals who belonged to a particular organisation. These include employees of a company, students at a school, members of a club or in the case of local council honour rolls, councillors and even mayors who participated in the conflict.
In addition to commemoration, honour rolls often serve other purposes as well depending on their decoration. Rolls created during the early twentieth century in particular, include references to the reigning monarch through symbolic imagery such as a crown or flag, or through a particular phrase, most commonly "For King and Country". This serves to reinforce both the organisation and the individuals' patriotism or dedication to their nation. Furthermore, many rolls are furnished with symbols such as a wreath or olive branch to connote peace, signifying the end of war. Occasionally allusions to religion would be featured as well depending on the organisation.
Today, honour rolls continue to commemorate individuals who participated in the Great War as well as to serve as a reminder of the sacrifices made during wartime. Honour rolls also play a pivotal part in many remembrance ceremonies and are often displayed during events dedicated to armed forces such as ANZAC or Remembrance Day.
The individuals listed on honour rolls are remembered for their involvement in a particular conflict but may not be limited to those who died during active service. Some rolls specifically list their contributions with phrases such as "in commemoration of officers and employees who served" or "those who answered the call". Rolls may also specify those who have died during conflict or mark the military rank of certain individuals.
Commemorative rolls however, such as the one at the Australian War Memorial, are dedicated to Australians who have sacrificed their lives for a particular conflict in a non-military capacity. Though most names listed on honour rolls dedicated to military conflict are of individuals who fought or died in war, it is ultimately up to the organisation's discretion to determine who is eligible to be included and thus, eligibility can vary from roll to roll.
Similarly, the size, shape and structure of an honour roll varies and is dependent on the organisation that commissioned it. Larger organisations were able to fund more elaborate and furnished rolls, often to reinforce their dedication to their members and country.
Notable examples of these large honour rolls include the Australian War Memorial's Roll of Honour in the Australian Capital Territory which bears over a hundred thousand names spanning several conflicts beginning with Sudan in 1885. In Sydney, state-wide government organisations such as the Department of Education have erected large rolls of honour at their headquarters in remembrance of the New South Wales public school teachers involved in World War 1. Underneath Central Station in Sydney, another large honour roll dedicated to employees and members who served during the Great War is publicly displayed.
Honour rolls remain an integral aspect of Great War remembrance and can provide individual recognition to combatants who are often overlooked by generalised statues or monuments. They serve as a continual reminder of the costs of war, whilst ensuring that the sacrifices made remain in our memories.

Kaitao He, Volunteer, City of Parramatta, Parramatta Heritage Centre, 2019
References