This iconic late Victorian building with a dome on the north-east corner of Church and Phillip Street Parramatta was erected in 1889 as indicated on the building. At the time of its construction, the architect was Mr Walter Hillary Monckton of Rydalmere and Parramatta (who died on 7 March 1924 in Manly NSW, aged 62) and the contractor was A. M. Allan of Summer Hill, New South Wales. Both were also involved in the design and building of the Canterbury Town Hall, Dundas Town Hall (now demolished) and Rydalmere School of Arts (later Rydalmere Town Hall, now demolished). The foreman was Mr Renton, cement work was by Mr Wollcott of Sydney and plumbing was completed by local plumber Mr J Martins.
According to the Cumberland Argus and Fruitgrowers Advocate article dated 27 July 1889, this building was built for Cumberland Building, Land and Investment Society (C.B.L & I.S.) Company which was established in 1881 by Frank Beame (Parramatta Mayor 1889, 1891) and went into liquidation around 1898. The dome is reminiscent of a scaled down model of the dome of Santa Maria del Fiore in Florence, Italy.
Site History
Prior to the construction of this landmark heritage listed building, the first recorded European settlement of the site was a land lease from 11 April 1804 to James Horrax (or Harrex), a convict who arrived in Australia per "Ganges" in 1797. The land title was returned by a Sarah Mucklow on 5 April 1823. On 30 June 1823, it was granted to South Sea Island missionary Francis Oakes. It would remain the Oakes family until shortly after the death of 93 year old widow Mrs. Rebecca Oakes (nee Small, born 1789). On 28 March 1883, Oakes Estate which included a shop, dwelling-house and outbuildings was subdivided into 14 allotments and sold at auction by Mills and Pile auctioneers. Lot 10 DP 65743 was purchased by C.B.L & I.S. for £1,755 16 shillings and 8 dimes (that equates to $240,675 in present value).
Dental Surgery from 1898-1909
From 1898, this landmark was leased and used by popular Parramattan dentist and later Parramatta Council alderman Leicester Stuart Anderson "Simmy" Simpson (1874 – 9 July 1936) as a dental surgery. In a full page spread in The Cumberland Argus newspaper article Mr. L. A. Simpson's Dental Establishment dated 30 September 1899, page 13, photos of the interior and exterior were published to showcase the reception area, workroom and surgery on the ground floor. The upstairs was used as Simpson's private residence.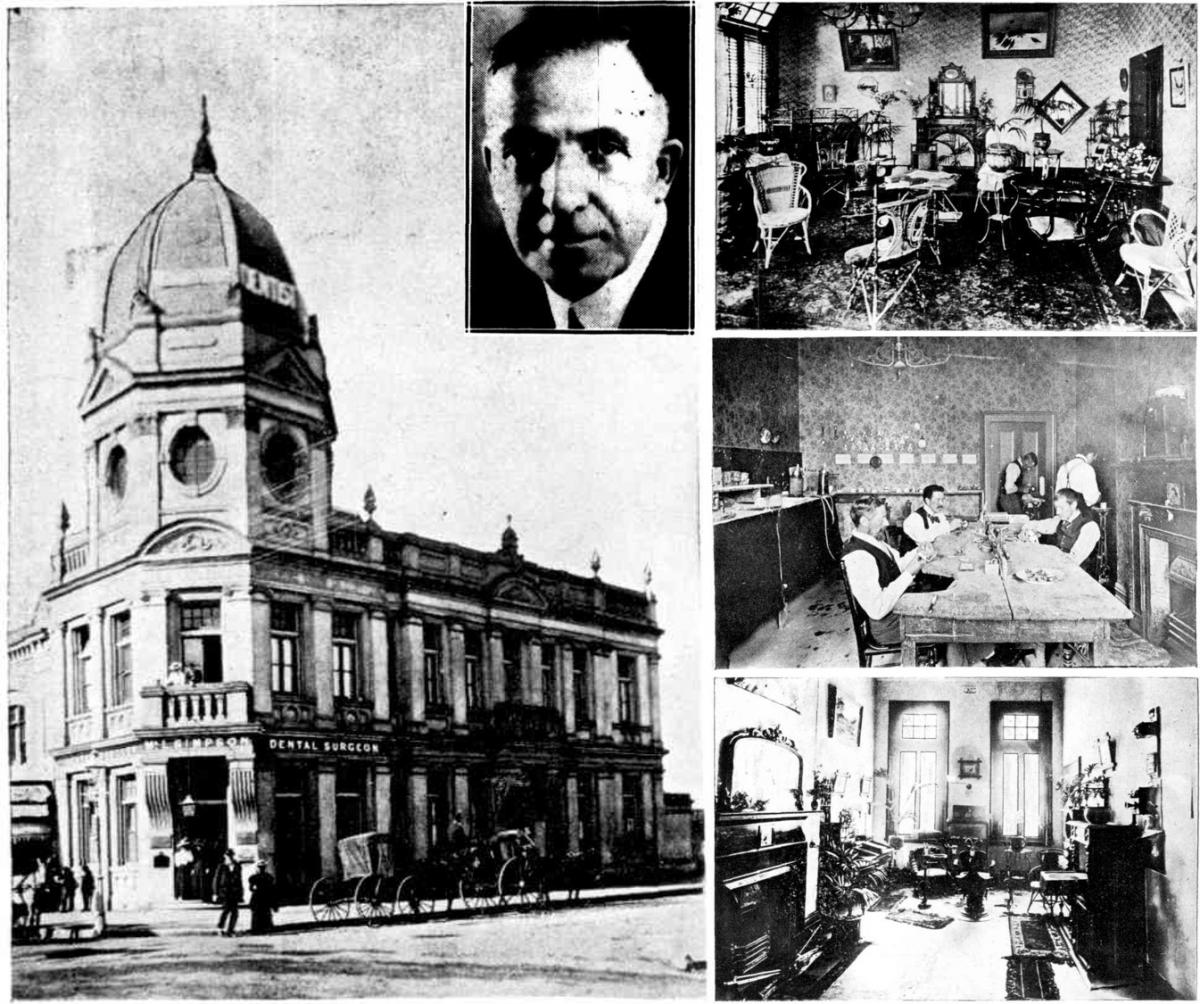 By 1900, the site was up for auction again.This time it was purchased for £1,600 by New Zealand native Archibald B. Maxwell, a dental surgeon who rebranded the building as a 'Dental Studios'.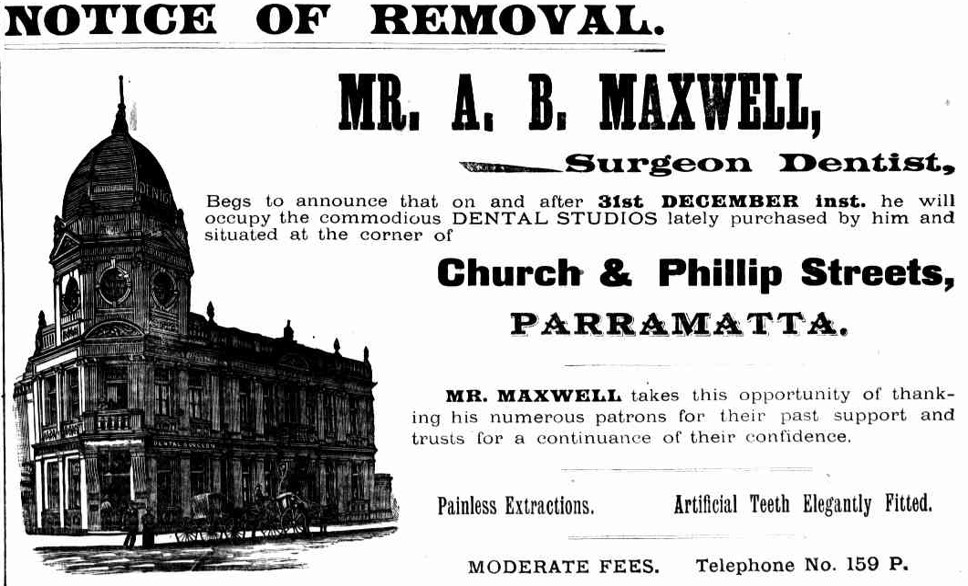 In 1907 his partnership with another surgeon dentist Norman George Gould dissolved and Gould took over the practice until his death on 20 February 1910 from poisoning by laudanaun or opium. Gould was going through an much publicised separation from his wife Mildred Gould (nee Abbott) which made the headlines. His body was discovered by his brother Leslie Hart Gould, another local Parramatta dentist.
Banking Establishment from 1909-1996
From 1909, it was number 248 Church Street, Parramatta and was occupied by the Government Savings Bank which ceased operating on 21 April 1931 because it 'lack of money' after 100 years of services.
According the NSW Lands Registry Services Historical Land Record Viewer, the land title for the site was held by Sydney furniture warehouseman Sidney Hall in 1929, before the top floor was quickly transferred to Miss Florence Muriel Blanche Watt (later Mrs Muriel Florence Blanche Thompson, who died on 23 February 1953) in June and the ground floor was leased to the Union Bank of Australia Limited of the Banking Chamber. By 1932, the Union Bank took over the whole building until it went into voluntary liquidation and its assets were transferred to the Australian and New Zealand Bank (also known as ANZ Bank). The ANZ Bank branch occupied the site from 7 September 1955 until 1996. In 1959, accountants William John Andrew of Parramatta and John Andrew McNamara of Eastwood also leased portions of the first floor.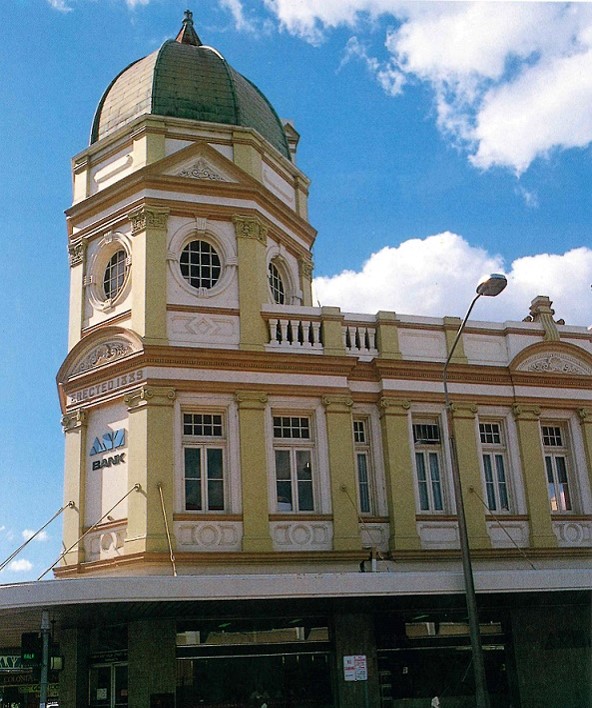 Present day
On 25 October 1997, Council approved plans for the ground floor to be refurbished as a restaurant cafe while the first floor was to remain vacant (DA/602/1997). This restaurant was Liana's Italian Restaurant until late October 2018 when it was closed for renovations and later in November that year reopened briefly as Mille Uno, an Italian restaurant before permanently closing during the Covid-19 pandemic. As of 4 November 2020, it has reopened as Lone Star Rib House and Brews Parramatta, an American style BBQ franchise restaurant from Texas.

Anne Tsang, Research Assistant, City of Parramatta, Parramatta Heritage Centre, 2020
References
A Parramatta Tragedy. Death of N. G. Gould. The inquest. (1910, February 23). The Cumberland Argus and Fruitgrowers Advocate, p. 2. Retrieved from http://nla.gov.au/nla.news-article86000419
Bentley, Judy. (1987). Beautiful Parramatta. Bathurst, N.S.W. : Robert Brown & Associates, p. [17].
By order of the mortgagees. First class Parramatta freehold. [Advertisement] (1900, May 12). The Cumberland Argus and Fruitgrowers Advocate, p. 9, col. 3, row 8. Retrieved from http://nla.gov.au/nla.news-article85817131
Cumberland Argus (1899) Parramatta & district illustrated : with a review of chief municipal, electoral, industrial and commercial factors of Parramattan progress and prosperity … Parramatta, N.S.W. : Cumberland Argus, p. 54. Also available online http:/​/​nla.gov.au/​nla.obj-392011587
Cumberland Building Land and Investment Company. (1889, July 27). The Cumberland Argus and Fruitgrowers Advocate, p. 2. Retrieved from http://nla.gov.au/nla.news-article86266610
Cumberland Building, Land and Investment Company, Limited – in liquidation. [Advertisement] (1897, November 27). The Cumberland Argus and Fruitgrowers Advocate, p. 9. Retrieved http://nla.gov.au/nla.news-article85770236
Current news. Notice of removal. (1898, March 19). The Cumberland Argus and Fruitgrowers Advocate, p. 4, col. 3, para. 6. Retrieved from http://nla.gov.au/nla.news-article85842598
Israel, Colin. (2011). Statement of heritage impact: 306 Church Street, Parramatta NSW 2150. North Ryde, N.S.W.: Colin Israel Heritage Advice. In City of Parramatta (2018). DA/566/2011. My Development [portal]. Retrieved from http://eplanning.parracity.nsw.gov.au/pages/xc.track/SearchProperty.aspx?id=301490
Meredith Walker & Associates (1993) City of Parramatta heritage study, volume 2: inventory form. Parramatta, N.S.W. : Parramatta City Council, inventory no. 117
Mr. L. A. Simpson's dental establishment. (1899, September 30). The Cumberland Argus and Fruitgrowers Advocate, p. 13. Retrieved from http://nla.gov.au/nla.news-article85775778  
Notice of removal. [Advertisement] (1901, February 9). The Cumberland Argus and Fruitgrowers Advocate, p. 7. Retrieved October 6, 2018, from http://nla.gov.au/nla.news-article85828585
NSW Historical Land Record Viewer (HLRV) – http://hlrv.nswlrs.com.au/pixel.htm#
NSW Land Registry Services (LRS) Online – https://online.nswlrs.com.au
NSW Office of Environment & Heritage (no date). Anz Bank and Potential Archaeological Site, State Heritage Inventory, database no. 2240117. Retrieved from https://www.environment.nsw.gov.au/heritageapp/ViewHeritageItemDetails.aspx?ID=2240117
Oakes' Estate. (1892, June 11). The Cumberland Mercury, p. 4. Retrieved October 22, 2018, from http://nla.gov.au/nla.news-article249009578
Parramatta City Council (1999) Church street colour scheme, volume 2: Phillip street to Victoria road. Parramatta, N.S.W. : Parramatta City Council.
Proudfoot, Helen & Horn, Mark (1975) Historic buildings & sites in Parramatta. Parramatta, N.S.W. : Parramatta City Council, p. 30.
Sale of a Valuable Properly. (1900, June 2). The Cumberland Argus and Fruitgrowers Advocate, p. 4. Retrieved from http://nla.gov.au/nla.news-article85816587
Notice is hereby given that the partnership hitherto existing between Archibald Bent Maxwell and Norman George Gould (1908, June 3). Government Gazette of the State of New South Wales, p. 3102. Retrieved from http://nla.gov.au/nla.news-article226908315
City of Parramatta. (2020). ANZ Bank 306 Church Street PARRAMATTA NSW 2150, DA Tracker, property number 301490. Retrieved from http://eplanning.parracity.nsw.gov.au/Pages/xc.Track/SearchProperty.aspx?id=301490
Australian Government Australian Business Register. (2020). Historical details for ABN 35 165 783 460, ABN Lookup. Retrieved from https://www.abr.business.gov.au/AbnHistory/View?id=35165783460