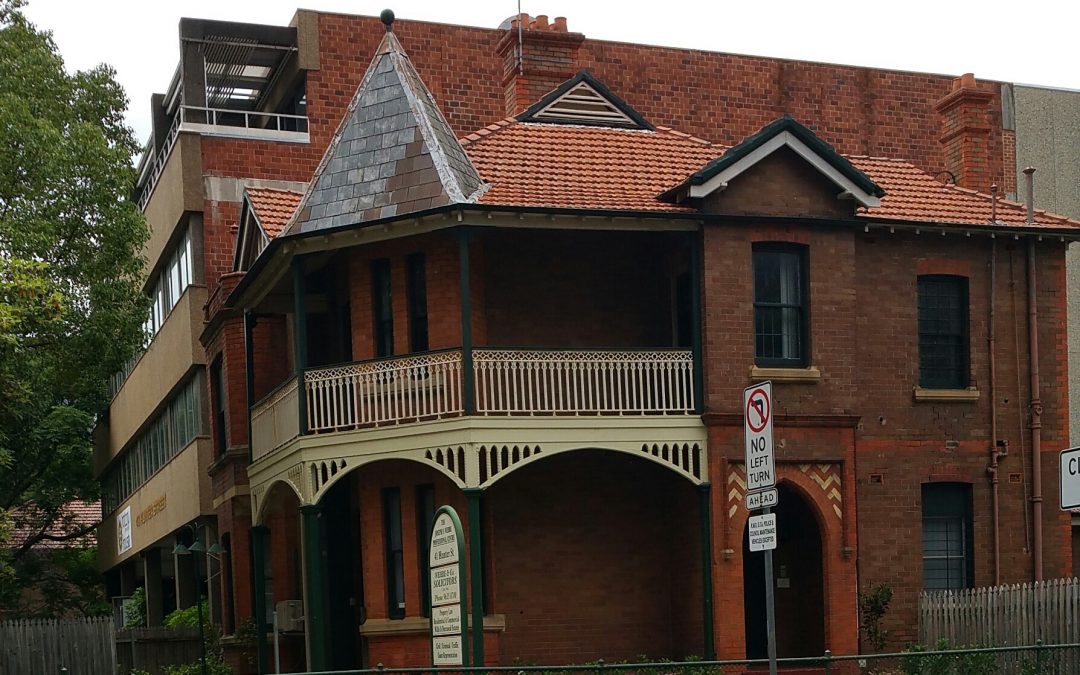 On the evening of Wednesday 15 November 1893 the Scottish Reverend John Paterson (1860-1949) was ordained into St. Andrew's Presbyterian Church Parramatta as the new minister.[1] Back then, this Scot's church was still located on the present 215-217 Church Street, Parramatta – the former Government Savings Bank of New South Wales (built in 1927).[2]
Around 1895-1897, a new manse was built for Reverend Paterson and his family.[3] Designed by local architect Francis Ernest Stowe (1867-1936)[4] of Marsden Street, Parramatta, this two storey Federation Queen Anne revival style home still stands today at 41 Hunter Street, corner Marsden Street, Parramatta. It sits beside the 'Great Western' railway line (completed in 1860) and is in close proximity to St John's Anglican Cathedral, the Town hall and Centenary Square.
The land in which this house was built on was first granted by the Crown on 12 October 1858 to Reverend James Coutts, James Urquhart and Thomas Harris, trustees of the Church of Scotland.[5] At one time, caterer Thomas Hill (1839-1909) and his family appear to have resided there when the trustees petitioned to sell the Hunter-street manse to go abroad in 1892.[6]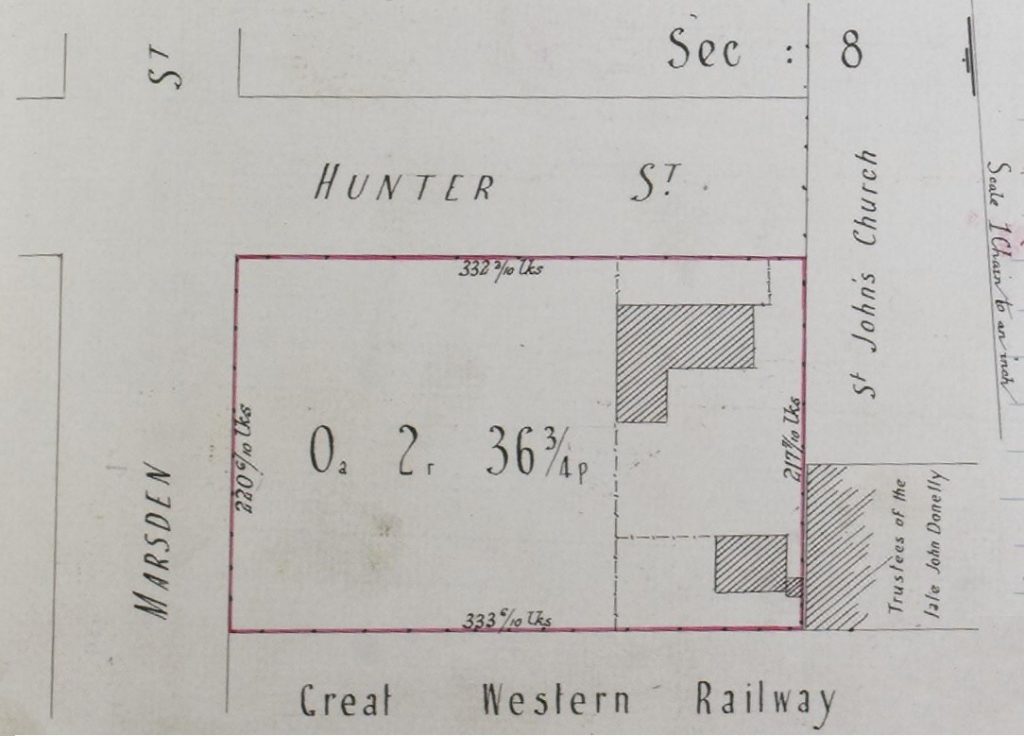 Reverend Paterson served the local community and lived in the district for 43 years.[8] He was instrumental in the development of the new St. Andrew's Church being moved to larger premises at 2 Phillip Street, corner O'Connell Street, Parramatta from Church Street.[9] This Scot's church was built in 1926 and currently trades as the Bavarian Bier Cafe. It is also part the 2-10 Phillip Street mixed use development project[10] which may contain Parramatta's first five star hotel.[11] He was a director at Burnside Homes[12] and was present when the swimming pool was installed at Burnside.
In its prime, "The Manse" as it was, included a "lawn tennis court" [13]
World War One
During World War One, Reverend Paterson served as a Military Chaplain in 1915[14], while his 3 sons William Sydney, Fairlie Alexander and his twin Albert Victor all enlisted and took part in active duty overseas.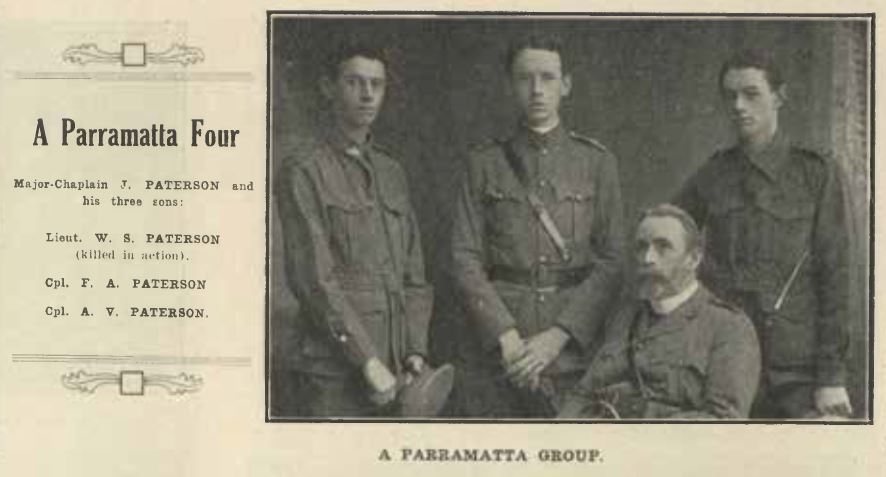 Sapper William Sydney Paterson (service number 3889) was the eldest son (born 1895). At 21, this young architect enlisted on 4 December 1916 with the 1 Pioneer Battalion, 10 Reinforcements. He had previously been serving in the 20 Infantry at home. He was made Acting Sergeant during the voyage aboard HMAT Anchises A68 from Sydney on 24 January 1917. Later he was promoted to Sappers and served in the 12 Field Company, Australian Engineers. Sadly William was killed in action in France on 5 April 1918, aged 22.[16]
Private later Acting Corporal Albert Victor Paterson (service number 2070) and his twin brother Private, later Acting Corporal Fairlie Alexander Paterson (service number 2071) were both 18-year-old clerks (born 1897) when they enlisted on 17 November 1915. Having previously served in the 20 Infantry, they embarked on 18 February 1916 with as part of the 3 Reinforcements of the 8 Infantry Brigade, 31 Infantry Battalion from Melbourne, Victoria aboard the HMAT Ballarat A70. Albert later served as Lance Corporal of the 47 Australian Infantry Battalion and Fairlie was Second Lieutenant of the same battalion. Albert was recommended an honour/award on 11 September 1916 and subsequently received a Military Medal[17]. Both brothers returned to Australia on 23 July 1919.
Reverend Paterson retired in July 1931.[18] In his retirement, he and his wife Jessie Jane (d.1957) relocated to live with their daughter Margaret Hope Figtree (1899-1986) and son-in-law Dr. Edward R. Figtree in Hurstville.[19]
The manse remained in possession of the Presbyterian Church (NSW) Property Trust until it was subdivided again in 1956.[20] Over the years, this local heritage property has been the medical practice of Dr. Peter Cedric Phillips Waugh (1917-1995), a third generation medical practitioner serving in Parramatta after his participation in World War Two as a medical officer with the Australian Imperial Forces during the New Guinea campaign.[21] Currently, it is operating as a solicitor's office.

Anne Tsang, Research Assistant, City of Parramatta, Parramatta Heritage Centre, 2019
References [1] A new local minister. Induction of the Rev. John Paterson. (1893, November 18). The Cumberland Argus and Fruitgrowers Advocate,, p. 8. Retrieved 25/11/2017 from http://nla.gov.au/nla.news-article85648295 [2] Arfanis, P. (2015, December 22). St Andrew's Church, Parramatta, lives on [blog post]. Retrieved from https://arc.parracity.nsw.gov.au/blog/2015/12/22/st-andrews-church-parramatta-lives-on/ [3] Tender. (1896, October 24) The Cumberland Argus and Fruitgrowers Advocate, p. 9, col. 4, position 11. Retrieved 1/12/2017 from http://nla.gov.au/nla.news-article85768566 ; Tender. (1896, November 14). The Cumberland Argus and Fruitgrowers Advocate (Parramatta, NSW : 1888 – 1950), p.9, col. 1, position 33. Retrieved 1/12/2017, from http://nla.gov.au/nla.news-article85773967 [4] Dobson, M. (1973). John Lamb Lyon and Francis Ernest Stowe, Leichhardt historical journal, no. 4, p. 8. Retrieved from https://library.lmc.nsw.gov.au/DIGITAL/EBOOKS/JPEG/lhj4.pdf [5] Kayandel Archaeological Services (2009). Historical and Aboriginal assessment of subsurface potential: 41 Hunter Street, Parramatta. Draft. Retrieved 1/12/from http://eplanning.parracity.nsw.gov.au/Temp/09_C00021QP.PDF [6] Current news. [A meeting of the Presbytery of the Hawkesbury was held in St. Andrew's Church, Parramatta…] (1892, February 20). The Cumberland Argus and Fruitgrowers Advocate (Parramatta, NSW : 1888 – 1950), p. 4, para. 3. Retrieved 1/12/2017, from http://nla.gov.au/nla.news-article86267672 [7] New South Wales Lands Registry Services. (1896). Certificate of Title (Volume 1209 and folio 13). Retrieved 1/12/2017 from http://images.maps.nsw.gov.au/terms/acceptTerms.htm [8] Rev. John and Mrs. Paterson: Leaving Parramatta after 43 years. (1936, May 28). The Cumberland Argus and Fruitgrowers Advocate, p. 4. Retrieved 25/11/2017 from http://nla.gov.au/nla.news-article104692185 [9] Finlay, C. (2015, September 4). St Andrew's Uniting Church, Parramatta [blog post]. Retrieved 25/11/2017 from  https://arc.parracity.nsw.gov.au/blog/2015/09/04/st-andrews-uniting-church-parramatta/ [10] City of Parramatta Council (2017). Planning proposal: 2-10 Phillip Street [draft]. Retrieved 1/12/2017 from https://www.cityofparramatta.nsw.gov.au/sites/council/files/2017-10/1.%20Planning%20Proposal.pdf or https://www.cityofparramatta.nsw.gov.au/about-parramatta/news/on-exhibition/planning-proposal-draft-site-specific-dcp-and-draft-vpa-for-2 [11] Adoranti, K. (2016, August 12). Sneak peek at concept designs for Parramatta's first five star hotel, Parramatta Advertiser. Retrieved 1/12/2017 from https://www.dailytelegraph.com.au/newslocal/parramatta/sneak-peek-at-concept-designs-for-parramattas-first-five-star-hotel/news-story/0dc6fce6728401cd8a3a45e899cfed8a [12] Rev. John and Mrs. Paterson: Leaving Parramatta after 43 years. (1936, May 28). The Cumberland Argus and Fruitgrowers Advocate (Parramatta, NSW : 1888 – 1950), p. 4. Retrieved 25/11/2017, from http://nla.gov.au/nla.news-article104692185 [13] Rejoicings at the manse. (1918, November 16). The Cumberland Argus and Fruitgrowers Advocate (Parramatta, NSW : 1888 – 1950), p. 6. Retrieved 25/11/2017, from http://nla.gov.au/nla.news-article86210526 [14] Home again! Interview with the Rev. John Paterson. (1915, December 8). The Cumberland Argus and Fruitgrowers Advocate (Parramatta, NSW : 1888 – 1950), p. 3. Retrieved 25/11/2017, from http://nla.gov.au/nla.news-article86107767 [15] The Cumberland Argus. (1920). Parramatta and District Soldiers who fought in the Great War, 1914-1919. Parramatta, N.S.W.: The Cumberland Argus. Retrieved 8/12/2017 from https://arc.parracity.nsw.gov.au/blog/2014/08/07/the-argus-war-book-parramatta-and-district-soldiers-who-fought-in-the-great-war/ [16] The passing of Stuart Paterson. The affliction at the manse. (1918, April 17). The Cumberland Argus and Fruitgrowers Advocate (Parramatta, NSW : 1888 – 1950), p. 3. Retrieved 28/11/2017, from http://nla.gov.au/nla.news-article86208890 [17] London Gazette (1916, December 9), p. 12055, position 133; Commonwealth of Australia Gazette (1917, April 19), p. 928, position 21. [18] The churches. Parramatta Presbyterian. Rev. John Paterson retires. (1931, July 4). The Sydney Morning Herald (NSW : 1842 – 1954), p. 7. Retrieved 1/12/2017, from http://nla.gov.au/nla.news-article16790728 [19] Rev. John and Mrs. Paterson: Leaving Parramatta after 43 years. (1936, May 28). The Cumberland Argus and Fruitgrowers Advocate (Parramatta, NSW : 1888 – 1950), p. 4. Retrieved 25/11/2017, from http://nla.gov.au/nla.news-article104692185 [20] Patch, G. & Archnex Designs. (2009). Statement of heritage impact: 41 Hunter St, ("The Manse") Parramatta for Wehbe & Co. Solicitors. In City of Parramatta Council. (2017). Heritage report – 41 Hunter Street Parramatta, DA/169/2009, My Development [portal] Retrieved 28/11/2017 from http://eplanning.parracity.nsw.gov.au/pages/xc.track/SearchApplication.aspx?id=272428 [21] The Royal Australasian College of Physicians. (2015). College roll: Waugh, Peter Cedric Phipps. Retrieved 28/11/2017 from https://members.racp.edu.au/page/library/college-roll/college-roll-detail&id=230