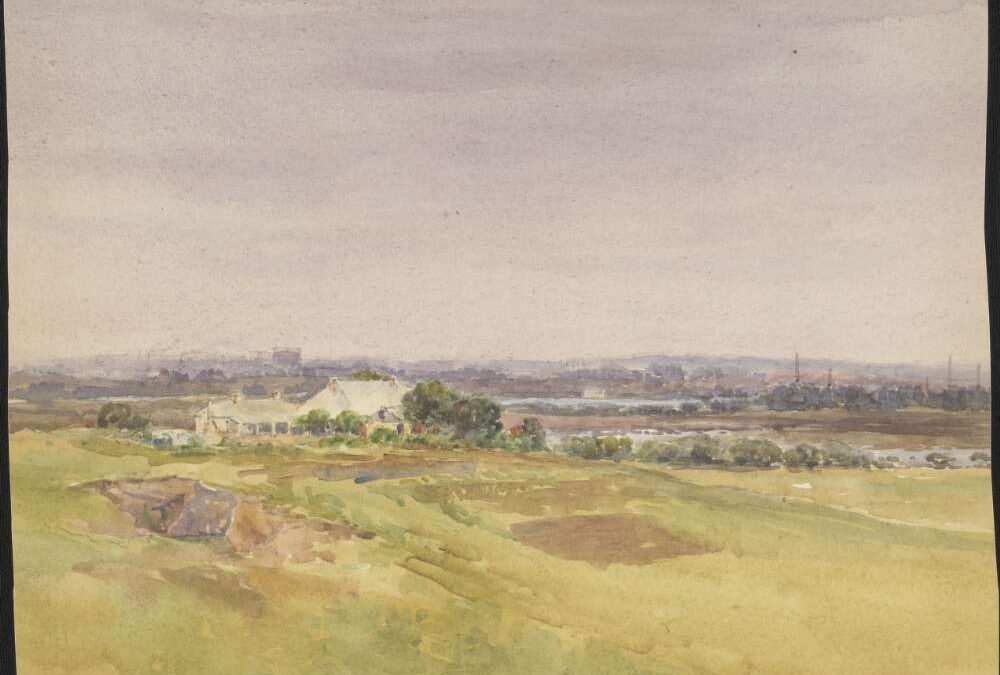 Rose Farm House is a heritage listed property located at 15-17 Honor Street, Ermington, New South Wales. Built circa 1820 by Alexander McDonalds (c.1745-1821), the original grantee. It is of historic significance to the local area because it is a rare surviving example of a historic early 1820s Colonial Georgian style cottage which has survived almost intact; the property demonstrates the importance of the river as an early transport route and the site grounds possess archaeological potential to contribute to an understanding of 18th and 19th century farming settlement (State of New South Wales and Office of Environment and Heritage, 2016).
Alexander McDonalds was one of the eight Royal Marine who came to Australia in the first fleet and granted 130 acres of land along the Parramatta River (Field of Mars) on 3 January 1792 by Governor Arthur Phillip. This single storey Georgian cottage was also known as McDonald's Farm. According to a Coroner's Inquest, McDonald died on 21 December 1821 with his wife Mary, son-in-law Thomas Style/Stiles and government servant from "accidental drowning, in consequence of the whole party being in a state of intoxication and quarrelling" while returning home from Sydney near Pulpit Rock (Sydney Gazette, 22 December 1821, p. 3; 29 December 1821, p. 3).
George McDonald inherited the property and on 12 March 1833, sold it to Henry Harvey for £1,500. Harvey was a former convict turned drapery businessman, baker, and later in 1861 was among the first nine aldermen elected for Parramatta Municipal Council.
Other holders of the property in the nineteenth century included Nathaniel Payten, grandson of Harvey through his adopted daughter Mary; farmer George and his wife Elizabeth Miller, Alderman Edward Miller; divorced couple Heber and Martha Eyles; John Elliot Cameron – who sold off certain land in Ermington and Rydalmere to carry on manufacturing bricks as  Parramatta Riber Brick, Tile, and Pottery Company, Limited; florist James Sutherland and Flora Sadler Sandeman (d. 25 June 1931); spinster Ella Alice Brown; steward John Henry Stower; Joseph and Rita May Dolan; Patrick and Patricia May Moy; and private piano collector Stewart Symonds.
The farm was known as "Rose Hill Farm" in 1872 when it was offered at auction. At that date, the property included an orchard, orangery, paddocks, plus a garden and shrubbery along with the cottage, laundry, stables and coach house, and a private wharf ('Rose Farm Wharf'), constructed from double stone with earth infill.
The remnants of Rose Farm Wharf can be found on the river bank of the park, near the signal station, 100m east of the former public wharf at Dundas Street/Spurway Street Wharf as indicated below from the George Kendall Riverside Park: Master Plan (2012, page 7).
In 1964, artists Patrick and Patricia Mary Moy discovered the historic house, Rose Farm and bought it as their first family home in Ermington. Prior to this the house was said to have lay virtually unnoticed by historians (Roxburgh, 1974, p. 191-192; Smith,Plumb and Moy, 2015). Today Rose Farm Cottage is still standing but it's farms have long since been subdivided.

Anne Tsang, Research Assistant, City of Parramatta, Parramatta Heritage Centre, 2020
References
Commonwealth of Australia (2018). McDonalds Farm House, 15-17 Honor St, Ermington, NSW, Australia. Retrieved from

http://www.environment.gov.au/cgi-bin/ahdb/search.pl?mode=place_detail;search=keyword%3Dalexander%2520mcdonald%3Bkeyword_PD%3Don%3Bkeyword_SS%3Don%3Bkeyword_PH%3Don%3Blatitude_1dir%3DS%3Blongitude_1dir%3DE%3Blongitude_2dir%3DE%3Blatitude_2dir%3DS%3Bin_region%3Dpart;place_id=3085

Cosh, John (1920).

Rose Cottage, Sydney, N.S.W

. Retrieved from

https://trove.nla.gov.au/version/15092523

Dictionary of Sydney staff writer. (2010). Ermington,

Dictionary of Sydney

. Retrieved from  

http://dictionaryofsydney.org/entry/ermington

Parramatta Local Environmental Plan 1996 (Heritage and Conservation): Schedule 1 Heritage items of State or regional significance. Inventory 295 

Retrieved from

https://legislation.nsw.gov.au/#/view/EPI/1997/67/historical2003-12-05/sch1

Pod Landscape Architecture and Urban Bushland Management Ecological Consultants for Parramatta City Council (2012). 2.2 History. In

George Kendall Riverside Park: Master Plan

, p. 7. Retrieved from

https://www.cityofparramatta.nsw.gov.au/sites/council/files/2018-06/george-kendall-riverside-masterplan.pdf

Roxburgh, R. & Baglin, D. (1974) Rose farm, Ermington. In

Early colonial houses of New South Wales.

Dee Why West, N.S.W.: Ure Smith, pp. 188-197.

Smith, J. L., Plumb, P.  & Moy, P. (2015).

It will never be noticed:Contemporary Miniature Art with Australian Artist, Patricia Moy .

Retrieved from

https://eastsidefm.org/wp-content/uploads/2016/01/ITWILLBENOTICED_byJoanneLSmith_completefinaldraft.pdf

State of New South Wales and Office of Environment and Heritage. (no date). Rose Farm House,

State Heritage Inventory

, database no. 2240295. Retrieved from

https://www.environment.nsw.gov.au/heritageapp/ViewHeritageItemDetails.aspx?ID=2240295

[Another melancholy catastrophe…]. (1821, December 22).

The Sydney Gazette and New South Wales Advertiser

, p. 3, col. 3, para. 7. Retrieved from

http://nla.gov.au/nla.news-article2180687

[The verdict returned by the inquest…] (1821, December 29).

The Sydney Gazette and New South Wales Advertiser

, p. 3, col. 2, para. 8. Retrieved from

http://nla.gov.au/nla.news-article2180706

This day, 26th February. Order of sale. [Advertising]. (1872, February 26).

The Sydney Morning Herald (NSW : 1842 – 1954)

, p. 11. Retrieved September 14, 2018, from

http://nla.gov.au/nla.news-article13253171

  

Wikipedia contributors. (2018, July 26). Ermington, New South Wales. In

Wikipedia, The Free Encyclopedia

. Retrieved from

https://en.wikipedia.org/w/index.php?title=Ermington,_New_South_Wales&oldid=852103881