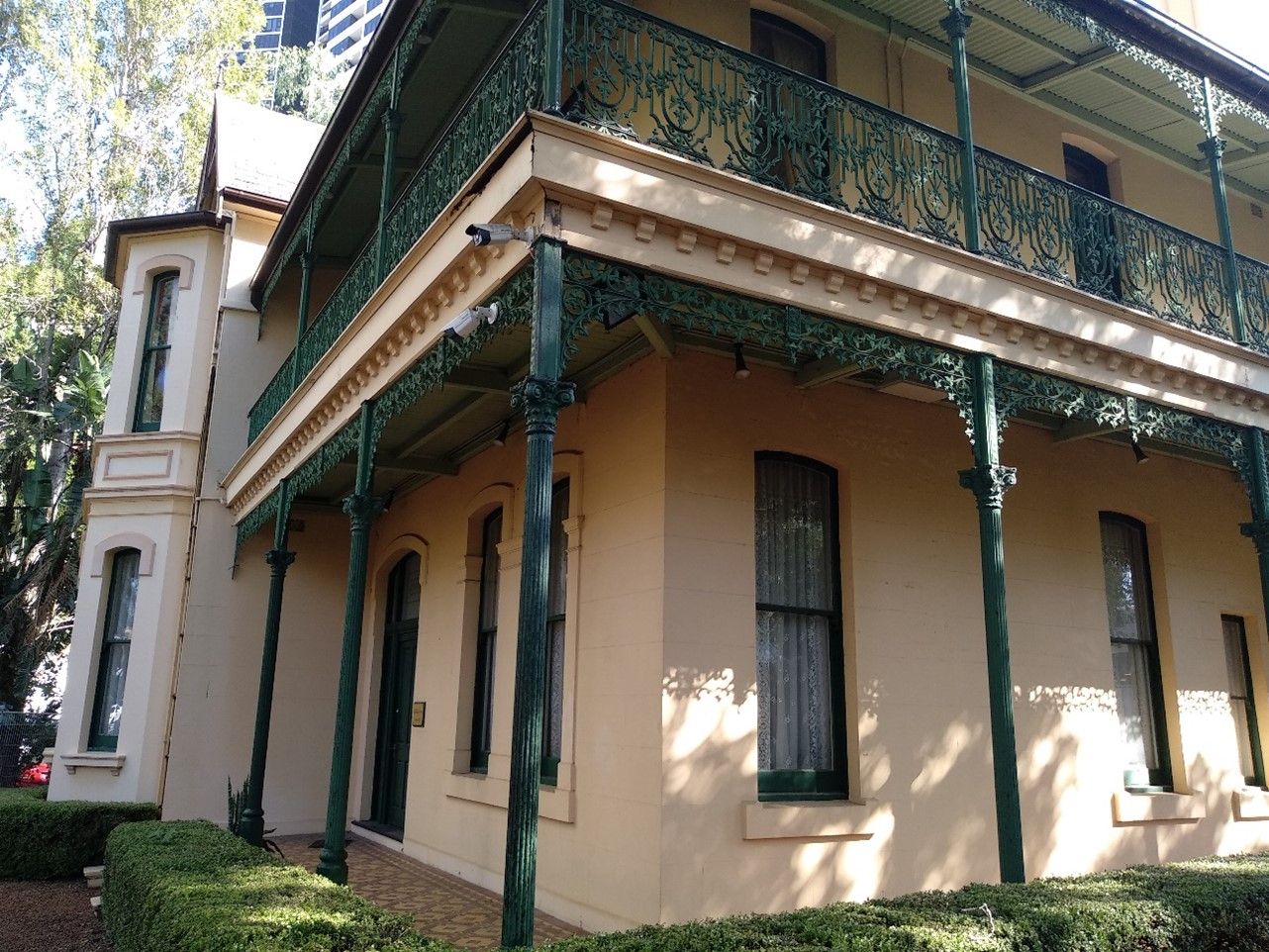 Sydney Moore Green: Architect.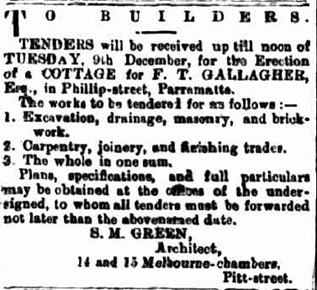 The architect employed by the Gallagher's to build the house that would be Willow Grove was Sydney Moore Green. In 1890 the tender to builders for the property to be built was placed in the Cumberland Mercury.
Sydney Green was an experienced and successful architect wish offices in Pitt Street Sydney. During his time working with Thomas Rowe as an employee and then partner, Green worked on many important projects. Some of which still stand today. These include YMCA building, the original part of Sydney Hospital, the Synagogue, Vickery's Chambers, Hoffnung's Buildings and an arcade that ran from George to Pitt Streets.
Green was also a long-term member of the Institute of Architects, and he was an active participant. Speaking on various topics for meetings. This included talks on the Queen Ann Style and Japanese Architecture.
Sydney Green set up his own firm in Pitt Street Sydney and it was at this time that he worked with the Gallaghers on Willow Grove. Green passed away in 1912 and is buried at Gore Hill Cemetery.
Architecture: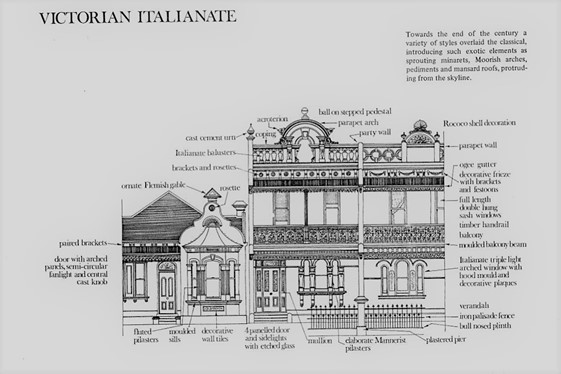 "Italianate buildings tended to be asymmetrical where the more obviously classical Georgian were balanced and symmetrical. Italianate buildings featured decorative masonry such as arches, ballustrades, bracketed eaves, towers, and urns, rather than timber elements which characterised English Revival styles. From the mid-19th century, this continental style particularly appealed to the Victorian love of embellishment. Italianate elements frequent appeared on Victorian Filigree terrace houses."
(Source: At home in North Sydney. https://www.athomeinnorthsydney.com.au/italianate.html )
In Australia this style of architecture was used widely in a domestic setting. But it made little use of the Italian styling. Two features used prominently in Australia were the faceted bay and the stilted segmental arch. "A Victorian Italianate building of any consequence has a tower capped with a low-pitch pyramid rood, or more pretentiously, with a balustrade…to have a asymmetrical principal elevation".
Willow Grove was a two storey Victorian Italianate house, made of stuccoed brick with cast iron balustrading to upper verandah. It was set back from Phillip Street and surrounded by a fine fence of cast iron spikes and elaborate stone gate posts.
Mature trees and plants enhanced the site. And though out the years there would have been macrocarpa, camphor laurel, palms, lilac oleander, jacaranda, and poplar. There were also roses and Pelargoniums on and around the front fence. The trees and plants within the Willow Grove garden were popular and typical of the high Victorian Era.   The house had a slate roof on rendered brick walls. The construction of the roof is hip with projecting gable front. It included decorative a timber gable screen and finial and decorative barge boards. A pyramid slate roof is above the faceted bay. There are two tall rendered brick chimneys with cornice decoration on the east side. And a two storey return verandah from projecting gable to east, which has a bullnose roof with striped paint. There are cast iron columns with cast iron frieze to both floors and cast iron lace balustrade leading to the upper floor verandah. The windows at the front of the house are in a faceted bay. They have rendered corniced sills with recessed niches below (plain moulded sills on other windows), and Victorian label mould arches. The front door has transom light above late Victorian panelled door with glazed sidelights. The exterior doors have transom lights and side lights in first floor verandah. The fence is a spearhead palisade iron fence set in plinth and into large, rendered posts with decorative tops, with iron scroll work on decorative iron gate.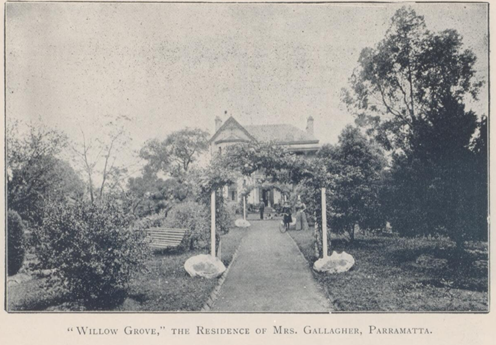 For Images of the exterior and Interior of Willow Grove please see the image gallery below. 

Emma Stockburn, Research Facilitator , City of Parramatta, 2022
References:
At home in North Sydney. https://www.athomeinnorthsydney.com.au/italianate.html
History of Willow Grove 34 Phillip Street, Parramatta. Dr Terry Kass, 2020.
Tender to Builders (1890, December 3). The Cumberland Mercury
THE QUEEN ANNE STYLE OF ARCHITECTURE. (1885, November 6). The Sydney Morning Herald (NSW: 1842 – 1954), p. 4.  http://nla.gov.au/nla.news-article13602809
Identifying Australian Houses: Historic House Trust.  
Willow Grove: Conservation Strategy: Order Architects, October 1987.