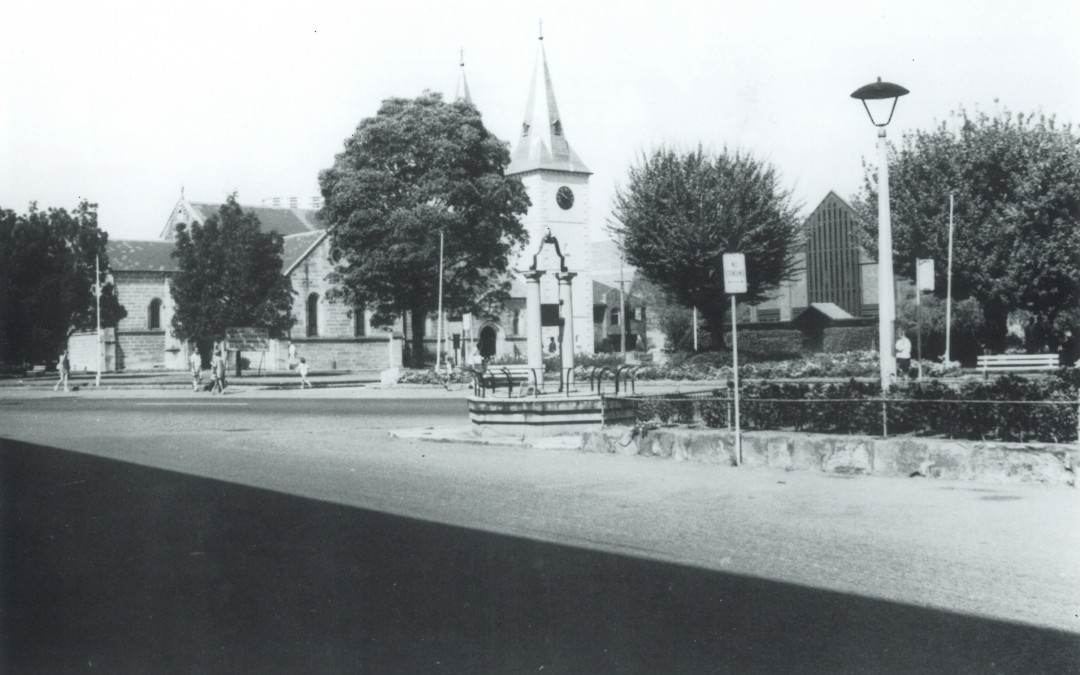 Recently, while looking at early images of Church Street near the Parramatta Town Hall, I came across an image showing a structure I had not seen before. Long-time residents of Parramatta would be familiar with the structure,  located on what was once a small park on Church Street on which the Centennial Fountain is situated. Intrigued by what it could represent I found, on further investigation, it to be a wishing pool.
The wishing pool, dedicated to Dr James Kearney of Parramatta, was opened in August 1935 to help raise funds for Parramatta District Hospital. The wishing pool was paid for by E. A. Box a close friend of Dr. Kearney.
Dr Kearney had provided Parramatta and the local hospital with many years of service. He was a household name in the area and well respected for his diagnostic skills. He arrived in Parramatta in 1891 and commenced work at the Woolpack Hotel.  Shortly after he established a surgery in Phillip Street before purchasing St John's Lodge at the corner of Macquarie and Marsden Streets.
It was predominately through his 40 years of dedication to the Hospital, as a patron, board member, and senior medical officer, that the hospital grew and improved. President of Parramatta District hospital at the time, Alderman P. H. Jeffery said, "that the death of Dr. Kearney was the most severe blow that could have been dealt to the institution. Practically his whole interest was centred on the hospital and he was ever aiming to improve its standard."[i]  Mr G. C. Gollan M.L.A. on unveiling the memorial said "I feel sure as you pass this spot you will be a well-wisher like Mr Box, and make a contribution in aid of the hospital…"
The plaque on the wishing pool read
Presented by E. A. Box Esq., to the Parramatta District Hospital and erected in memory of Dr. James Kearney, an unselfish worker for this Hospital, who practised his profession in this town for nearly 50 years, and whose qualities of heart and mind endeared him to the people[ii]
In its first month the wishing pool yielded more than £20 for the hospital. Over time that figure declined [iii] and in 1936 the Hospital reported it had raised from the pool £32 for the financial year.[iv]
The lure of cash in a public place was just too much temptation for some people with the lock of the pool broken and money stolen on a number of occasions. In one incident two young boys were spotted removing money out of the pool by using a bicycle pump with chewing gum stuck on the end.
In March 1975 the pool was removed by Council when it closed Centenary Avenue to traffic to create Centenary Plaza. Parramatta hospital requested that the wishing pool be relocated to either Brislington House or the main entrance to Jeffery House. It was agreed that it be relocated to Brislington House. [v]
While it is not the original pool, there now stands a wishing well at Brislington house with the original plaque dedicated to Dr Kearney.

Peter Arfanis, Archivist, Parramatta Council, Parramatta Heritage Centre, 2014
[i] Sudden Death of Dr. Kearney. (1934, October 18). The Cumberland Argus and Fruitgrowers Advocate (Parramatta, NSW : 1888 – 1950), p. 4. Retrieved August 18, 2014, from http://nla.gov.au/nla.news-article104569767
[ii] In Memory of Dr. Kearney. (1935, February 11). The Cumberland Argus and Fruitgrowers Advocate (Parramatta, NSW : 1888 – 1950), p. 2. Retrieved August 18, 2014, from http://nla.gov.au/nla.news-article105084575
[iii] Lost its Novelty. (1939, June 7). The Cumberland Argus and Fruitgrowers Advocate (Parramatta, NSW : 1888 – 1950), p. 3. Retrieved August 18, 2014, from http://nla.gov.au/nla.news-article106216443
[iv] Revenue Increase. (1936, September 3). The Cumberland Argus and Fruitgrowers Advocate (Parramatta, NSW : 1888 – 1950), p. 6. Retrieved August 18, 2014, from http://nla.gov.au/nla.news-article104689473
[v] Parramatta Council Archives. Centenary Avenue. File No.568A. 1964-1976