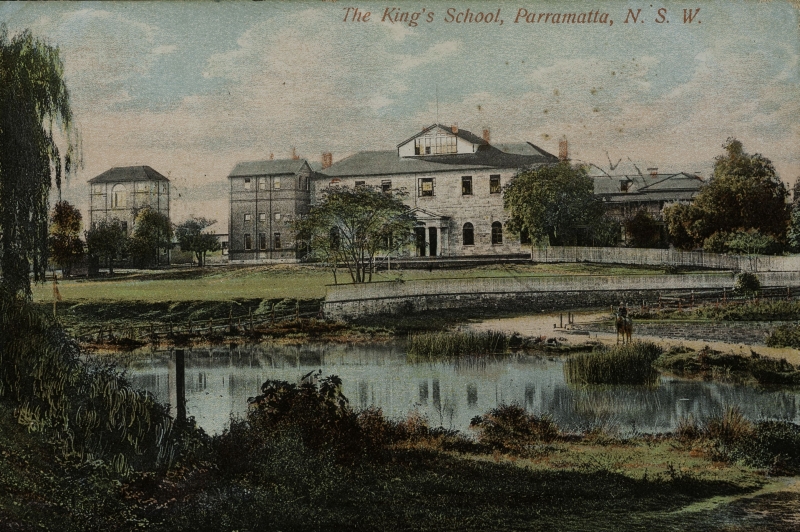 Parramatta has a rich educational history, one that includes many firsts  and schools with state standing. 
Early days:
Unofficially the first school in Parramatta was run by a convict women named Mary Johnson.
Despite at least forty-five children arriving with the First Fleet in 1788, there seems to have been no official education response by Britain at the time or thought given to facilities of this nature. But there were individuals in the colony who saw the need for and value of education for these and more children. The colony's first chaplain, Reverend Robert Johnson was one of these people and he considered it essential for some form of basic education to be essential for all children.
To this Reverend Johnson supervised two Dame schools, on in Sydney and one in Parramatta. Mary Johnson, a convict, was chosen to teach at this school. Pupils were given lessons in spelling, reading and religious instruction. Reverend Johnson gave classes regarding religious matters himself. Children of convicts and military staff attended this small school. The exact location of the small school isn't known.
Officially the first school was run by John Tull in 1796 and was located in Church St where the University of New England is now located. Mr Tulls' salary was ten pounds and his wife Dorothy taught at the school also. The school also accepted boarders and when Mr Tull passed away the school continued to be run under Dorothy Tull tutelage and supervision.
Reverend William Crook, a missionary was asked by Samuel Marsden to open a school for boys in Parramatta. In August 1804 Crook placed an advertisement in the Sydney Gazette as to his opening of a school and a willingness to board a few young gentlemen. The school offered classes in mathematics, English other humanities as well as religious education. Seven students boarded with him and the school was successful with students from varied backgrounds. William Crook, his wife and the assistance of two convict men taught up to seventy-seven children in 1804 this included the boarders at the school.
In 1810 John Eyre was appointed by Governor Macquarie to open the first government school. Four years later the Governor was responsible for the opening of 'The Native Institute' a school for Indigenous Australians in Parramatta. This was run by William Shelly and courses focused on reading, writing, sewing, agricultural, and knowledge of scripture.
Parramatta Marist
Parramatta Marist High School began life in Hunter Street, Parramatta in 1820. The school was established by Father John Therry and placed under the direction of George Morley, a pardoned convict. The school accepted students of both genders and Christian denominations and by 1821 taught 31 students. The school moved to a place next to the new Catholic Church (Now St Patrick's Cathedral) in Parramatta in 1837. In 1872 the school came to be operated by the Marist Brothers.
Today Marist is one of the top schools in New South Wales. The school has taken an innovative approach to learning and the use of technology.
The Kings School, Parramatta.
In 1829 Archdeacon William Grant Broughton, who had recently arrived in the colony decided that New South Wales needed grammar schools similar to those in England. These schools offered a classical education. The Kings School in Parramatta opened in George Street in 1832. The senior school was completed in 1836. By 1859 there was at least 100 students attending the school.
After a rough few years which saw the school temporarily closed, in 1869, Reverend George Fairfowl Macarthur, was appointed as a new headmaster.  From this point on the school added to its campus, including a chapel, dining hall, dormitories, and science rooms. Growing enrolments meant that 'Outside houses' had to be used for various purposes, this included the use of historic buildings around the Parramatta area. By 1960 the school had purchased the Gowan Braw Estate, in 1968 the entire school was moved to the location.
From 1832 to up until the 1980's the school saw over 12000 students pass through its doors. And as with many other school in the Parramatta area, Kings displays a high standard of education.
Education Booms: 1880's – 1920's
In 1880 education was made compulsory in New South Wales. This plus a population explosion and new industry expanding in the area, meant there was a real need for new schools in Parramatta. As a result there was an expansion of primary schools in the area, including Auburn (1886) and Granville South (1889). These schools were well attended with children traveling great distances to attend. Private secondary schools such as The Kings School, Parramatta Marist Brothers and Our Lady of Mercy continued to grow and in 1897 the girls school TARA established itself and has been open ever since.
Tara Anglican School for Girls:
Miss Joan Waugh founded Tara in 1897. This was at the time a school for both girl and boys and it was located at Roseneath cottage in Parramatta. From there I moved to The Cedars on the Great Western Highway. The school changed location a number of times, this included the use of Miss Waugh's family residence, Tara in 1926.
After it come under the governance of the Church of England it was decided Tara would become a school for girls. This was in 1955. This was followed by the purchase of the Smith Family Hospital for Children with Rheumatic Fever property at Mount Arcadia, the School's current location at Masons Drive in North Parramatta.
Today Tara is a leading Australian high school for girls. It has over 800 students from kindergarten to year 12.
Our Lady of Mercy College, Parramatta.
The Roman Catholic girls school in Parramatta was started by the Sisters of Mercy in 1889. Sister Mary Alacoque Kavanagh was the founding Principal At this time there were nine sisters who taught and guided the students. This included a primary school as well as the seven students girls who were at the high school. Later in the same year there were twenty four enrolments in girls school.
The school was one of the first in the state to register for the Bursary Endowment Act which saw them overseeing competitive examinations with higher standard for intellectual progress. Today as with Tara the school is considered one of the best girls schools in New South Wales. And is home to approximately 1030 students.
Parramatta High School
To meet the needs of secondary students the Parramatta High School opened in 1913 and for some time was the largest high school in New South Wales. It was also the first co-educational school in the Sydney metropolitan at the time.  Today the school is partially selective with a high ranking in the Higher School Certificate. It is home to more than 1000 students today.
Post War Expansion:
After the war education in New South Wales grew across all the State, Catholic and Private school sectors.  This period saw major secondary and primary school expanded in the 1940's and 1950's. In Parramatta, this meant the opening of new schools and the re-invigoration of some of its older schools, including: Macarthur Girls High, Macquarie Boys High, Arthur Phillip High School and TARA Anglican School for Girls. Some of the other schools that started at this time are: Darcy Road Public School, Dundas Public School, Ermington West Public School, Rydalmere East Public School, Telopea Public School, St Bernadette's Primary School, and Delany College.
James Ruse Agricultural High School
The agricultural high school is both an academically selective and specialist high school in the suburb of Carlingford, New South Wales.
In 1958 the Carlingford District School was started on the current site of the school. Part of the buildings used were the 1885 Felton family home Barrengarry House and Art Loft. In 1959 the names was changed to Carlingford Agricultural High. That same year the name of the school was changed to James Ruse Agricultural High School. The following year the school had its first school orchard and extended its farm.  In 1977, 24 girls were enrolled in Year 11 and the following year junior girls were enrolled.
It was also one of the first schools in the state to have a council. The school was one of the first to become selective and specialized. James Ruse is considered the best high school in the state of New South Wales. With consistently high Higher School Certificate results and an almost one hundred percent offers for university places.
Macarthur Girls High School
The girls high school is located on land that was first granted to William Reid. A convict seaman who was aboard the Sirius, the first ship to enter Sydney Harbour in 1788. It is also the sight of Samuel Marsden's home Newlands. The school as an institution came into existence in 1927, as the Parramatta Commercial and Household Arts School. In 1933 it opened at its current location as the Parramatta Domestic Science School. In 1959 it was named Macarthur Girls High School.
The school today has more than 1200 students, with exceptional academic achievements. Betty Cuthbert is part of the alumni as is journalist Yalda Hakim.
Arthur Phillip High School
The high school started as Parramatta South Public School in 1873. In 1887 the school started offering both primary and post primary courses. These courses we attended by boys and girls in separate buildings. In 1944 these classes were joined and became the Central School. The primary school was moved to Macquarie st, and then in 1960 the secondary buildings became Arthur Philip High School.
Today the school is Sydney's first high-rise school. Opening for its first year in 2020, it will be home to 2000 secondary students. The school incorporates the use of a flexiable and technology rich environment. With education delivered in open plan classrooms and co-teaching.
 Today
The Parramatta LGA has approximate 18% population of those of school age. With 16.4% in primary school, and 9.3% in secondary school. The area has up to 48 schools of primary, secondary, government, Catholic, independent and speciality schools.

Emma Stockburn, Family History Research Facilitator, City of Parramatta, Parramatta Heritage Centre, 2020
References:
 Parramatta: the cradle city of Australia. By Frances Pollon
A living history of Parramatta. Rosslyn Blay
A history of Parramatta. Peter West.
Parramatta: A past revealed. Terry Kass, Carol Liston, John McClymont.
Bubacz, Beryl M. The Female and Male Orphan Schools In New South Wales 1801 – 1850 https://ses.library.usyd.edu.au/bitstream/handle/2123/2474/01BubaczThesisPart1Chs1&2.pdf;jsessionid=A1915FB9B048371C9B22A577154D183D?sequence=1   (retrieved 26/02/2020)
National Trust of Australia, Slates and Chamberpots: Teacher's Kit. https://www.nationaltrust.org.au/wp-content/uploads/2015/10/Education_NSW_OGH-SlatesAndChamberpots-PreVisit.pdf (retrieved 26/02/2020)
Reverend Richard Johnson http://adb.anu.edu.au/biography/johnson-richard-2275 (retrieved 26/02/2020)
Campbell, Craig and Protor, Helen, A History of Australian Schooling, Allen and Unwin, Crows Nest, 2014.
William Pascoe Crook: http://adb.anu.edu.au/biography/crook-william-pascoe-1935 (retrieved 26/02/2020)
The First School In Parramatta. https://trove.nla.gov.au/newspaper/article/85779797 (retrieved 26/02/2020)
Notice by Mr Crook: 1804, August 19). The Sydney Gazette and New South Wales Advertiser (NSW : 1803 – 1842), p. 1. Retrieved February 27, 2020, from http://nla.gov.au/nla.news-page5960
MacDonald, Ian, A school of their own: the story of Parramatta Marist, Parramatta Marist High School, 2000.
Sharp, Andrew, The world the flesh and the devil: The life and pinion of Samuel Marsden in England and the Antipodies, 1765 – 1838, Auckland University Press, 2016.
The Kings School, History: https://www.kings.edu.au/about/history.php (accessed 29/02/2020)
Our Lady of Mercy College: https://en.wikipedia.org/wiki/Our_Lady_of_Mercy_College,_Parramatta (accessed 29/02/2020)
Tara Anglican School for Girls: https://en.wikipedia.org/wiki/Tara_Anglican_School_for_Girls (accessed 29/02/2020)
Arthur Phillip High School https://en.wikipedia.org/wiki/Arthur_Phillip_High_School (accessed 29/02/2020)
Macarthur Girls High School https://en.wikipedia.org/wiki/Macarthur_Girls_High_School (accessed 29/02/2020)
James Ruse Agricultural High School: https://en.wikipedia.org/wiki/James_Ruse_Agricultural_High_School (accessed 29/02/2020)
James Ruse Agricultural High School, James Ruse, 40th Anniversary, James Ruse Agricultural High School, 1999.