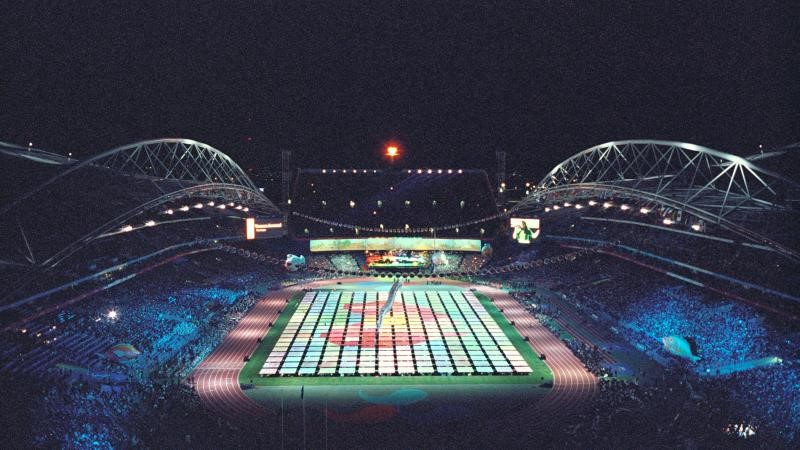 By Emma Stockburn
Sydney Paralympic Opening Ceremony https://www.paralympic.org/sydney-2000
The Paralympic Games, or Paralympics, are held every four years on an international stage. There are winter and summer Paralympic Games.
The sporting events involve athletes with a range of disabilities, including impaired muscle power, impaired passive range of movement, limb deficiency, leg length difference, short stature, hypertonia, ataxia, athetosis, vision impairment and intellectual impairment.
History of the Paralympics
There was only three athletes with disabilities who competed in any Olympic events prior to the first Paralympic Games in Rome in 1960. These were George Eyser in 1904, Karoly Takacs in 1948 and Lis Hartel 1952; Lis Hartel also won a medal at the 1952 Olympics.
The true precursor to an Olympics event for people with disabilities were events that came to be known as the Stoke Manderville Games. The first of these took place in 1948 during the London Olympics.  This was a sports competition for British World War II veteran patients with spinal cord injuries organised by Dr Ludwig Guttmann. These events were then held again in 1952 along with veterans from Israel and The Netherlands.
The first official Paralympic Games, no longer open solely to war veterans, was held in Rome during the summer of 1960. Here 400 athletes from 23 countries competed. At first the events were only for those athletes in wheelchairs.
Then at the 1976 Toronto Paralympics, classifications of athletes able to compete were expanded to include 1,600 athletes from 40 countries.  In 1976 the first Winter Paralympics were held. The Summer Paralympics was held directly after the Seoul Olympics, using the same facilities, for the first time in 1988.
Included in the Olympics Charter:
"The practice of sport is a human right. Every individual must have the possibility of practising sport, without discrimination of any kind and in the Olympic spirit, which requires mutual understanding with a spirit of friendship, solidarity and fair play....Any form of discrimination with regard to a country or a person on grounds of race, religion, politics, gender or otherwise is incompatible with belonging to the Olympic Movement."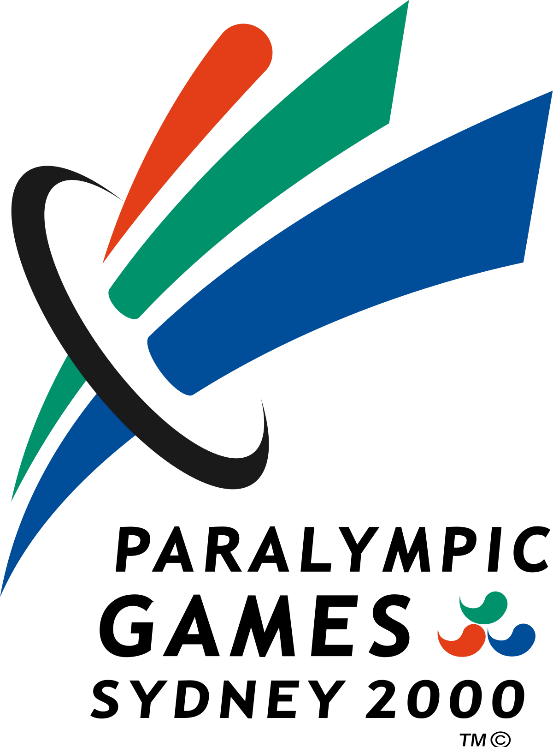 Sydney 2000 Paralympic Logo: https://en.wikipedia.org/wiki/2000_Summer_Paralympics#cite_note-20
The 2000 Sydney Paralympics started well with a record 1.2 million tickets sold.
The Games attracted a record number of 3,879 athletes (2,889 men and 990 women) from 123 countries. Para athletes took part in 550 medal events across 19 sports and broke more than 300 world and Paralympic records.
Sports included at the Sydney games were: archery, Para athletics, boccia, cycling, equestrian, football 7-a-side, goalball, judo, Para powerlifting, sailing, shooting Para sport, Para swimming, table tennis, sitting volleyball, wheelchair basketball, wheelchair fencing, wheelchair rugby and wheelchair tennis.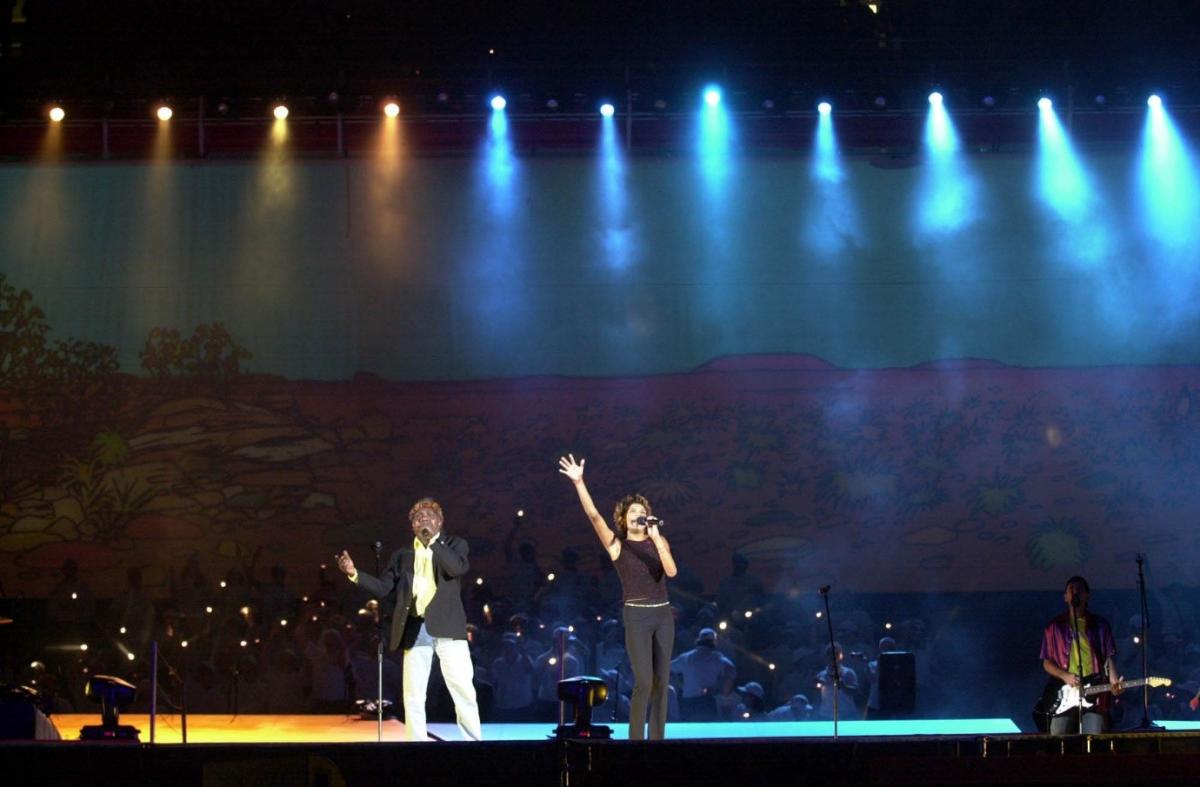 Yothu Yindi performs at the Sydney opening ceremony.
Australia did exceptionally well with an overall total of 149 medals including 63 golds. Great Britain, finished second in the medal count, followed by Canada, Spain and the USA.
Some of the individual achievements seen by the Australian team include:  swimmer Siobhan Paton's six gold medals in the 200m SM14 individual medley, and S14 100m freestyle, 50m butterfly, 50m backstroke, 200m freestyle, and 50m freestyle. This gave her nine world records.
Tim Sullivan was first in the track and field medal tally with five gold medals. Sullivan won three gold medals in the T38 200m, 100m, and 400m events. Another medal winning athlete was Lisa Llorens. Llorens won three gold medals from the F20 high jump, long jump and T20 200m and also a silver medal in the T20 100m.
Cyclist, Matthew Gray won two golds in the velodrome in the individual cycling mixed 1 km time trial LC1, and a gold in the mixed team sprint with Paul Lake and Greg Ball. Sarnya Parker and Tania Morda also won two golds in the women's cycling tandem 1 km time trial and women's tandem cycling individual pursuit open.
Dame Tanni Grey-Thompson, multiple Paralympic gold medallist for Great Britain, later said of the Sydney Games:
"Sydney 2000 will always hold a special place in the hearts of everyone who was there. The Aussies love their sport and they treated us simply as sportsmen and women. We weren't regarded as role models or inspirations, we were competitors. Some of us won gold medals, most didn't, but, hey, that's life. Sydney was phenomenal because, from day one, you felt there was something extraordinarily special in the air. Sydney was an athletic Disneyland, it was where magic happened. It probably marked the time and place when Paralympians genuinely became part of the Olympic Movement."

Emma Stockburn, Research Facilitator, Family History, City of Parramatta, Parramatta Heritage Centre, 2020
References
Paralympic Games: https://www.paralympic.org/paralympic-games
Paralympic Games: https://en.wikipedia.org/wiki/Paralympic_Games
Sydney Paralympic Games:  https://www.paralympic.org/sydney-2000
2000 Summer Paralympic Games https://en.wikipedia.org/wiki/2000_Summer_Paralympics#cite_note-20