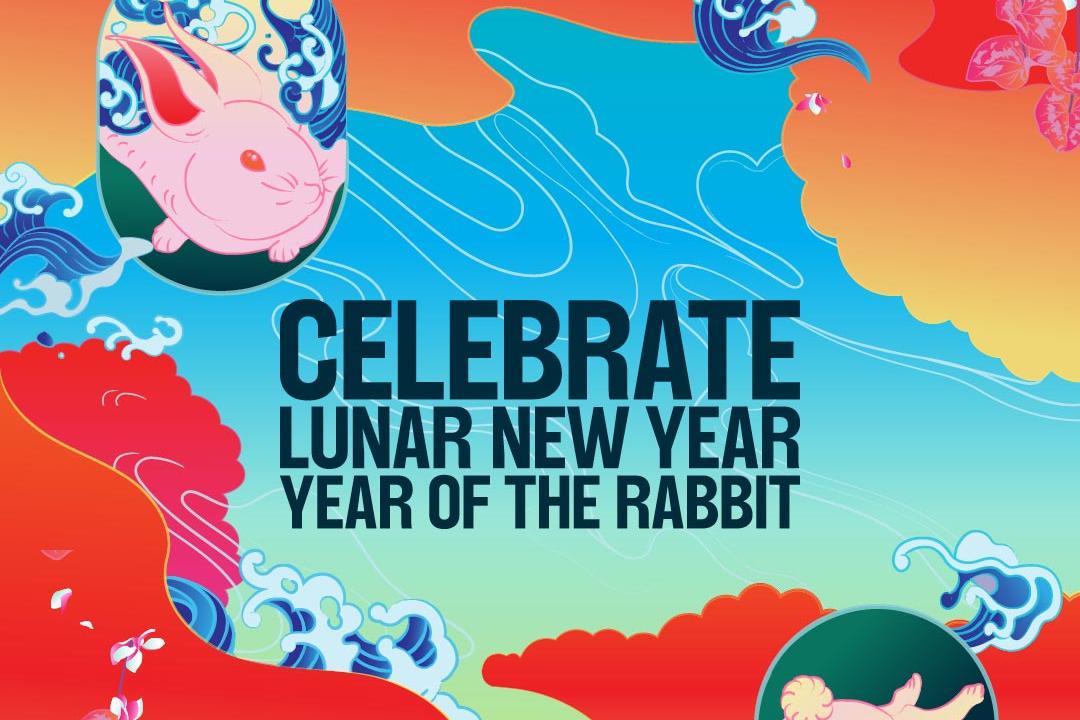 Years: 2023, 2011, 1999, 1987, 1975, 1963, 1951, 1939, 1927, 1915, 1903
Sunday 22 January 2023 marks the first day of the Year of the Water Rabbit 兔年 (tù nián) on the 2023 Lunar New Year. 
To celebrate, the City of Parramatta Council will be offering a night of festivities, lunar lanterns and delicious food including a night noodle market. See our website for more details https://atparramatta.com/lny
The Rabbit is the fourth zodiac animal sign in the 12 year lunar cycle. In Chinese element theory, each zodiac sign is associated with one of the five elements: Gold (Metal), Wood, Water, Fire, and Earth which comes once in a 60-year cycle. For example, 2023 is the year of the Water Rabbit. The last Water Rabbit year was 1963.
In Chinese culture the rabbit, based on their living habits, symbolises vigilance, wittiness, cautiousness, deftness, self-protection, and the moon.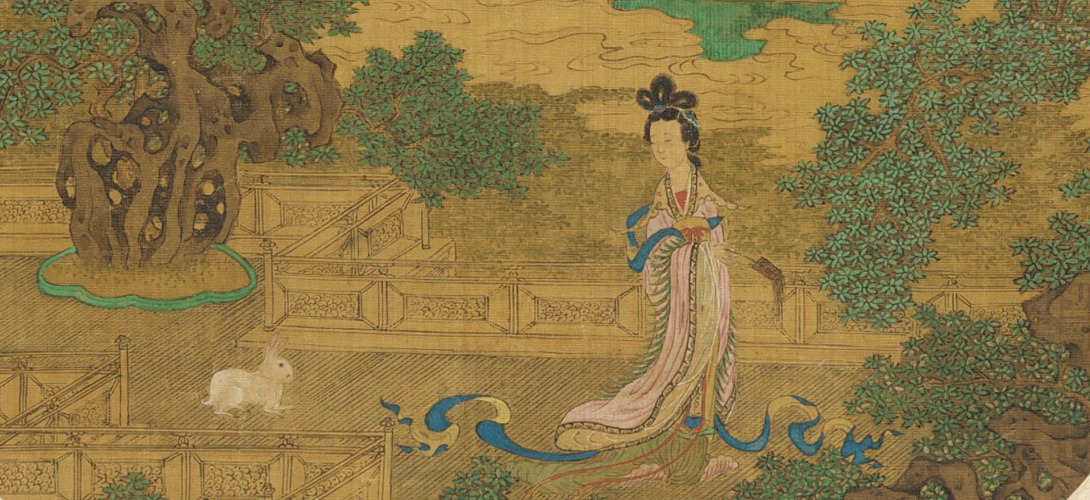 A legendary Chinese folktale tells of the story of the Jade Rabbit 玉兔 (you tu) or Moon Rabbit 月兔 (yue tu), a rabbit that lives on the moon as a companion of the moon goddess 嫦娥 Chang'e, constantly pounding the elixir of life for her. In the Japanese and Korean versions of the story, it is just pounding mochi or tteok. This tale also forms part of the legend of the Mid-Autumn Festival 中秋節 (Zhōngqiū Jié) (also known as Moon or Mooncake Festival) celebrated on the 15th day of the 8th month in the Chinese lunar calendar (around mid September to early October in the Gregorian calendar)[4]
The personality of those born under the year of the Rabbit tend to be gentle, quiet, elegant, and alert as well as quick, skilful, kind, patient, and very responsible. On the other hand, they might be superficial, stubborn, melancholy, and overly-discreet.
| | | |
| --- | --- | --- |
| Year | Element | Characteristics |
| 2023, 1963, 1903 | Water Rabbit | Gentle, amicable, able to adjust readily to different conditions, but with a weak mindset and principles |
| 2011, 1951 | Gold Rabbit | Kind-hearted, conservative, lively and enthusiastic |
| 1999, 1939 | Earth Rabbit | Frank, straightforward, ambitious, hard-working, but slightly reserved |
| 1987, 1927 | Fire Rabbit | Broad-minded, smart, and flexible, with unique views |
| 1975, 1915 | Wood Rabbit | Clever, quick-witted, selfish, lively in appearance, but shrewd at heart |
Here is what is considered lucky and things to avoid [5]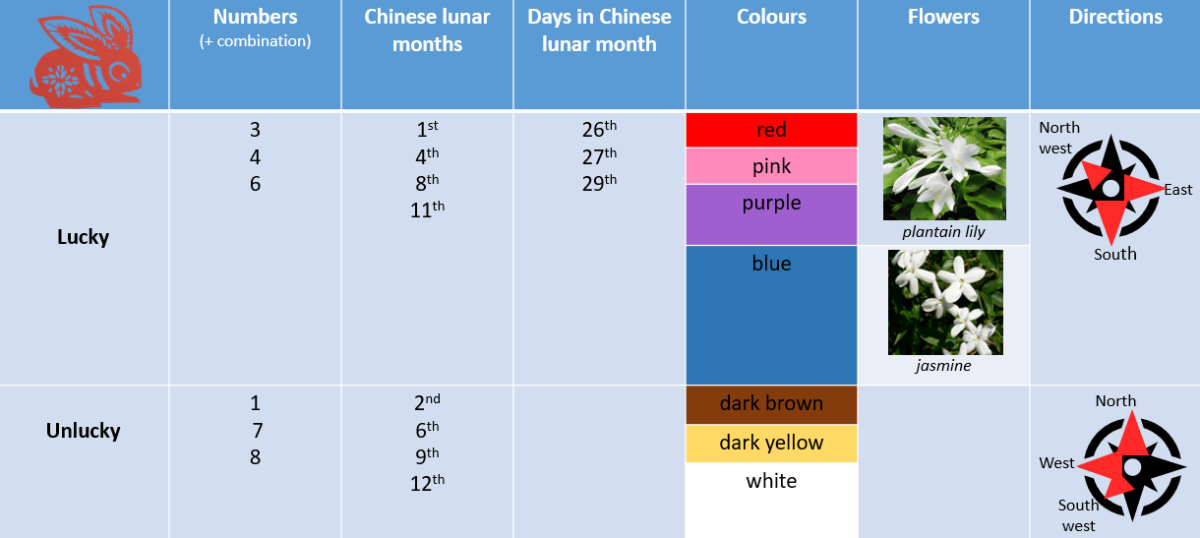 Major events that happened in the Parramatta LGA in the year of the past rabbits:
Year

Event

1915 

1927

Federal Parliament House moves from Victoria to Canberra and is officially opened by the Duke of York on 9 May

1939

Black Friday bushfires in Victoria with 70 killed on 13 January

7 April – Prime Minister Joseph Lyons dies of a sudden heart attack, the first Prime Minister to die in office. Sir Earle Page, the leader of the Country Party is appointed caretaker Prime Minister until the United Australia Party can elect a new leader.

26 April – Robert Menzies is elected leader of the United Australia Party, and is sworn in as Prime Minister.

3 September – World War II begins. Australia declares war on Germany, following the United Kingdom and British Dominions' declaration of same, after the German invasion of Poland.

1951

Parramatta Art Society established

1963

1 November – Indigenous Australians could vote in federal elections

1975

Westfield Parramatta opens

23 Feb - first mobile phone call in Australia

Welcome Home Parade in Sydney for Vietnam Veterans

Black Monday

Parramatta Eels halfback Peter Sterling wins the Dally M Medal and the Rothmans Medal

1999 [6]

14-20 January - Lord Mayor Clr. Paul Garrard and Lady Mayoress Karen Garrard, Clrs. Joe Barakat and John Books visited Cebu City, Philippines to attend the annual Sinulog Festival at the request of the Mayor of Cebu City. A Sister City with Cebu City was established with an office, an appointment of an ambassador and a delegate from Cebu City to visit Parramatta in February.
6-12 May -  Lord Mayor Clr. Paul Garrard and Pincipal Planner Prosperity Dr Alex Shamgar visited Chung-Gu, Seoul, South Korea to create business opportunities between Chung-Gu City and Parramatta.
17-26 June - Lord Mayor Clr. Paul Garrard and Lady Mayoress Karen Garrard, Clrs. Joe Barakat and Tony Issa, OAM, visited Kadisha Region, Northern Lebanon to form a Sister City relationship. Visit was telecast on international television 
Y2K year 2000 date problem/rollover addressed through Council's Y2K project team and Information Technology with rectification program and contingency plans in place resulting in minimal disruption aside from the GIS system
Parramatta City Council adopted a Disability Action Plan which outlines a four year workplan that Council and its Access Advisory Committee aim to remove barriers that prevented people with disabilities from accessing Council facilities and services. Council also became a registered user of the 'National Relay Service' giving people with hearing and speech impairments greater access to Council services.
Korean language collection added to Parramatta City Library collection.

2011 [7]

April - Parramatta City Council participated in its first nationwide garage Sale Trail  
July - Parramatta City Council held its inaugural Winterlight ice skating festival
August - launched a seven-month trial of the free Harris Park Hop shuttle bus service
September - celebrated the Parramatta municipality's 150-year anniversary at a commemorative dinner attended by the NSW Governor, Professor Marie Bashir AC CVO
October - commenced Parramatta City Council's new Parramatta Local Environment Plan (LEP) 2011
November -  celebrated Parramatta's Foundation Day and staged Council's Loy Krathong Thai Festival on the Parramatta River ; won the Judges' Choice Award for Excellence for Council's interactive digital application, DigiMacq, at the Interpretation Australia Awards ; opened the jointly funded Ermington Bay Nature Trail shared cyclepath
December - celebrated International Day of People with Disability in Church Street Mall ; launched Parramatta Nights website  <www.parramattanights.com.au>, a guide to the City's night venues

2023
Library books featuring rabbits:
The Year of the Rabbi

t by Oliver Chin (Tales of the Chinese Zodiac series #6)

The Tale of Peter Rabbit

by Beatrix Potter.

Alice in Wonderland

by Lewis Carroll

The rabbits

by John Marsden

Anne Tsang, Research Assistant, City of Parramatta, 2023
References
City of Parramatta Council (2023). Lunar New Year [image]. Retrieved from https://atparramatta.com/lny

Wikipedia contributors. (2021). Rabbit (zodiac) In

Wikipedia, The Free Encyclopedia

. Retrieved from

https://en.m.wikipedia.org/wiki/Rabbit_(zodiac)

 

Formerly attributed to Zhou Wenju. (Qing dynasty, 19th century). The Goddess Chang'e in the Lunar Palace, Freer Gallery of Art. Retrieved fromhttps://asia.si.edu/object/F1909.244a/
Wikibooks contributors (2019). Chinese Stories/Jade Rabbit. In Wikibooks, The Free Textbook Project. Retrieved from https://en.m.wikibooks.org/wiki/Chinese_Stories/Jade_Rabbit
Jiang, Fercility (2011) Year of the rabbit. In China Highlights. Retrieved from https://www.chinahighlights.com/travelguide/chinese-zodiac/rabbit.htm
City of Parramatta (1999) Annual report 1998/99. Parramatta, N.S.W. : Parramatta City Council.; City of Parramatta (2000) Annual report 1999/2000. Parramatta, N.S.W. : Parramatta City Council.
City of Parramatta (2011) Annual report 2010/11. Parramatta, N.S.W. : Parramatta City Council.; City of Parramatta (2012) Annual report 2011/12. Parramatta, N.S.W. : Parramatta City Council.