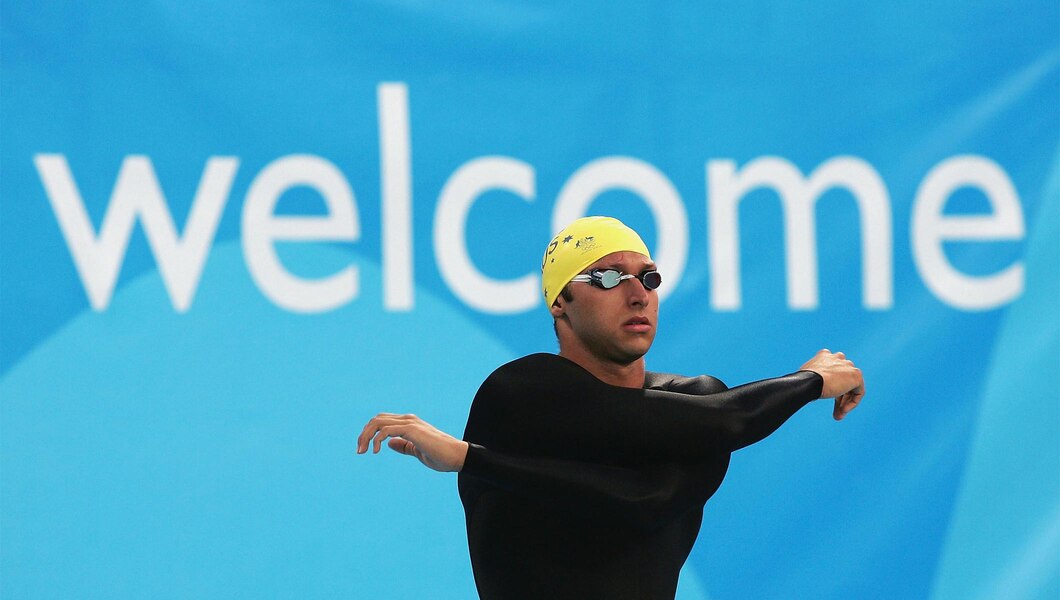 by Emma Stockburn
Ian Thorpe, was born on October 13, 1982 in Milperra, a suburb of Sydney. Thorpe is the most decorated male Australian Olympian, and was the most successful athlete at the 2000 Summer Olympics in Sydney. His speciality is freestyle but he has also been successful in the backstroke and individual medley. 
Thorpe started swimming when he was seven years old. He was an active and highly successful swimmer during his primary school years and competed at state and national levels throughout. By the time he was fourteen years old he was the fourth fastest competitor for the 400m freestyle and in 1997 he was the youngest ever male swimmer selected for the Australian swimming team. 
Ian Thorpe made his international debt at the 1997 Pan Pacific Championships and here he set new personal bests in the both the 200m and 400 metres events. But it was during the 1998 World Aquatic Championships in the 4 x 200m medley that Thorpe, at the age of fifteen became the fourth fastest ever male world champion. He won four gold medals at the 1998 Commonwealth games. In 1998 he was names the youngest swimmer to be names the Swimming World Swimmer. 
The Sydney Olympics in 2000 were near and Thorpe had already broken 10 world records. Four of these records were broken at the 1999 Pan Pacific titles.  Thorpe was expected to compete in the Sydney event with relative ease with the media calling him invincible. On the first night of Olympic competition in Sydney he won the 400m freestyle, besting his own world mark, then combined with Michael Klim, Chris Fydler and Ashley Callus to beat the United States in their first defeat ever in the 4 x 100m freestyle relay, setting another world record.   This swim was drama packed and is a highlight of any Olympic games. Then again, Thorpe featured with Klim, Todd Pearson and Bill Kirby in another world-record relay victory winning the 4 x 200m.  Ian Thorpe was the most successful athlete of the 2000 Games, with three gold and two silver medals. 
In between Sydney and Atlanta Thorpe added to his immense medal tally. Winning twenty gold medals at World Championships, Commonwealth Games and Pan Pacific's. During his time at Athens in 2004 he competed in what was called the "race of the century against" Dutchman Pieter van den Hoogenband and American Michael Phelps. Thorpe won the 200m race and with this result cemented his place as one of the best swimmers of all time. Thorpe won two gold and two silver at the Athens Games. 
Ian Thorpe officially retired from competitive swimming in 2006 and in April 2018, Thorpe was awarded an Order of Merit by the Australian Olympic Committee. 

Emma Stockburn, Research Facilitator, Family History, City of Parramatta, Parramatta Heritage Center, 2020
References: 
Ian Thorpe: https://www.olympics.com.au/olympians/ian-thorpe/ 
Ian Thorpe: https://en.wikipedia.org/wiki/Ian_Thorpe 
Ian Thorpe: https://swimswam.com/bio/ian-thorpe/ 
Message of Hope: https://www.olympic.org/news/olympic-great-ian-thorpe-offers-message-of-hope-and-positivity