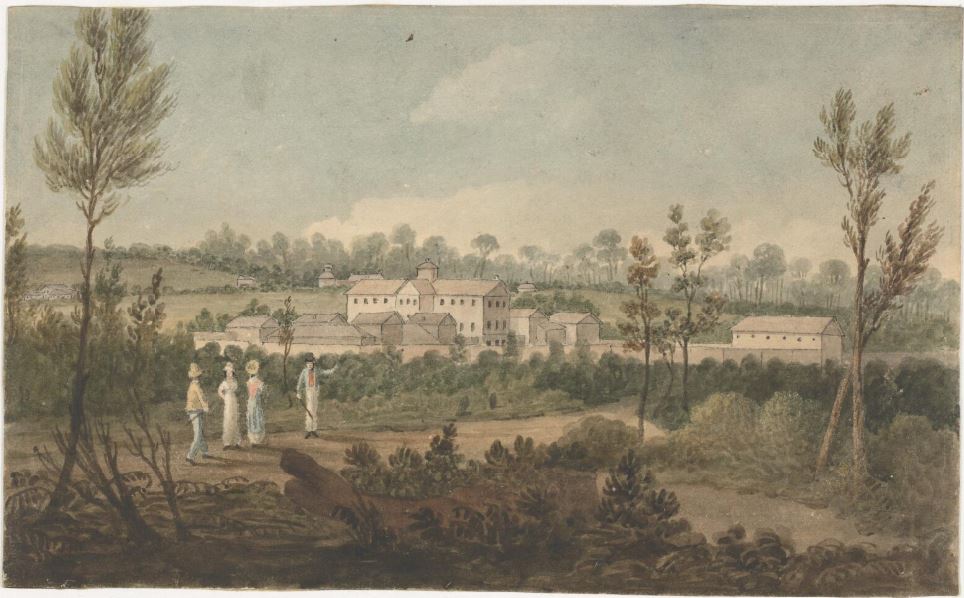 Ann Gordon, was the Matron of the Female Factory at Parramatta, between 1827 -1836. Mrs Gordon became well known in her role and synonymous as a personality of the town. During her time in the position, the Factory was given a variety of names, including Gordons' Villa, Gordon's Nunnery, Gordon's Seminary. Added to this when women were placed to live and work in the factory, they were said to be Gordonised.
Ann King was born at Portsmouth, England, in 1795. She was the daughter of James King, government courier, and his wife Ann, née Ovey. Ann married Robert Gordon of the 26th Limerick Militia in 1812.
In August the next year Ann, her husband, and their two daughters, Caroline born 1813,  in Portsmouth, England and Maria, born, 1817, travelled on board the ship the Matilda and arrived in Sydney in 1813.  Ann also had another daughter Letitia, who was born prior to her marriage, in 1809. Letitia remained in Ireland with her grandparents.
Robert was sent to the Newcastle garrison where Ann gave birth to two children, William/Henry and Sarah between 1820 and 1822. Following the departure of the regiment for India in 1824 the Gordons decided to remain in the colony. Land  was apparently granted to them in the Burragorang Valley in 1825 was quickly sold  and by 1828 Robert was employed as a storekeeper with the commissariat. Ann was the Matron of the Female Factory at Parramatta.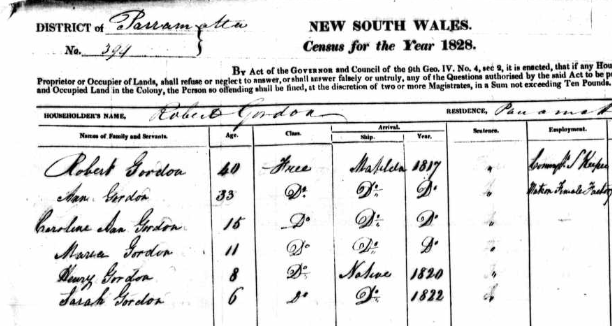 Ann had been given the positon of superintendent and matron of the Female Factory at Parramatta, in October 1827. The Female Factory was a place of supervision for transported women who were not assigned as servants to settlers. The organisation was also the principal female penitentiary.  The institution also had an important role in the medical care for the wider female convict community. At a salary of £150 per annum, including quarters, fuel and light Ann was one of the highest paid women in the colony. With this appointment Ann had to work with a staff, as recommended by the Board of Management. This included; "assistant matrons, often soldiers wives, were appointed to the first and third classes of inmates…a storekeeper-superintentent….a clerk…porteress and constable-gatekeeper were to lighten her administrative load" And from  1835 there was also a midwife and several monitoresses chosen from the best-behaved women. 
The Female Factory at Parramatta suffered with the erratic arrival of large number of convict women from England and Ireland. For example in 1827, the year of Ann Gordon's appointment, there were 366 women at the factory. These women were from a variety of challenging circumstances. This included the difference in severity of crimes they had committed and their physical conditions. Many women were ill, unable to work and or pregnant.  And some like the women from the Elisabeth from Ireland were troublesome and caused tensions in the colony.  The aim of the Factory was to assign the women that were held there, but with over a thousand women passing through its doors in 1827 and 1828 alone most  were assigned. But there was still 500 were in residence in late 1829.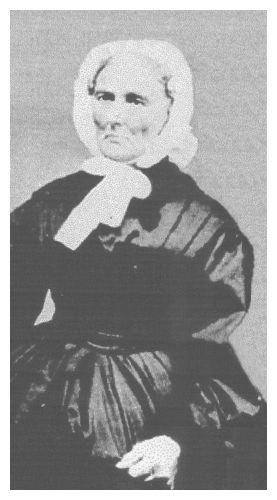 All of these women, those who stayed, and those who passed through be it because of assignment or lay-in during pregnancy were often looked after by a staff of five women, headed by Matron Gordon. Governor Darling commended Gordon on her ability to "implement policies designed to achieve the smooth running of an institution that was both a place of punishment and asylum, to maintain the health and welfare of the women, alleviate overcrowding where possible, provide some employment an encourage moral improvement."
It isn't exactly known how much of this success was because of authoritarianism and an understanding of the women that were under her watch. In her letters to her oldest daughter, Letitia Garmonsway did show a kind side. This a letter regarding the death of her grandmother and shows much love for her oldest child.
" My dear child you say in your letter that you have no home now, no friend There is no doubt you lost a friend a humble friend in your poor grandmother but pray be comforted and consider you have a friend a home and a mother that never forgot you although length of time and circumstances and thousands of miles across the wide ocean separated us. Yet my poor child you were never forgotten by your mother. All I wish is to see both of you and your dear little boys"
Under Governor Richard Bourke (1831-1837) the numbers in the factory grew and conditions deteriorated. Built for 300 inmates, the population rapidly grew to over 600 women and children. This added to Ann's burdens at the time when a series of scandals occurred involving her family. This included alleged immoral conduct by her husband when an allegation was made by the the Factory's midwife, Mrs Mary Ann Neale. There were also rumours regarding Caroline Gordon and the father of her illegitimate children. And while Ann was not implicated and said to be "a valuable public servant herself …she had the misfortune to be surrounded by an ill conducted family" by Governor Burke, she lost her position in 1836 with one year's wage. Her husband Robert had lost his positon of the Factory storekeeper the year before.
Robert, then held the publican's licence for the "Jolly Sailor" hotel in George Street in Parramatta  and Ann applied to take on the postion of Matron again at the factory but was unsuccessful. By the early 1840 the family had made their way to Maitland. From family letters it is thought that there was some financial and personal stress to Ann during her time in Maitland.
As can be seen in a letter from Ann to her daughter Letitia in England dated 5 January 1845. Ann wrote in regards to herself, her three girls and her husband.
'The three girls Caroline, Maria and Sarah and their children are at present at home with me and as for their father, I have had to keep him for this last ten years without his earning one single shilling but spending all he can get'.
Robert died in Maitland from cancer in 1863. Ann died on 6 June 1868 at Maitland.  They were buried together in St. Peter's Old Burial Ground at East Maitland, along with daughter Caroline and grandson Oscar Henry.

Emma Stockburn, Family History Research Facilitator, City of Parramatta, Parramatta Heritage Centre, 2020
References:
Gordon Family Letters: http://freepages.rootsweb.com/~jray/genealogy/gordon/letters2.htm
Gordon Family History:  https://sites.rootsweb.com/~jray/gordon/index.htm  
Gaye Hendrickson, Carol Liston, Women Transported: Life in Australia's Female Factories, Parramatta Heritage Centre. 2008.
Annette Salt, These Outcast Women; The Parramatta Female Factory: 1821-1848, Hale and Iremonger, 1984.
Ann Gordon: http://adb.anu.edu.au/biography/gordon-ann-12943