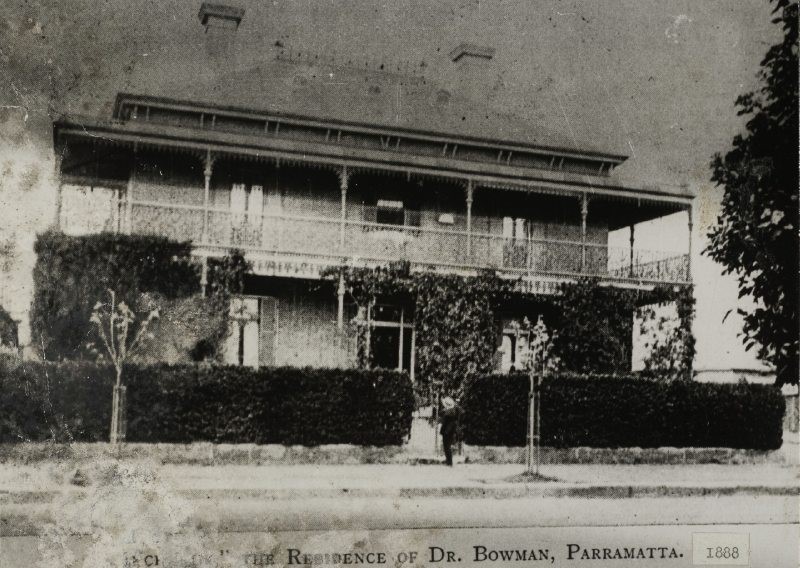 Inchneuk Private Hospital, formerly at 77 George Street in Parramatta, operated from 1888 to the 1950s when it was demolished. The property was located on the southern side of George street, near the intersection of George Street and Smith Streets.
The site as the photograph above indicates was also once a hotel known as "The Babes in the Wood" which was built by wealthy Parramatta citizen Nathaniel Payten. Should you be interested in finding out more about The Babes in the Wood, see the resources below:
Edward Higginbotham(1989) The Babes in the Wood, Parramatta : report on the archaeological excavation of the former Prospect Electricity staff car park, corner of Smith and George Streets, Parramatta, NSW, 1989. Call number Archaeological reports LS 930.1099441 HIG
Edward Higginbotham & Associates Pty Ltd (1989) 'Former Prospect Electricity Car-Park, now 20 Smith Street, Parramatta (adjacent to 79 George Street above)' in Major archaeological excavations and projects in Parramatta [website]. Retrieved from http://www.higginbotham.com.au/majorexcavations.html
Martin Carney (1998) 'A cordial factory at Parramatta, New South Wales', Australasian historical archaeology, vol. 16, pp. 80-93. Available online http://www.asha.org.au/pdf/australasian_historical_archaeology/16_04_Carney.pdf
Wilson, Adam. (2018, November 8). Babes in the Wood. Retrieved from http://arc.parracity.nsw.gov.au/blog/2018/11/08/babes-in-the-wood/
Inchneuk means "little nook" in Scottish. It was built and renamed when Dr. Reginald McDougall Bowman used it as his place of residence and private practice from 1887 to 1927. As this was a private hospital, it is unlikely that any medical records have survived, as there is no legislative requirement for such records to be retained permanently. No records of the interior structure of Inchneuk are held in the Library or Council archives as this was a private enterprise. However, using City of Parramatta Council's Valuer General's valuation books dated 1924 to 1961, the following is a breakdown of the ownership of the former property 77 and 77A George street, Parramatta. These books were published every 3-4 years.
Year
Details from Council's valuation book records

1924  

Estate of Dr. Reginald Bowman (whose address at the time appears to be 469 Oxford Street, Paddington, N.S.W.) The name 'Inchneuk' not written in this excerpt however the word 'Private Hospital' is noted.

1927 

Estate of Dr. Reginald Bowman. But name was crossed out indicating a change of property ownership to Miss Mary Helena Watson. Lessees listed as nurses Mary Helena Watson and Mrs M McLachlan

1929

NSW Land Registry Service Historical Land Record Viewer: volume 4390 – folio 119

1930 – 1939 

Two nurses Watson and Mrs McLachlan leased the property that were operating as a private hospital now called 'Inchneuk'

1943 – 1954

'Inchneuk Private Hospital' owned by Watson and McTiernan. The title registration details given in the 1948 Valuation lists are – Volume 3731, folio 152m Resubdivision of Lots 21 and part 22, section 17. 

1957

Mary Helena Watson sold property to Mrs Dorothy Rose McTiernan. Land certificate of title deed volume 3731 – folios 152 and 153. The l

ast recorded name of property known as 'Inchneuk' Private Hospital.

1961

No mention of property called Inchneuk but property o

wned by Mrs Dorothy Rose McTiernan and Mrs Mary Patricia Lloyd
Our Research Library also holds a vertical file on Inchneuk [VF0709 Parramatta – George Street – Inchneuk (house)] which includes newspaper print outs from the National Library of Australia's Trove digitised historical newspaper database  (http://trove.nla.gov.au/newspaper). Here are some newspaper references:
From October 1958 the Lennox Hotel was reopened on the site with Tooheys. It was closed in 1984 and demolished soon after. In 1987, a six storey Coopers and Lybrand commercial building was built on the site.

Anne Tsang, Research Assistant, Parramatta Heritage Centre, City of Parramatta 2020
References
Obituary. Dr. R. Bowman. (1922, August 7). The Sydney Morning Herald, p. 7. Retrieved April 23, 2020, from http://nla.gov.au/nla.news-article16017621 ; DEATH OF DR. R. M'D. BOWMAN. (1922, August 5). Singleton Argus (NSW : 1880 – 1954), p. 6. Retrieved April 23, 2020, from http://nla.gov.au/nla.news-article80816247
Australian National University. Open Research Library. (2016). Lennox hotel, cnr. George and Smith Streets, Parramatta : [6] Retrieved from https://openresearch-repository.anu.edu.au/handle/1885/98062
Roberts, Mike. (2018, October 29). Lennox hotel, Parramatta. In Time gents : Australian pub project [website]. Retrieved from https://timegents.com/2018/10/29/lennox-hotel-parramatta/
City of Parramatta Council (2020). Coopers and Lybrand building, south west corner of George and Smith Streets, Parramatta, view of front exterior of six storey commercial building, 1987. In Local Studies Photograph Collection/Local Studies Library, object number LSP00943. Retrieved from http://heritagecentre.parracity.nsw.gov.au/search.do?id=90959&db=object&page=1&view=detail
Denis M.LAMB
Dr.Reginald Bowan daughter "Helen Lavinia McDouugall Lamb nee Bowman b 8 Feb 1890 :Inchneuk:" d.4 Mar 1964 Rode Bay.