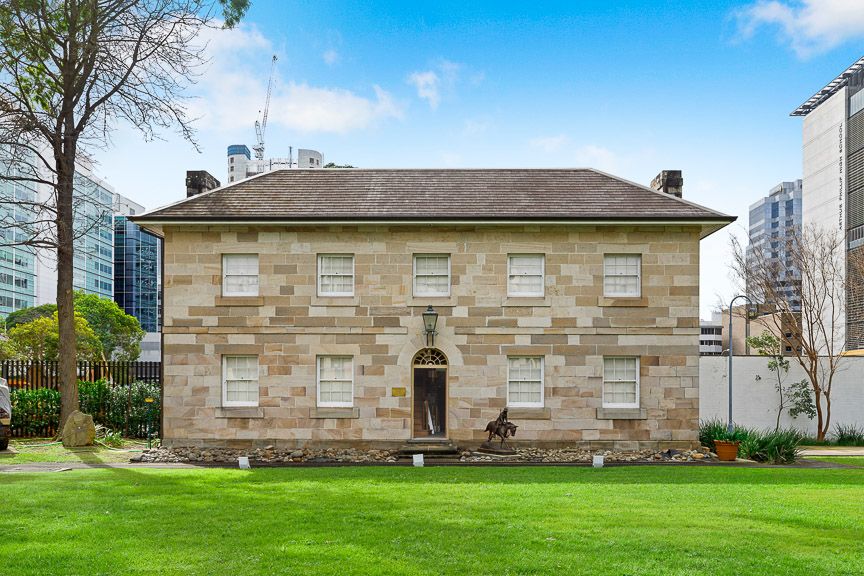 Highlights from the collection.
Within site of the Royal New South Wales Lancer (RNSWL) Barracks, is Linden House, an alluring heritage building home to an extraordinary collection of RNSWL memorabilia. The cultural treasures, belonging to the 1st/15th RNSWL Memorial Museum, tell the remarkable story of the RNSWL from its establishment, through various wars and battles, to the present day.
Featured below is a collection of significant and rare souvenirs and memorabilia of the WWII collection.
As we commemorate VP Day, I encourage you to attended a guided tour at the RNSWL Memorial Museum to experience for yourself, the incredible tale of the Lancer's experience in WWII.
2nd/2nd Machine Gun Battalian AIF Flag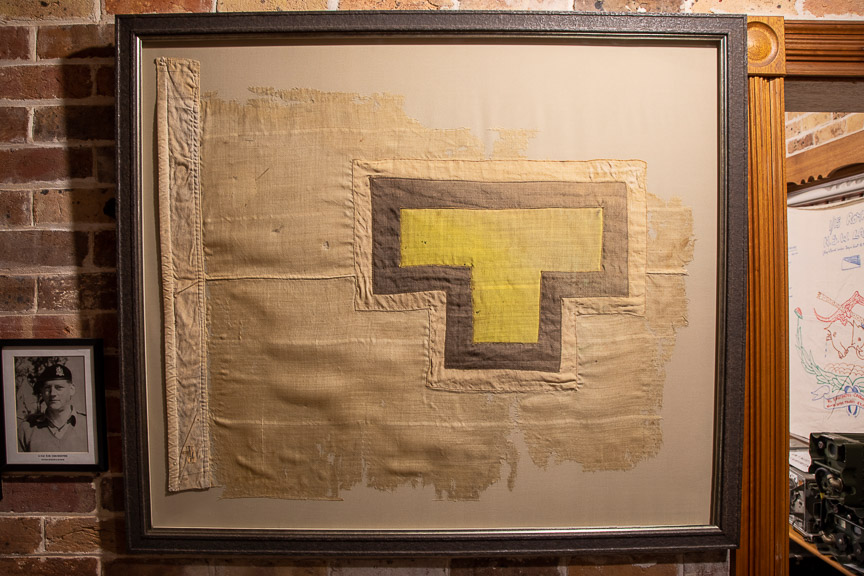 This flag was issued to the 2nd/2nd Machine Gun Battalion when it joined the Australian 9th Division, famously known as the Rats of Tobruk, in Syria. It features the iconic 'T' of the Tobruk emblem in the Battalion. The flag was flown at the Battalion H. Q. during battle of El Alamein and in major actions in New Guinea and Borneo.
Australian Vickers .303 Medium Machine Gun, Service Dress jacket OR pattern and Swastika Building Drape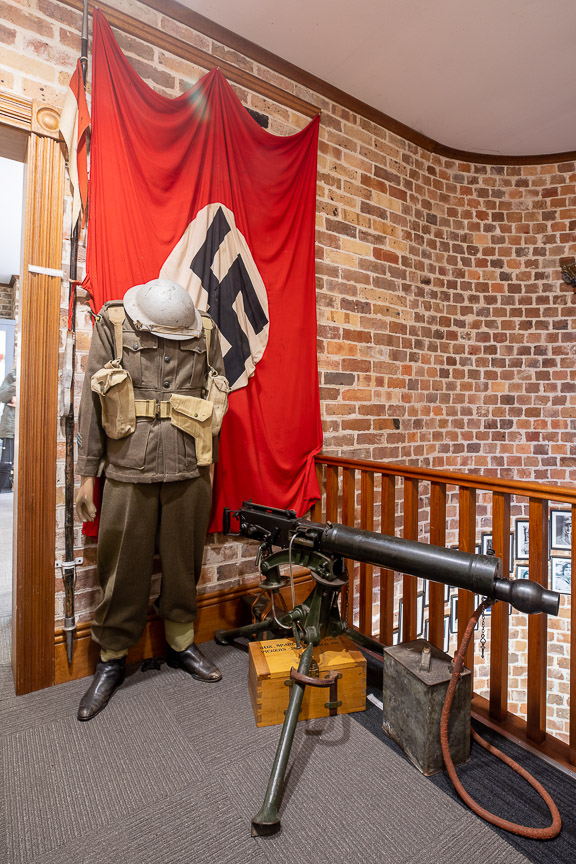 The Vickers gun was used by the 2nd/2nd Machine Gun Battalion AIF in WWII and by the Australian Military until the 1950s; the jacket displays the colours of the Battalion; the Swastika Building Drape was captured by the Battalion when it was in the Middle East at Mersa Merath.
Japanese Type 92 "Woodpecker" Heavy Machine Gun (left) and Bren Light Machine Gun (right)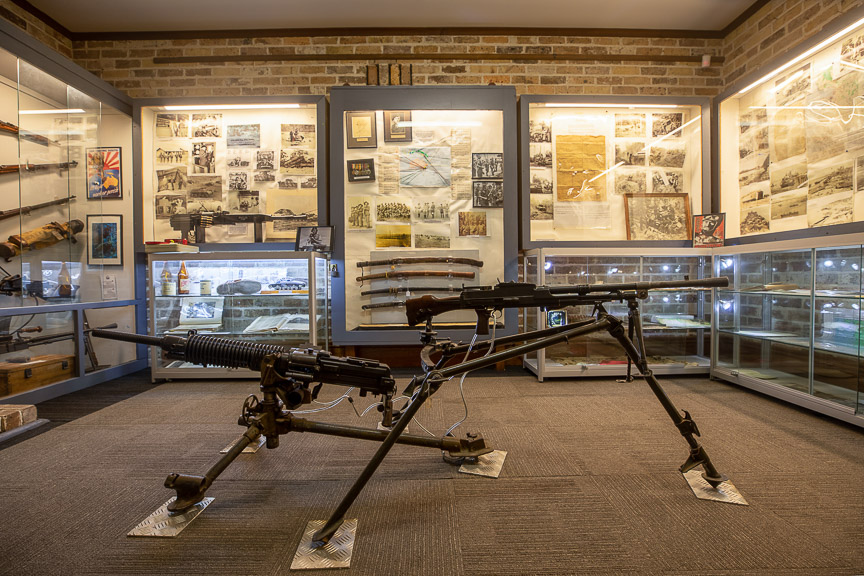 The Type 92 HMG was used extensively by the Imperial Japanese Army and nicknamed 'Woodpecker' by Western Allied forces due to its unusual sound. The Bren Light Machine Gun is an example of small arms used by the British and Commonwealth armies in WWII.
Bren Gun Carrier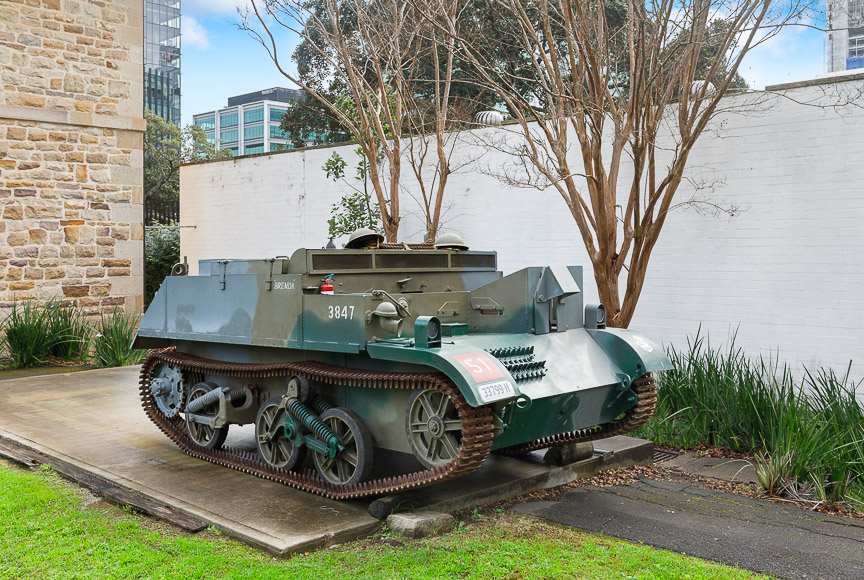 This Bren Gun Carrier is an example of the first armoured fighting vehicle ever used by the Regiment and first vehicle many early recruits trained with to familiarise themselves with tracked vehicles in WWII.
Escape and Evasion Kit – Silk Map and Miniature Compass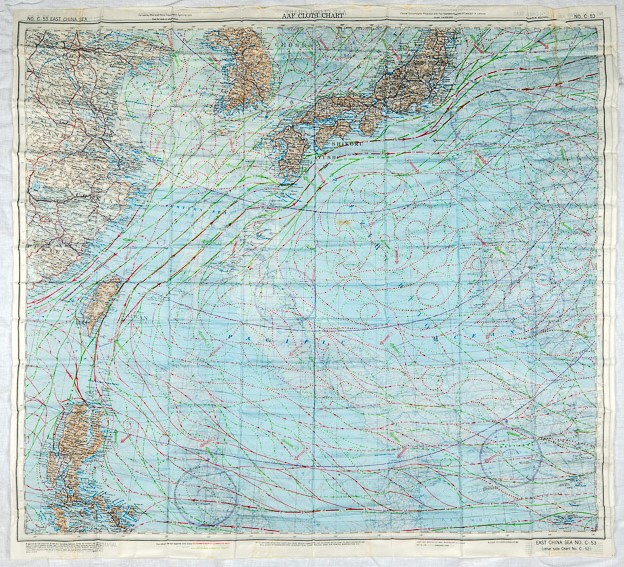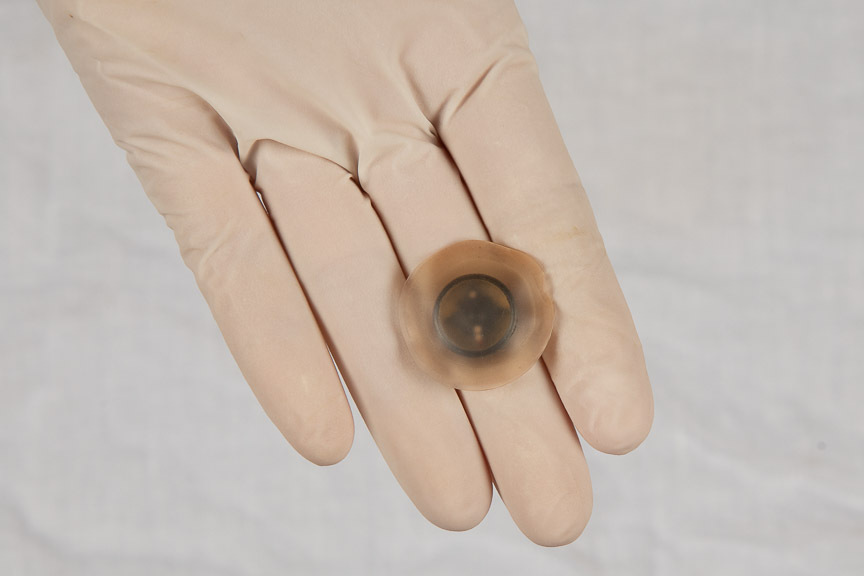 These artefacts formed Escape and Evasion kits used to help Allied aircrew find their way back to Allied territory. The compass was enclosed for waterproofing and easy swallowing if necessary.
Japanese Yosegaki Hinomaru (Good Luck Flag)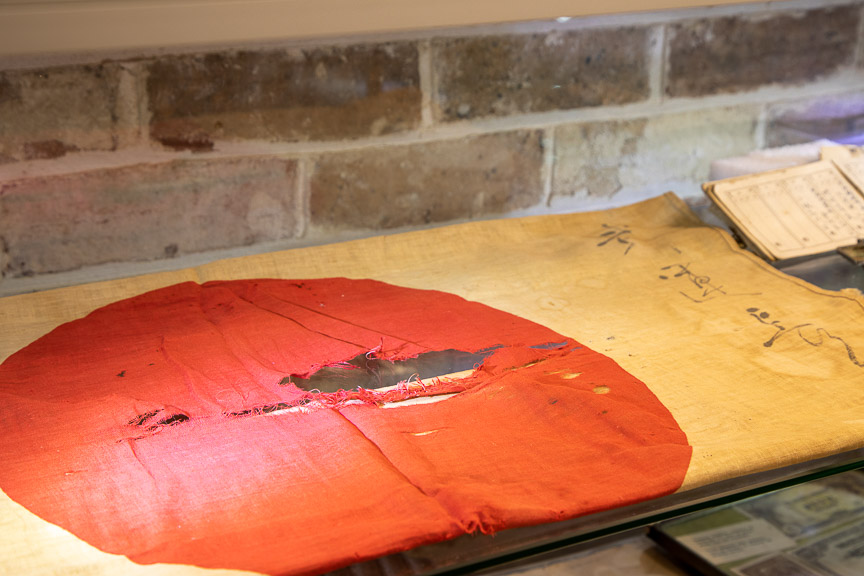 This flag belonged to Japanese soldier, Iwo Nikano. It was tradition that flags were signed by family and friends and gifted to deployed Japanese soldiers, as a token of good luck and fortune in war.
ACE Matilda Tank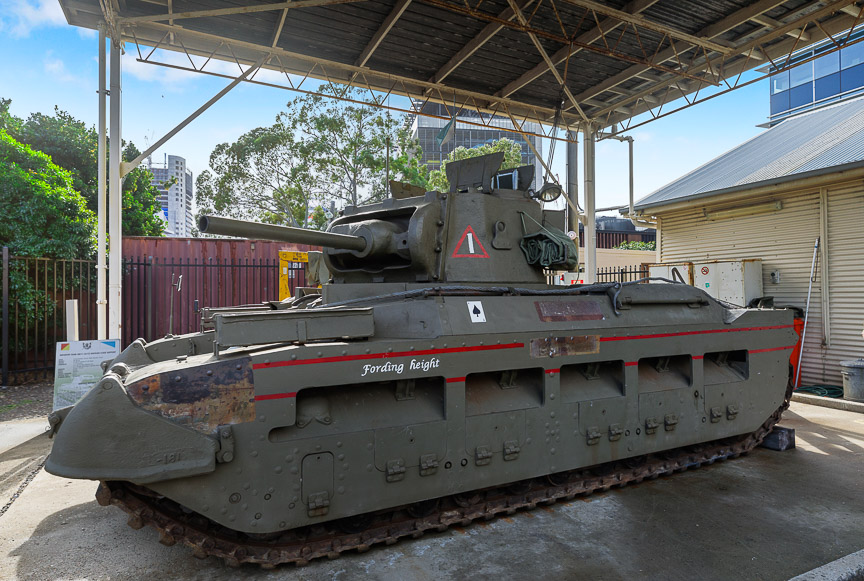 ACE Matilda was the first tank off the landing craft when the Lancers (then 1st Australian Armoured Regiment (AIF) (RNSWL) launched Australia's largest ever armoured assault at Balikpapan, Borneo in July 1945 and the tank Regimental WW2 veteran Les Betts drove. ACE has been restored to full mobility and is now on permanent display at the Lancer Barracks.
Operation Order for Oboe 2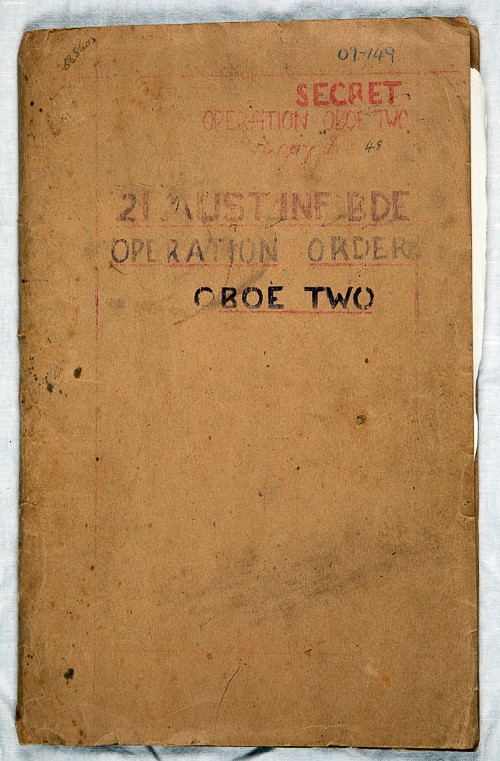 Oboe 2 was part of the Operation Oboe campaign to liberate Japanese-held British and Dutch Borneo. It was the concluding phase of the campaign covering the attack on Balikpapan, the last major amphibious assault of the war.
Memorabilia from ACE Matilda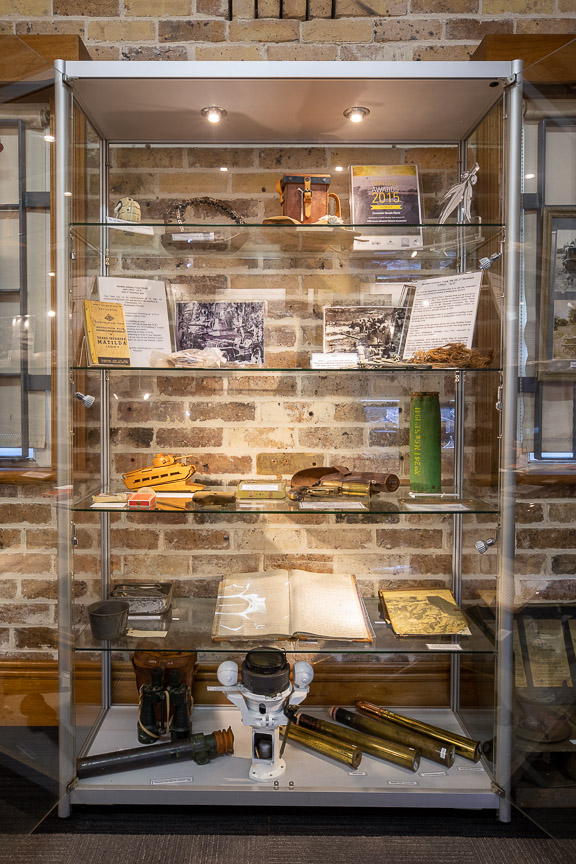 This cabinet displays a collection of personal items found inside ACE Matilda which belonged to the ACE crew. Some examples include main armament storage containers, tobacco rations, fragments of a 1945 Daily Telegraph and an emergency ration tin of chocolate.
Ammunition Storage Container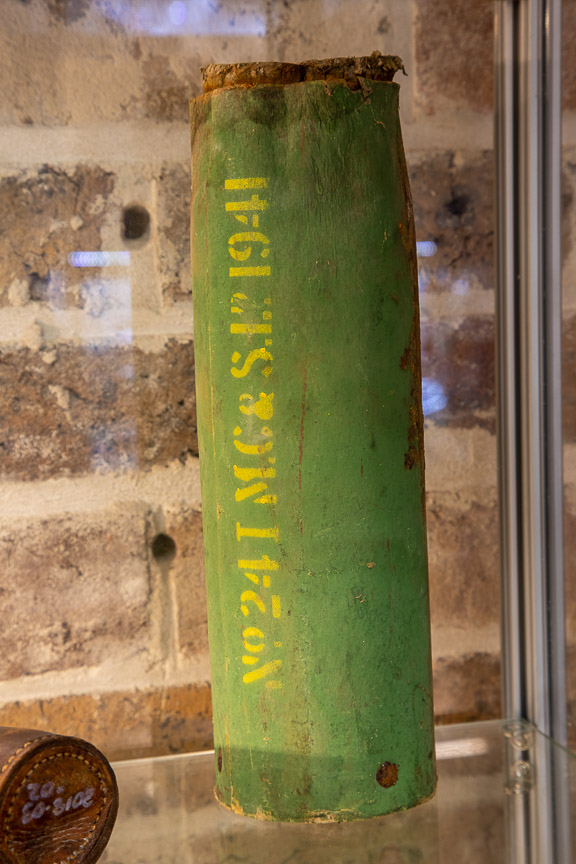 This is a Matilda 2 pounder ammunition turret storage container used in WWII.
Matilda Radio
The development of radios revolutionised communication in the battlefield in WWII, as close co-ordination within and between military, naval and air force crew was crucial.
Mess Tin and Pannikin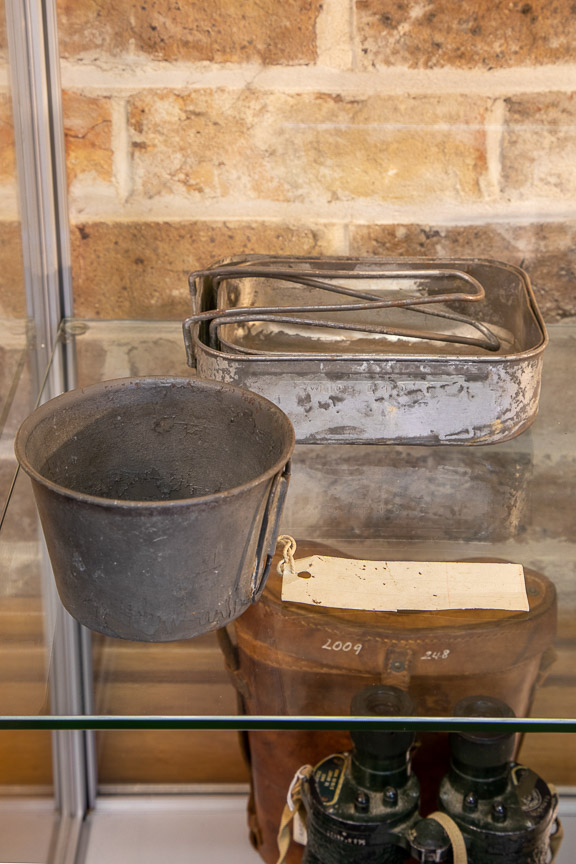 Mess tins and pannikins were issued to Australian troops in WWII.
Postcard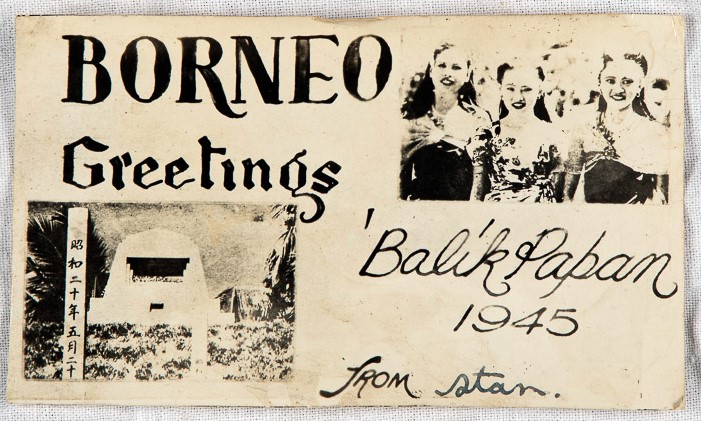 This postcard is part of the memorabilia collection of the Battle at Balikpapan. Postcards connected troops to their family, lovers and friends back home
Balikpapan Enemy Defences Map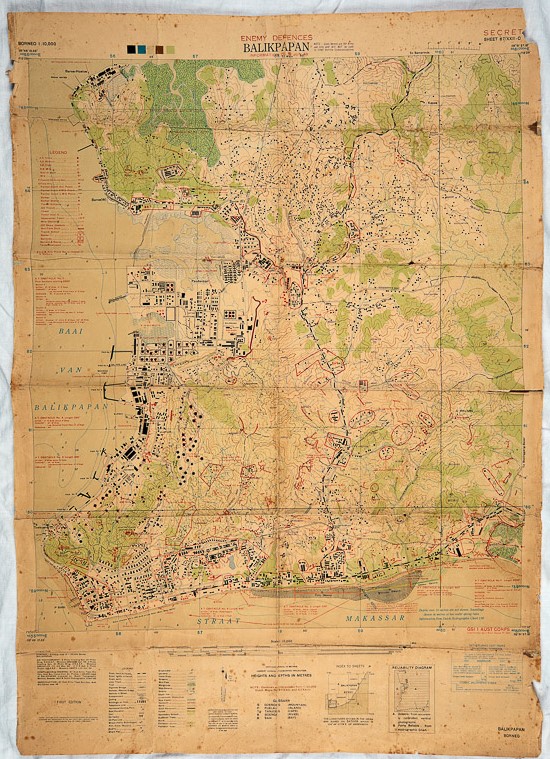 This secret map was used to identify enemy positions, trenches, tunnel entrances, bunkers, destroyed oil tanks and more. These were marked in red.
Belt of a Thousand Stitches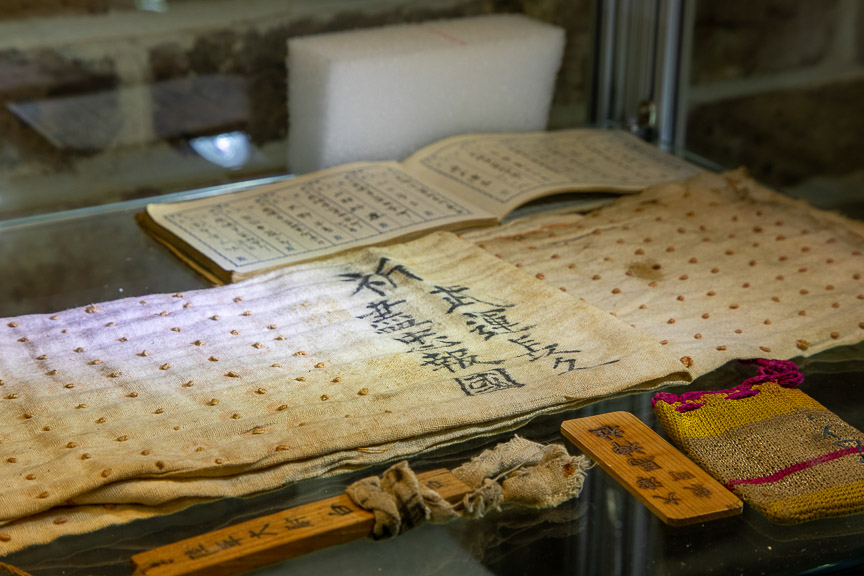 This belt belonged to Japanese soldier, Iwo Nikano. A belt of a thousand stiches was worn by Japanese servicemen to bring them good luck in war. One thousand women contributed a stitch to it using red thread which symbolised luck.
ACE Matilda Tank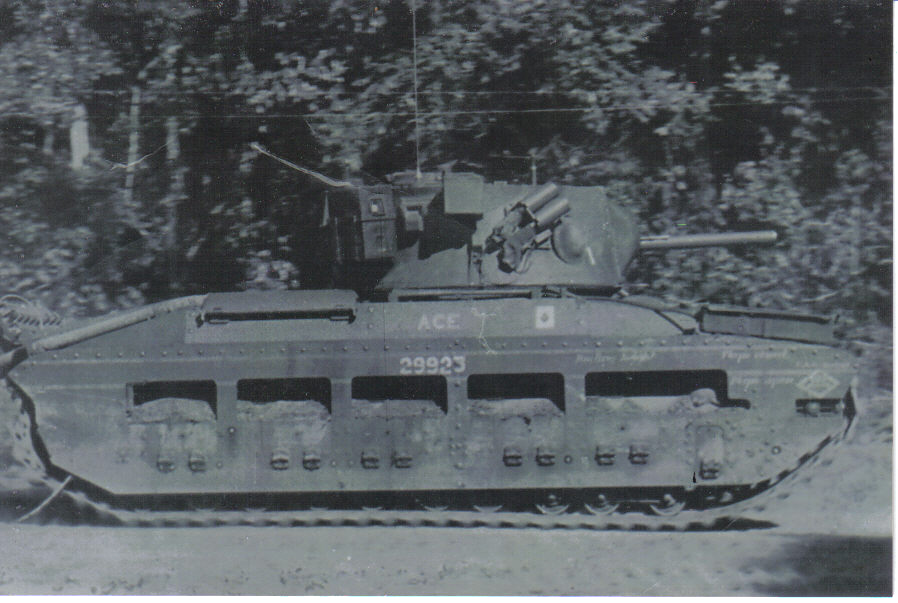 This photo was taken in WWII and shows ACE Matilda in its original state when it was used during the battle at Balikpapan.
(Photo courtesy of the RNSWL Memorial Museum)
ACE Matilda Tank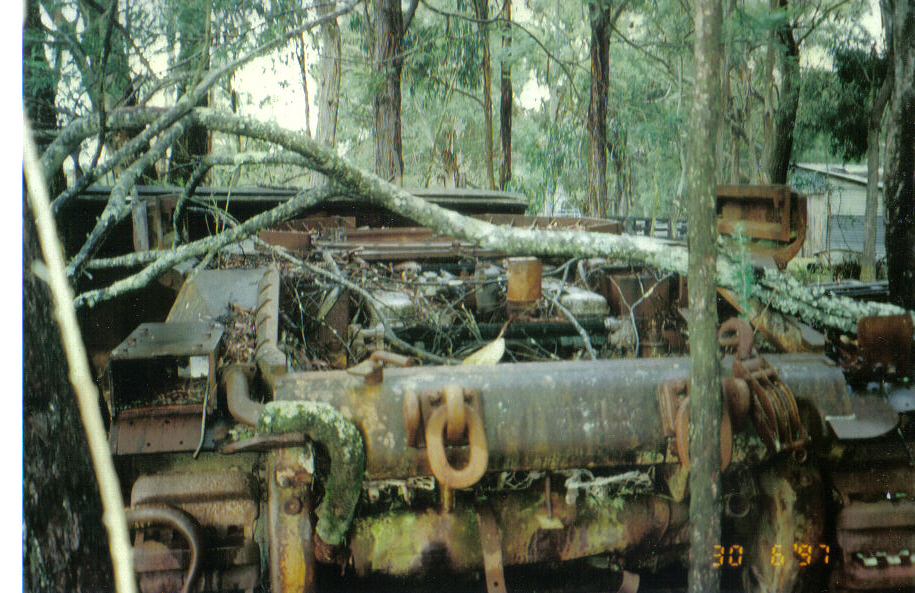 This image captures how ACE Matilda looked when it was discovered in a paddock near Moss Vale by the Lancer Association volunteers in 1997.
(Photo courtesy of the RNSWL Memorial Museum)