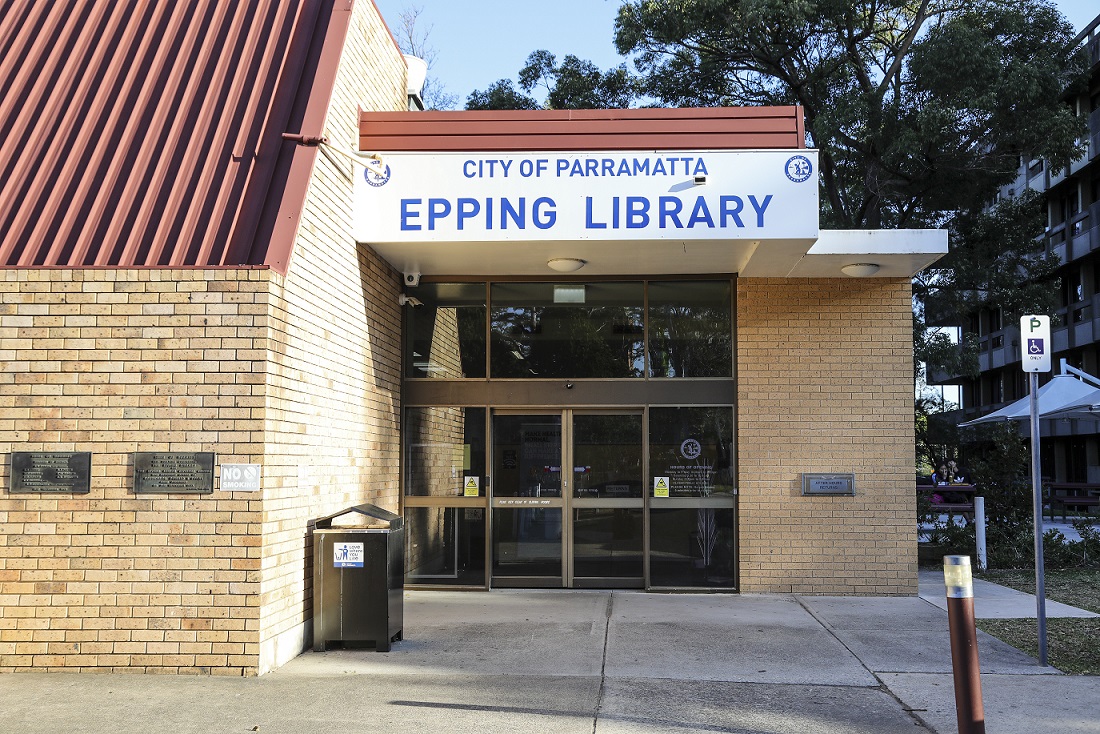 Epping Branch Library shares its building with the Epping Leisure and Learning Centre. It is currently located at 1 Chamber Court, Epping, NSW, via pedestrian access or 10 Pembroke Street, Epping, NSW (Lot 5 DP 249822). About 30 metres from Pembroke Street Park playground and about 210 metres away from Epping metro and train station and. Parking is available on premises. 
As of 12 May 2016, with the Local Council boundary changes, Epping Branch Library has joined the City of Parramatta Library network from the Hornsby Shire Council.
History of Epping Branch Library
Epping Branch Library was officially opened on Saturday 21 September 1975 by the Shire of Hornsby Council with the Epping Senior Citizen Centre at then 10 Pembroke Street in Epping NSW. It had taken 5 years from the time Lot 6 and 8 (no. 10) Pembroke Street, Epping became available and plans were drawn up by the architects.[2] The site had previously been used as a public school in the demolished building known as 'Karonga House'.[3]
Prior to Hornsby Shire Council establishing the Epping Library, there had been a library maintained in the School of Arts building in 1912 and later the free Epping Junior Library and Arts and Craft Centre was set up by a local parent committee group in 1945. The latter library was initially on Oxford Street in two vacant junk shops before it moved to the School of Arts building in 1949.[4]
In 1969, discussions commenced between Hornsby and Parramatta Council in relation to setting up a library for the Epping area due to boundary issues. 
Tenders were called for in 1973 and finally on 31 August 1974, Councillor Donald R. Evans laid the foundation stone for the Epping Library and Epping Senior Citizen Centre to be erected. 
When Epping Branch Library first opened it was only open on the weekdays but after suggestions from the local community, operating hours were adjusted to include weekend hours. Another key issue discussed was parking.
No major refurbishments were made to the Epping branch library until 2013.

Transfer to City of Parramatta
On 12 May 2016, with the Local Council amalgamation, the branch library was transferred to be part of the City of Parramatta Library network and renamed the Epping Library and Leisure and Learning Centre with a new address changed to Chambers Court, Epping. The Library was closed for four days from Monday 31 October and reopened at 10am on Friday 4 November 2016 as part of the transition.
Current services: Temporary Closure [5]
In response to the current COVID-19 restrictions, City of Parramatta Council has decided to temporarily close library facilities until further notice. Council values the safety and wellbeing of its staff, residents and visitors and is following advice from State and Federal governments and health authorities in response to COVID-19.
The library will automatically extend the loan of all items until reopening. Our online library is accessible at all hours via parra.city/online.
Epping Library usual opening hours:
Monday to Thursday 10am – 8pm
Friday 10am - 5pm
Saturday 9.30am - 12pm
Sunday 2pm - 5pm
Closed on public holidays
Regular programs offered at Epping Branch Library include: Tax Help One on One Sessions, Free training on how to download e-Resources to your device at Epping Library on Fridays 2-3pm and Homework Help in partnership with Shack Youth Outreach Epping during the school term:  on Tuesdays 3.30 – 6pm free 30 minutes "One on One Chemistry tutoring - Years 10 to 12" with an accredited science teacher available to help with Chemistry questions, specifically stage 6, unit 2 and on Wednesdays 4.30 – 6pm, free 30 minutes "One on One Mathematics tutoring – Year 1 to Year 10" with an experienced volunteer to help students with mathematics questions. Bookings required, contact Epping Library 9806 5843
Please note programs have been cancelled pending for further notice due to the current COVID measures
Bookings required once programs can be run, please contact Epping Library 9806 5843
Epping Library and Learning and Leisure Centre Improvements
City of Parramatta Council has proposed a $1 million upgrade to the Centre to reconfigure the Library to meet the needs of existing and future library users, add four additional meeting rooms and upgrades to the toilet facilities to the Leisure and Learning Centre. To find out more about this and other Council projects, please see our Project Update News website https://www.cityofparramatta.nsw.gov.au/wards/project-update-news[6] 
Anne Tsang, Research Assistant, City of Parramatta, Parramatta Heritage Centre, 2021
References
City of Parramatta Council & Dingo, Salty. (2018). Epping Library - Places Spaces People Neighbourhoods [image]

City of Parramatta Council. (2021). PP 003876-02-Hornsby -  Property - Chambers Court Epping No 3 Lot 5 DP 249822 - Epping Library & Senior Citizens Centre - also known as 10 Pembroke Street Epping. Internal document D07854609

List of non-governmental schools certified under the provisions of the

Public Instruction Act, 1916

(included are certified special schools under the provisions of the

Public Instruction (Blind And Infirm Children) Act, 1944

) (1973, January 26).

Government Gazette of the State of New South Wales

, p. 216. Retrieved from

http://nla.gov.au/nla.news-article220185237

[Epping, 6 Pembroke Street— "Karonga House", Special School for Handicapped Children (D.)] ; Tenders. [Epping - Erection of shops. Plans at Karonga, Pembroke-street Epping] (1917, December 19).

The Sydney Morning Herald

, p. 6. Retrieved from

http://nla.gov.au/nla.news-article15788020

Current news. Epping School of Arts. (1912, August 21).

The Cumberland Argus and Fruitgrowers Advocate

(Parramatta, NSW : 1888 - 1950), p. 2. Retrieved from

http://nla.gov.au/nla.news-article86133072

 ; 

School of arts enlargement. (1916, July 22).

The Cumberland Argus and Fruitgrowers Advocate

, p. 8. Retrieved from

http://nla.gov.au/nla.news-article86073432

; 

Epping School of Arts. (1919, June 7).

The Cumberland Argus and Fruitgrowers Advocate,

p. 10. Retrieved from

http://nla.gov.au/nla.news-article86115540

 ; 

Junior library move (1945, July 25).

The Cumberland Argus and Fruitgrowers Advocate

, p. 3. Retrieved from

http://nla.gov.au/nla.news-article106124624

 ; 

Epping children's library (1945, November 17).

The Sydney Morning Herald

, p. 11. Retrieved from

http://nla.gov.au/nla.news-article17960091

 ; 

Children given towels, soap at free library (1945, November 26).

The Daily Telegraph

, p. 9. Retrieved from

http://nla.gov.au/nla.news-article248030964

 ; Junk shops converted into library (1946, January 9). The Cumberland Argus and Fruitgrowers Advocate, p. 9. Retrieved from http://nla.gov.au/nla.news-article105732823 ; 

Opportunity shop [Advertisement] (1949, June 22).

The Cumberland Argus and Fruitgrowers Advocate

, p. 2. Retrieved from

http://nla.gov.au/nla.news-article111531244

City of Parramatta (2021) Community : Library. Retrieved from

https://www.cityofparramatta.nsw.gov.au/community/library

City of Parramatta (2021). 

Project update news. Retrieved from 

https://www.cityofparramatta.nsw.gov.au/wards/project-update-news