Lord Mayor Steven Issa -  27 September 2021 to 4 December 2021: City of Parramatta Lord Mayor Steven Issa was elected at a Council meeting on Monday 27 September 2021, with Councillor Michelle Garrard re-elected as the Deputy Lord Mayor.
Lord Mayor Steven Issa was a Councillor at City of Parramatta for nine years, including two terms as Deputy Lord Mayor.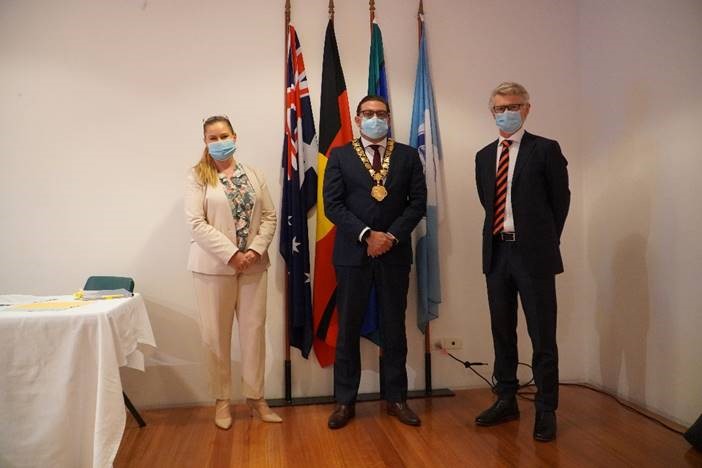 About the Lord Mayor:
Steven is married to Jasmine (a social worker), and are raising three beautiful children; Olivia, Antoine, and Jonah. Raising and educating their children in the local government area means that Steven has a vested and genuine interest in ensuring his family and your family all grow in a safe, inclusive and active community.
Since 2012, Steven has been able to serve the community with two previous terms as Deputy Lord Mayor in Parramatta, along with varying other positions. These include Chair of the Smart City Committee, Senior Vice President of Western Sydney Region of Councils, and Advisory board member on the Western Sydney Academy of Sport. Steven also sat on, and chaired many council committees including but not limited to the Infrastructure Value Sharing Committee, Community Grants Committee, and Major Projects Advisory Committee.
Steven has owned his own small business and has vast professional experience in a variety of multinational companies. Steven has lectured at Sydney University, is currently a Senior Executive in the public sector, and has over a decade experience as a Management Consultant. Steven Holds a Bachelor of Computer Science and Technology from Sydney University, and was awarded a First Class Honors for his Thesis on Information Systems. Steven was also a PhD candidate at Sydney University. Steven will use this experience in council to ensure our city is managed effectively, efficiently and transparently. His aim is to have our City of Parramatta, acknowledged for the wonderful place it is.