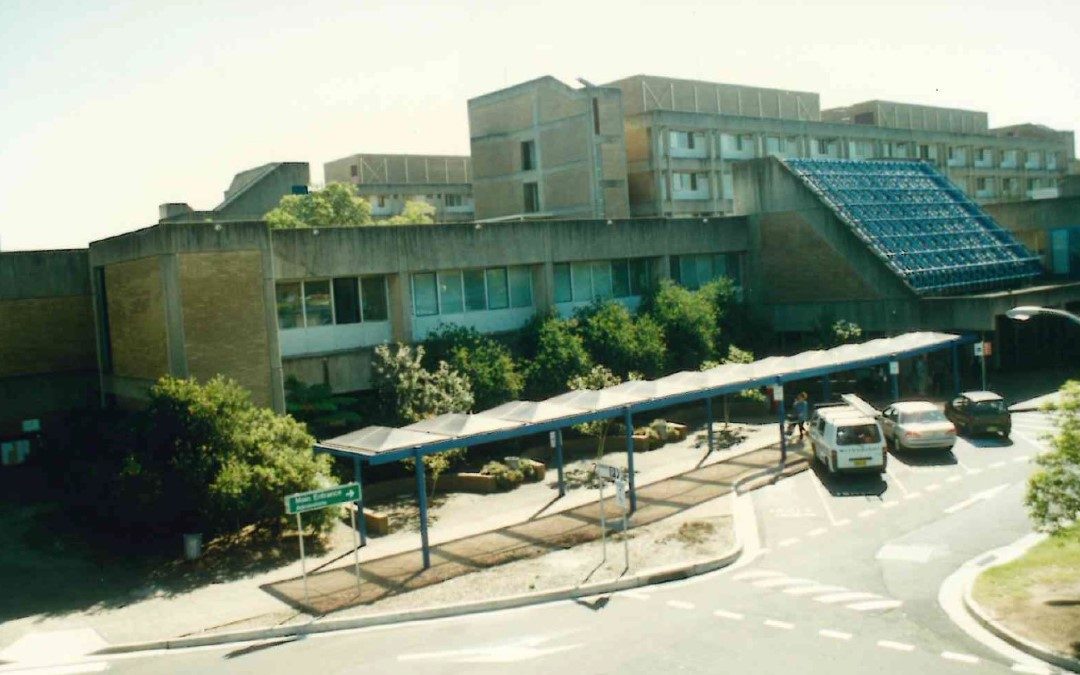 Westmead Hospital, c. late-1990s (Source: City of Parramatta Archives, PCC Photographs Collection)
The history of health services in Western Sydney began with a tent hospital established in Parramatta to meet the medical needs of convicts, military personnel, and early settlers in 1789.
In 1877, the Parramatta Horticultural Society and in 1885 the Central Cumberland Agricultural and Horticultural Society was formed. These societies held agricultural shows in the Westmead area and it is possible that these shows were held on the current site of Westmead Hospital, although this is contested.
In March 1930, the Parramatta District Agricultural and Horticultural Society obtained use of the current site of Westmead Hospital by a grant from the Department of Lands. Then site was known as the Parramatta Showground. From 1955 – 1968, the Parramatta showground was used for the well-known and popular Westmead Speedway. After the Speedway closed, the circuit was briefly used for harness racing. The 'Parramatta Trots' ceased around 1973 to make way for the construction of Westmead Hospital in 1974.
As the population of Sydney's west expanded, the services provided at Parramatta District Hospital became inadequate to meet demand. In order to provide the services required Westmead Hospital, initially known as the Westmead Centre, was constructed.
Westmead Hospital is a major tertiary hospital in Sydney. On 29 April 1974, then Prime Minister Gough Whitlam proposes a major hospital to meet western Sydney's growing healthcare needs. Construction of this hospital started on 6 June 1974 and finished in late 1978. New South Wales Premier Neville Wran opened Westmead Hospital on 10 November 1978.
This 975-bed hospital forms part of the Western Sydney Local Health District, and is a teaching hospital of Sydney Medical School at the University of Sydney. According to 2016-2017 data, Hospital provided more than 1.5m occasions of care to outpatients, in addition to approximately 107,000 inpatients. Annually, there are over 21,000 medical operations, almost 5,800 births, and more than 75,000 presentations to emergency department. Westmead hospital serves a population of 1.85m people and is located on one of the largest health and hospital campuses in Australia.
In 2002, work started on a major expansion of the hospital called the WIN Program. It includes a new facility for NETS, the Brain Injury Unit, a new facility for Women's Health and Newborn Care and the new E Block for intensive care and allied health. This extension work finished in 2006 and services are available to the public.
In 2012 due to the growth and change in Sydney's west, the need to invest in health infrastructure became a priority. Westmead Hospital, Western Sydney Local Health District and Government begin planning for expansion. Blacktown and Mount Druitt expansions started in 2012. The emergency department at Westmead was expanded to meet growing demand.
On 6 November 2013, NSW Government approved 1 million dollars for further expansion to better serve growing community and to provide a world-class hospital facilities.
In 2015, work started on a car park to replace parking areas, electrical upgrades to secure current and future power needs, expansion of the existing Emergency Short Stay Unit (ESSU) and the Healthcare for Older People Earlier (HOPE) unit to meet increasing demand for services.
On 6 October 2015, New South Wales Premier Mike Baird unveiled the "world-class health city", central concept design for stage 1 of the $900 million Westmead redevelopment.
In 2016, a new road, Dragonfly Drive, built to ease congestion along Institute Road and to become the primary access point into the Institute Road car park. A new helipad constructed on a platform, above the top floor, of The Children's Hospital at Westmead car park on Hainsworth Street.
The new helipad was designed and built overseas to specification for Westmead and was delivered via air freight in separate components. It is a seriously heavy piece of infrastructure!
In 2017, with the $60million investment at Westmead precinct, University of Sydney strengthen its partnership with the Westmead precinct. This partnership will provide for new education facilities, upgrades to existing spaces, and a suite of new academic programs and initiatives.
In 2018, pathology relocated to new purpose-built facility, the ear, nose & throat (ENT) and audiology departments moved into their new home and in February Westmead Connectivity Centre, an initiative to match job seekers with local employment opportunities was opened.
In 2019, new and refurbished clinical spaces were connected and the expanded facility transformed into a contemporary facility with a new main entry.
2020 – Sky is the limit above Westmead Health Precinct. Onlookers watch the blue-sky transition into night as the more than $1 billion Westmead Redevelopment achieves a significant milestone when a test helicopter lands on the new Central Acute Services Building (CASB). In May Westmead Health Precinct's new Central Acute Services Building handed over for early usage.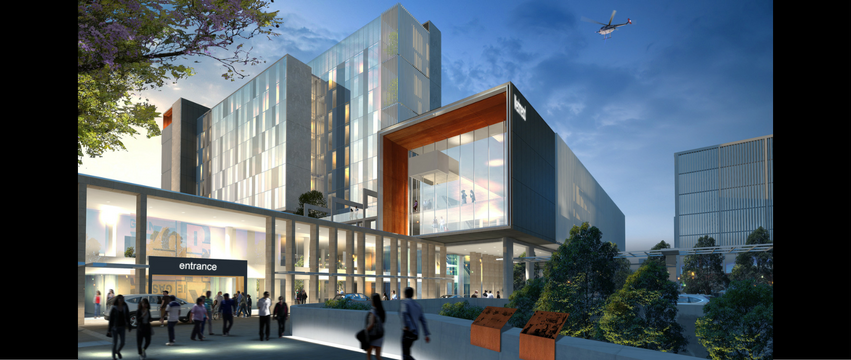 Artist's impression of the upgraded Westmead Hospital, 2018 (Source: Westmead Hospital Redevelopment Project website)
 Westmead Hospital is the principal referral hospital for Western Sydney, renowned for its comprehensive, highly specialised and complex services. Currently undergoing a multimillion-dollar rebuilding program, Westmead Hospital will become one of the largest health, education, and research & training precincts in Australia.

Neera Sahni, Research Services Leader, Parramatta Heritage Centre, City of Parramatta, 2020
References: