India is a melting pot of different cultures, languages, traditions, music, art, and food. India is the land of spices.  Fresh and dried spices & herbs available in the markets and the local shops. These aromatic spices are used for cooking and the outcome of using these spices are great food and great colour. However, besides the great taste & mouth-watering aroma, the spices also prove to be useful for our body without us knowing about it. In "Introduction to Indian Herbs & Spices: Their Health Benefits" I've profiled some of the most used spices in India. These spices are used by the Indian households in their everyday cooking and their benefits for our health.
1. Adrak/Ginger: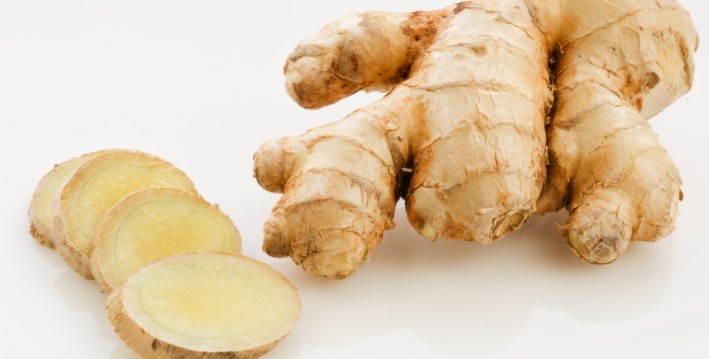 Adrak/Ginger 
Ginger is a flowering plant whose rhizome, ginger root, or ginger, is widely used as a spice and a folk medicine. Ginger is loaded with antioxidants, compounds that prevent stress and damage to your body's DNA. They may help your body fight off chronic diseases like high blood pressure, heart disease, and diseases of the lungs, plus promote healthy aging. It can be used fresh or dry powder.
2. Ajwain/Carom Seeds: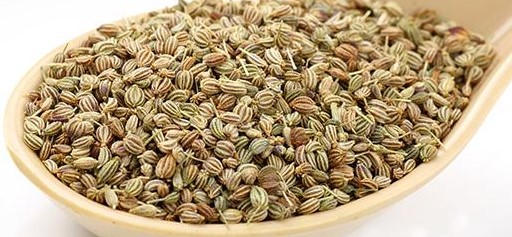 Ajwain/Carom Seeds 
The black coloured seed more commonly known as Ajwain is a powerhouse of health benefiting properties. The intake of ajwain is good for fighting cold and also acts as an instant stomach pain reliever. It also helps in filtering and removing stones from the kidney.
3. Amchoor/Dry Mango Powder: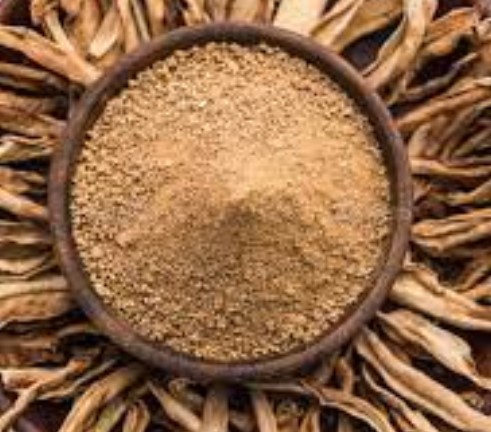 Amchoor/Dry Mango Powder 
Amchoor is the end process of slowly drying unripe mangoes in the sun and then grinding them to a fine powder. It smells like a dusty crate of tropical fruit, but in a good way. The flavour is much more exciting, tart but not overly so, with a surprisingly complex sweetness. Amchoor is mainly used in Indian cooking like okra curries and legume dishes, a common ingredient in chaat masalas, and a key flavour in chutneys, pickles, marinades, and complex, layered curries.
4. Anardana/Dried Pomegranate Seeds: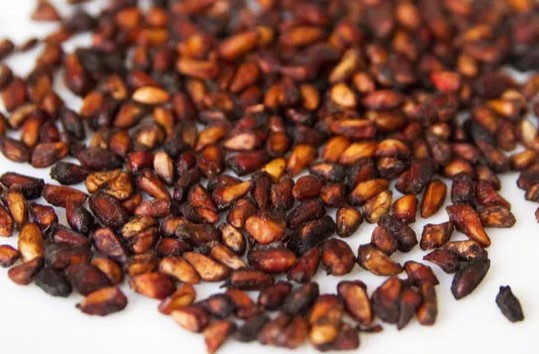 Anardana/Dry Pomegranate Seeds 
Anardana is used in Indian and Persian cuisine as a souring agent. Slow air drying makes it more molasses-like than fresh pomegranate, so it adds depth of flavour as well as brightness. While other sour spices are best as finishing touches, anardana can enrich a sauce or braising liquid for as long as you like, and it only gets better with time. Slow cooked with chicken legs or lamb, the result is rich and profound.
5. Chakra Phool/Star Anise: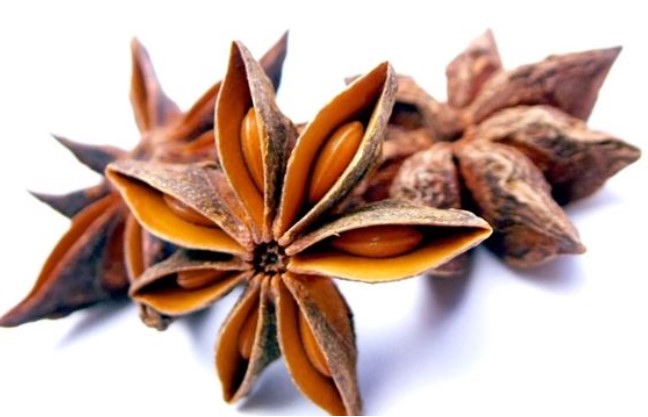 Chakra Phool/Star Anise 
The spice that originated from the far east is now gaining an important role in the Indian culinary world. High in Vitamin A and Vitamin C and enriched with antioxidants, the star shaped spice is known to fight ageing and diabetes. The oil from the Star Anise is also used to treat nausea, cough, and flu.
6. Chat Masala: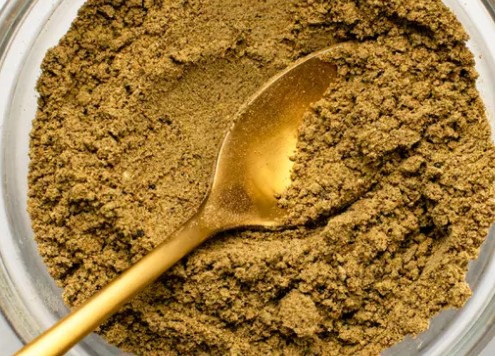 Chat Masala 
Zingy, tangy, and slightly hot, chaat masala is an Indian spice mix that adds a boost of flavour to a variety of dishes. The powdery spice gets its distinctive flavour from black salt, cumin seeds, coriander seeds, ground ginger, Amchoor, mint, black pepper, and salt. Sometimes used as a spice in cooking, chaat masala is most often sprinkled as a garnish on salads, chaats (savory Indian-style snacks), drinks like Indian-style lemonade, and meals like curries and dals.
7. Choti Elaichi/Cardamom – Green: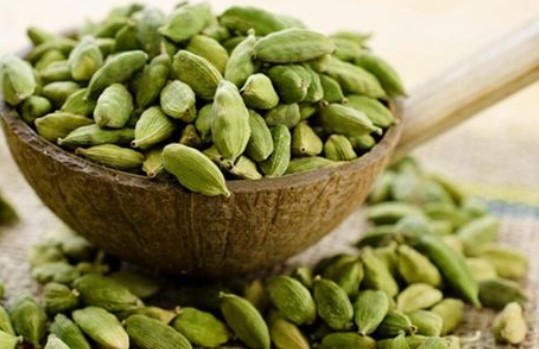 Choti Elaichi/Cardamom Green 
Cardamom is indigenous to the Malabar coast of India and belongs to the ginger family of spices. It's the third most expensive spice in the world, mainly because it's hand-harvested and requires a lot of manual work. While the green cardamom has a mild and light eucalyptus tone, the black cardamom is spicy, smoky, and generally used only for its seeds. Cardamom is most used to enhance the flavour of tea and puddings. Some of its health benefits are combating nausea, gas, increasing our appetite, and reducing heartburn.
8. Curry Leaves: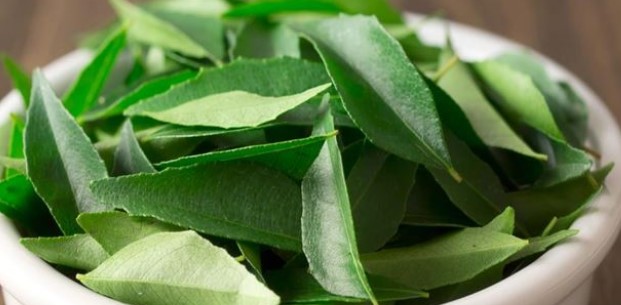 Curry Leaves 
The Curry Leaves is widely used in the southern region of India for cooking purposes because of its flavour. The best way to intake minerals is through our food and consuming curry leaves is beneficial for our body more than we know it. The curry leaves are filled with antioxidants and anti-diabetic properties. It is known to lower the cholesterol level and fight leukemia.
9. Dal Chini/Cinnamon: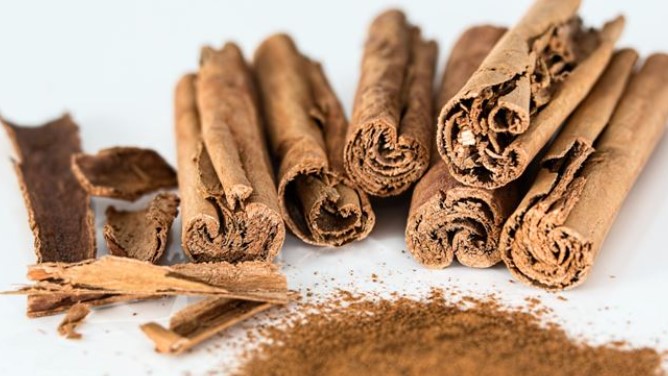 Dal Chini/Cinnamon 
Cinnamon, predominantly grown along the Western Ghats of Kerala and Tamil Nadu and widely used in Rice, Pulao, Chicken Biryani, Hyderabadi Biryani (basmati rice and lamb), is a sweet-tasting spice with a warm and woody aroma. Cinnamon can be used as a stick or in powdered form. These properties also make it a great ingredient for cakes and desserts. Along with adding flavour to food, cinnamon also has various health benefits; it's thought to lower blood pressure.
10. Dhaniya/Coriander Leaves: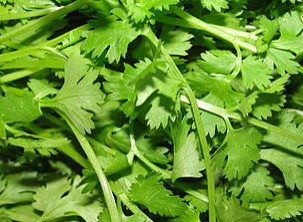 Dhaniya Leaves/Coriander Leaves 
Coriander Leaves are an ingredient in many foods, such as chutneys and salads, salsa, guacamole, and as a widely used garnish for soup, fish, and meat. As heat diminishes their flavour, coriander leaves are often used raw or added to the dish immediately before serving. In Indian and Central Asian recipes, coriander leaves are used in large amounts and cooked until the flavour diminishes. The leaves spoil quickly when removed from the plant and lose their aroma when dried or frozen. Coriander Leaves are helpful in lowering blood sugar level, rich in immune boosting antioxidants and improve digestion & gut health.
11. Dhaniya/Coriander Seeds: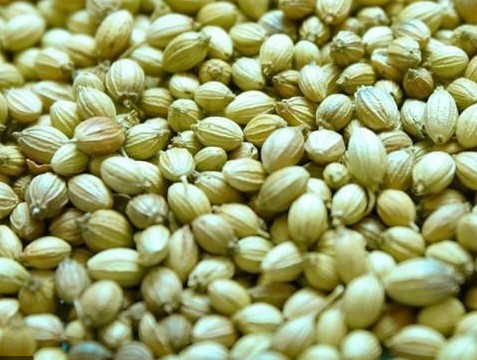 Dhaniya/Coriander Seeds 
Coriander is a member of the parsley family, and its seeds, often used as an alternative to salt, are oval, ridged and turn from bright green to beige when ripe. This spice tastes sweet and tangy, with a slightly citrusy flavour, and is among the oldest in the world. It's widely grown in the states of Rajasthan and Madhya Pradesh. Coriander seeds are fragrant, antioxidant-rich herb that has many culinary uses and health benefits. It may help lower your blood sugar, fight infections, and promote heart, brain, skin, and digestive health.
12. Garam Masala: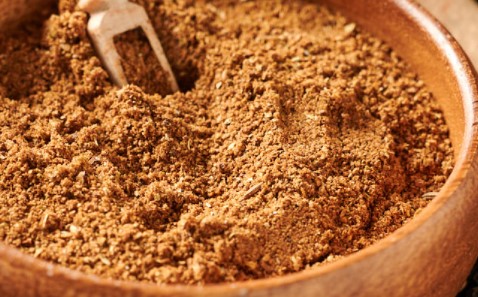 Gram Masala 
Garam masala, which translates as hot spice, is an Indian cupboard staple integral to many traditional recipes. The fragrant powder boasts a mix of common spices such as pepper, cinnamon, cumin, nutmeg, and coriander, which lend depth and flavour to dishes. Although the northern version is most commonly used, garam masala recipes vary by region, and many Indian families have their own unique blend. Add a couple of teaspoons to a simmering Indian sauce for a warming spice infusion.
13. Haldi/Turmeric: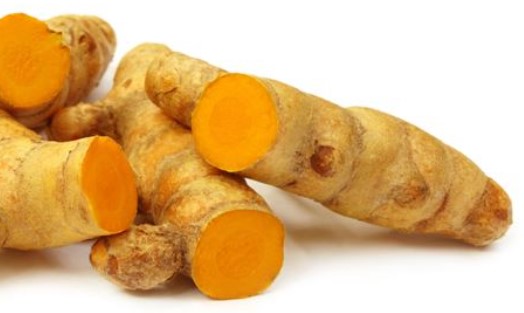 Haldi/Turmeric
Turmeric is a spice of every Indian household. It is the quintessential Indian spice that is used for every Indian food. It can be used fresh and dried powder. Dried powder/The golden powder is known to improve condition which may lower chances of any heart-related diseases. It also helps in digestion of food and has anti-bacterial, anti-inflammatory and antioxidant properties.
14. Hing/Asafoetida: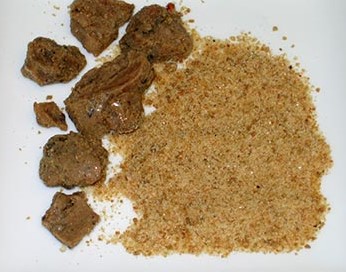 Hing/Asafoetida 
Asafoetida/Hing is a spice that has amazing properties that can treat different kinds of stomach related problems such as upset stomach, intestinal worms, intestinal gas, etc. Asafoetida derived from the resin taken from plants within the parsley family. It is usually added to hot oil before all other ingredients. It's valued for its truffle-like flavour and roasted garlic aroma. It is a flavouring agent in Indian food from North India to South India and every state in between. It's famously used as the main ingredient in the Indian snack, samber, dals and vegetables.
15. Jayaphal/Nutmeg:
Jayaphal/Nutmeg
The little nut which looks a lot like a beetle nut is one of the many spices used in making garam masala. The Nutmeg is known to detoxify the liver, helps in relieving congestion, and also good for your Kidney. Intake of the spice can prevent Kidney infections and diseases.
16. Jeera/Cumin: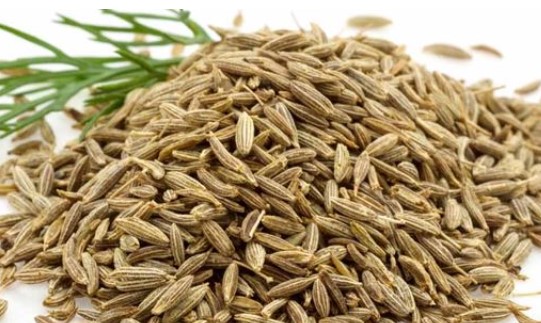 Jeera/Cumin Seeds 
Cumin is a savoury spice which is dried and cultivated. It is known to help in digestion of food, treat insomnia, good to have it when infected with common cold and also treats skin disorders. Cumin derives from the parsley family and adds a smoky note and a robust aroma to most Indian curries and vegetables. Fried in its dry form and roasted before use, cumin seed is usually the first spice added while cooking Indian dishes. It's also dry roasted and converted to powder before being added to recipes such as pudding and buttermilk.
17. Javitri/Mace: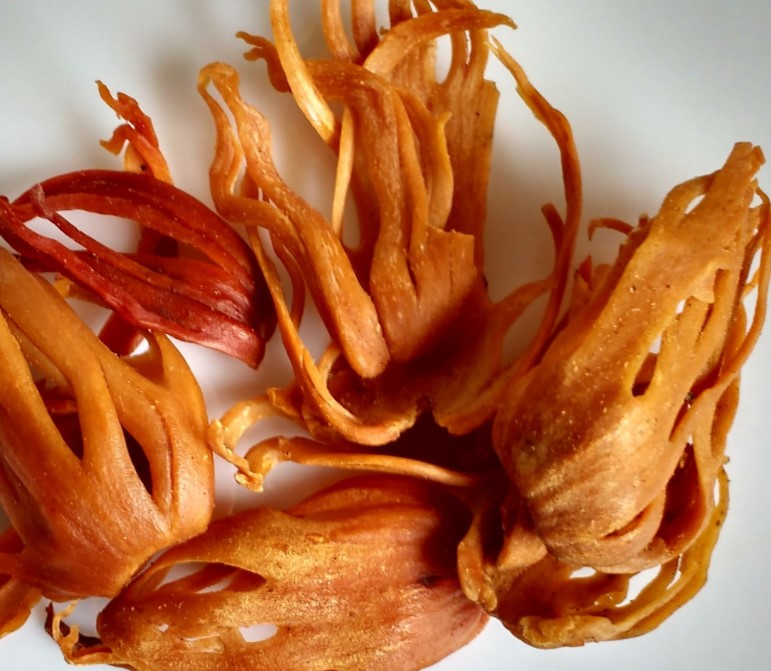 Javitri/Mace 
Javitri/Mace consists of necessary oils, which gives it a distinct rich aroma and a strong, warm taste. Javitri is hard to grind, so it is generally roasted until brittle, and then ground. Its mildly sweet taste is commonly used in infusions, like in milk for preparing white sauce, meat marinades and tadka for Kadi/curries etc. Chutneys and pickles are also generally spiced with javitri.  Javitri is a crimson red coloured thread like material that envelops the nutmeg. It is spicy in taste, somewhat like a combination of pepper and cinnamon, with a strong aroma. Javitri is the net like extra seed covering that covers the Nutmeg's seed coat. 
18. Kala Namak/Black Salt: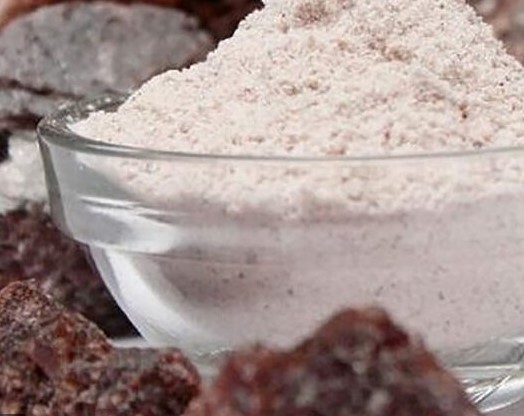 Kala Namak/Black Salt
Kala Namak or black salt is a commercially manufactured edible component that is made from the Himalayan salt. The salt crystals found in the halite mines of the Himalayan region are burnt in high temperatures and later mixed with few Indian herbs to give it therapeutic properties. Black salt has antioxidant properties and has surprisingly low sodium levels. It also contains important minerals like iron, calcium, and magnesium, which are essential to healthy bodies. Black salt stimulates bile production in the liver and helps control heartburn and bloating.
19. Kala Jeera/Caraway Seeds: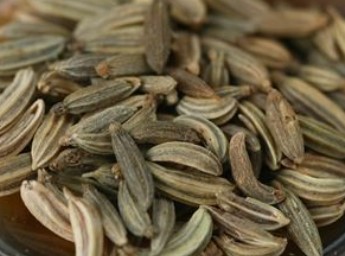 Kala Jeera/Caraway Seeds 
The Kala Jeera is known to relieve heartburns, lower cholesterol, and fight type-2 diabetes. The oil of the Caraway Seeds is also used as an antiseptic and also used as a treatment for relieving toothaches and gum problems.
20. Kali Mirchi/Black Pepper: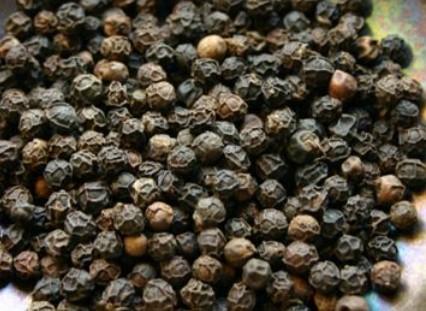 Kali Michi/Black Pepper 
The king of all spices, Black Pepper is grown in South India. It is the most popular spice and is loved by so many people and used by most of the nations. The sharp pungent black seeds are not only good in your food but it's also good for your body. The Black Pepper boosts our metabolism which helps our body to digest food properly. It also has anti-bacterial and anti-cancer properties.
21. Kalonji/Nigella Seeds: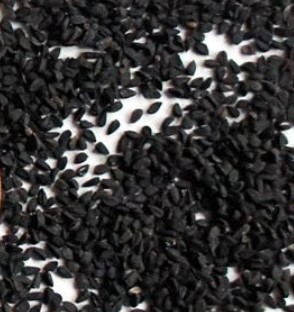 Kalonji/Nigella seeds 
The tiny black seeds that are used in biscuits or other snacks have been proven to improve the hair and skin condition of a person. The other benefits include liver detoxification and weight loss. So many wonders from the seed that is smaller than a grain of rice.
22. Kashmiri Mirch/Kashmiri Chilli Powder: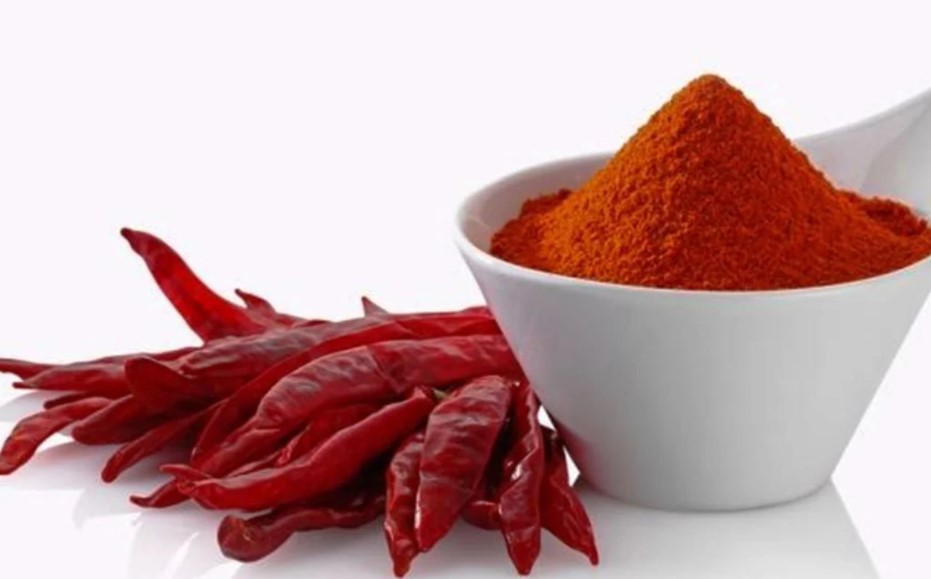 Kashmiri Mirchi/Kashmiri Chilli Powder 
Kashmiri chilli is one of the reddest varieties of chillies, ideal for tandoori cooking for spicyness and colour. Kashmiri Chilli Powder does not necessarily come from Kashmir; however, it is a popular Indian chilli with a very high colour content, and sweet, fragrant aroma. This chilli powder makes the food quite red, hence being popular in Tandoori and Butter Chicken recipes.
23. Kesar/Saffron: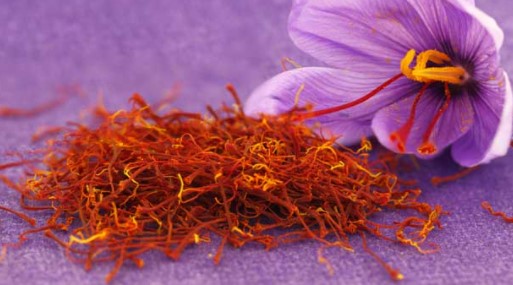 Kesar/Saffron 
Saffron is world's most expensive spice. Saffron is the stigma that is plucked from a low-growing, purple-flowered crocus.  Saffron is available in Kashmir and Iran.  It is believed to be more valuable than gold. This spice's most striking feature is its classic 'woody' and honey-like aroma & intense colour, which often softens after being soaked in water or milk. Premium quality pure stigmas have a. It is very light in weight - half gram pack contains approx. 250 stigmas.
24. Lal Mirchi/Chilli Powder: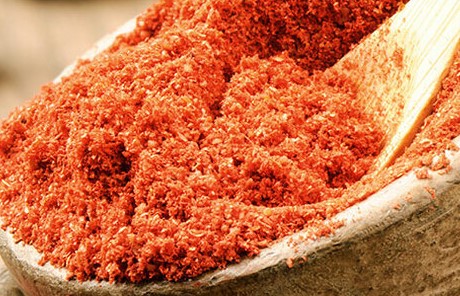 Lal Mirchi/Chilli Powder 
Red chilli powder is made from the seeds of red chillies, which is the hottest part. Chilli powder is exceptionally strong and used in small quantities. While it originated in the Americas, the Portuguese introduced it to India, and it has since become an integral part of Indian cooking. Various South Indian curries often call for the whole chilli.
25. Lehsun/Garlic: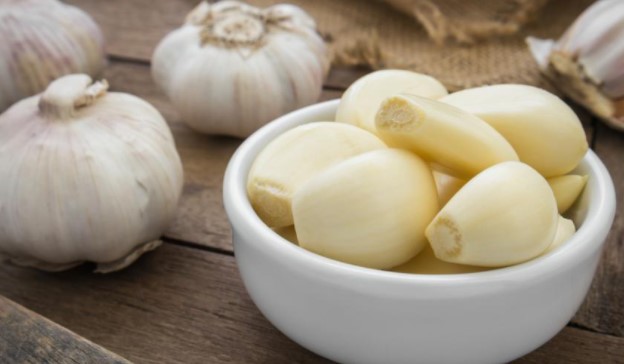 Lehsun/Garlic 
Garlic is used extensively in Indian cuisine, even if it isn't technically classed as a spice. You'll find it crushed up in chewy naan bread, diced and added into dips or infused with sauces and meat to add a strong and punchy flavour. If you're looking for a milder dose, garlic should be added at the start of a dish when you're frying your onions, as it tends to mellow and sweeten the longer you cook it.
26. Long/Clove: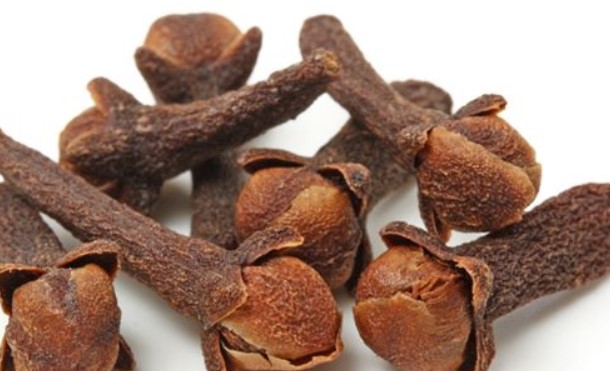 Long/Clove 
Cloves had been long known for its Ayurvedic medicinal purposes. From the time of ancient India till the modern day, clove is regarded as a healthy spice with healthy benefits. Much like cinnamon oil, clove oil is used for treating toothache, treating scrapes, bruises, and improving digestion. These fragrant flower buds, native to the Maluku Islands in Indonesia, are harvested from clove trees and particularly important in Indian biryani recipes. Cloves have an intense flavour and aroma that features sweet and bitter tones and are often sprinkled into garam masala mixes or paired with other spices such as nutmeg and cinnamon. Use this powerful spice sparingly to add warmth to Indian curries or meat rubs.
27. Mirchi/Chilli Flakes: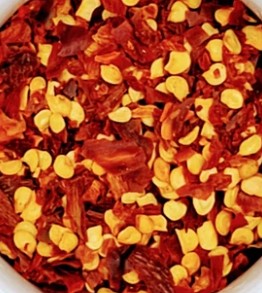 Mirchi/Chilli Flakes 
Chilli flakes are made with chili pepper and capsaicin. They are rich in vitamins, minerals, and various unique plant compounds. These include capsaicin, the substance that causes your mouth to burn. Capsaicin is linked to several health benefits, as well as adverse effects. It also has medicinal benefits, including aiding digestion and stimulating the circulatory system.
28. Methi/Fenugreek: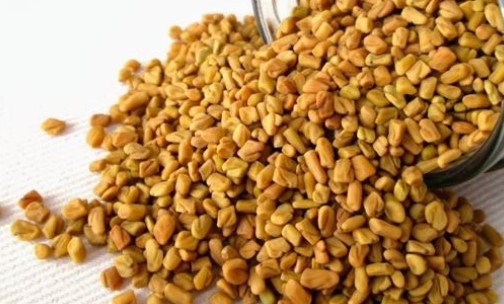 Methi/Fenugreek Seeds 
Fenugreek is a savoury spice which goes well with meat or vegetables. The little yellow seeds contain Galactomannan which is helpful in slowing down the sugar absorption rate into our blood. It is also good for lactating mothers, people suffering from loss of taste, and anaemia. Most commonly used in madras powder, fenugreek brings that signature curry smell and taste to Indian dishes. The tiny seeds can be bittersweet and have a bizarre maple-syrup undertone, which reduces when fried. It's potent, so it should be used sparingly. However, it does offer health benefits, such as reducing inflammation and blood sugar levels.
29. Moti Elaichi/Cardamom – Black: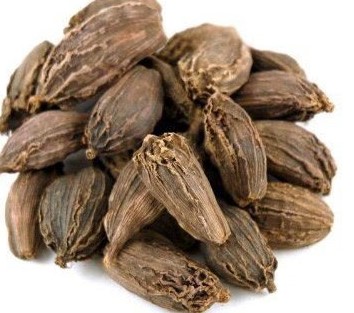 Moti Elaichi/Cardamon Black 
Cardamom is indigenous to the Malabar coast of India and belongs to the ginger family of spices. It's the third most expensive spice in the world, mainly because it's hand-harvested and requires a lot of manual work. While the green cardamom has a mild and light eucalyptus tone, the black cardamom is spicy, smoky, and generally used only for its seeds. Cardamom is most used to enhance the flavour of tea and puddings. Elaichi has many medicinal benefits. It imparts warmth to the body and has a strong aroma which helps in activating our taste and sensory elements, thus aiding digestion. It also helps in treating cold, cough, and certain respiratory problems.
30. Pudina/Mint: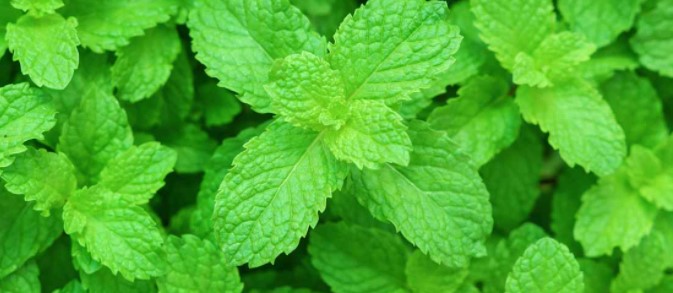 Pudina/Mint 
Mint leaves are rich in phosphorus, calcium and vitamins like C, D, E and A which improve the body's immune system. Everyone loves a good refreshing mint drink or some mint chutney. Apart from being refreshing and tasty, mint is helpful in fighting sickness and nausea, just a quick sniff or a small intake of the leaf can relieve the uneasy feeling. The aroma also helps activate the gland that secretes digestive enzymes, which in turn helps with digestion.
31. Safed Mirchi/White Pepper: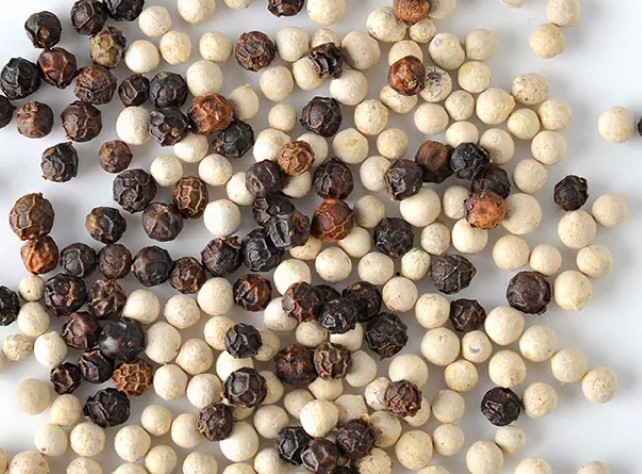 Safed Mirchi/White Pepper 
White pepper actually comes from the same plant as black pepper, but the difference between them comes down to how they're picked and processed. White pepper comes from berries that are picked at full ripeness. These berries are then soaked in water to ferment. Finally, the outer layer is removed leaving only the inner seed. Like black pepper, white pepper has been found to promote gut health and speed up digestion. White pepper also has very few calories, and can add significant flavour to a dish, lessening the need for salt. It can be used in soups and stir fries.
32. Sarso/Mustard Seeds: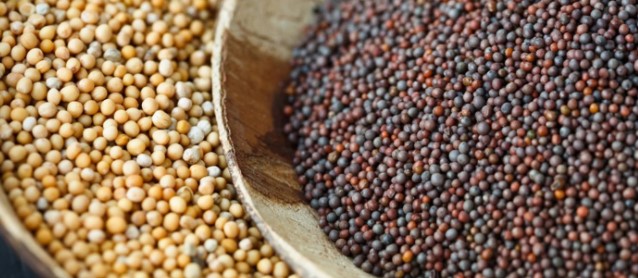 Sarso/Mustard Seeds 
The little black and yellow seeds from the mustard plant is perhaps one of the most important seeds to the Indians in general; the reason for it being the multi-purpose uses it has on the daily Indian household. The seeds are packed with vitamin B1, manganese, phosphorous, and omega 3 fatty acids. All this together helps our body improve the immune system, relieve the asthma patients, cure cold, etc. and the list goes on. The oil of the mustard oil is used for massages and has proven to relieve the muscle pains and spasms and also helps in keeping the hair strong and shiny. In Indian cooking, brown mustard seeds are more commonly used than the black variety. These seeds can be fried whole to flavour oil, which can then be used to cook raw food or as a garnish. While these seeds are native to Rome, the earliest reference to their use are in stories of Buddha, where he uses these seeds to save a boy's life.
33. Saunf/Fennel Seeds: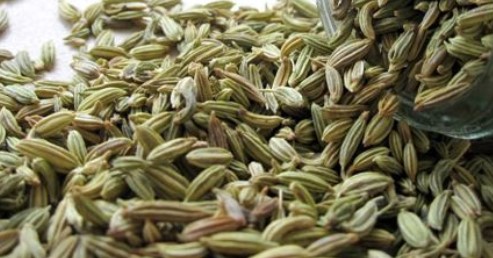 Saunf/Fennel Seeds
With its sweet, anise flavour, fennel is often served as an after-dinner palate cleanser. The spice is known to aid digestion and reduce bloating, which explains why it's commonly brewed as tea or offered candied as an after-dinner mint in many Indian restaurants. Fennel is a vital ingredient in many traditional curries, particularly of the madras curries, and is also used to season seafood and meat dishes. It is wonderful as a spice because it has that lovely, sweet kind of smell which taste great with fish and meat and also good as a sweet refreshment at the end of a meal. However, these little fennel seeds actually contain high amount of iron and calcium and also is a good source of fibre. So even without the extra medicines, the regular intake of saunf will help in providing your body with those extra minerals.
34. Soa/Dill: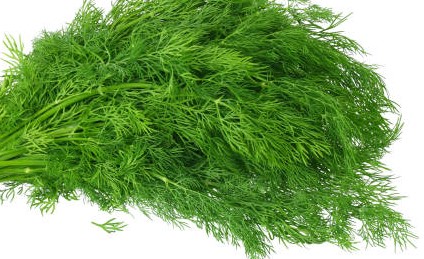 Soa/Dill 
Dill provides good amount of calcium to our body. Another benefits of eating dill is to have deep sleep and treat for insomnia. Its consumption improves antimicrobial activity which helps in keeping our body safe from microbial infections.
35. Tej Patta/Bay Leaf: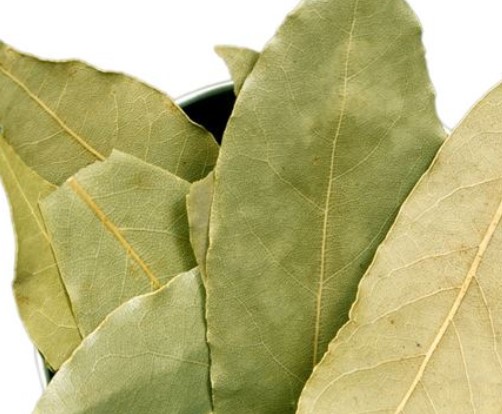 Tej Patta/Bay Leaf 
The aromatic Bay Leaves/Tej Patta were believed to be a symbol of wisdom, protection, and peace by the Ancient Greeks. Besides the fragrance, the Bay Leaves/Tej Patta is good for detoxification of our body, managing diabetes and also helpful for slowing the process of aging. Bay leaves are a fragrant leaf from the laurel tree. These leaves can be used as an herb. Fresh or dried bay leaves are used in cooking for their distinctive flavour and fragrance. It can be used in rice, pulao, vegetables, curries, and dals.

Neera Sahni, Research Services Leader, City of Parramatta, 2021