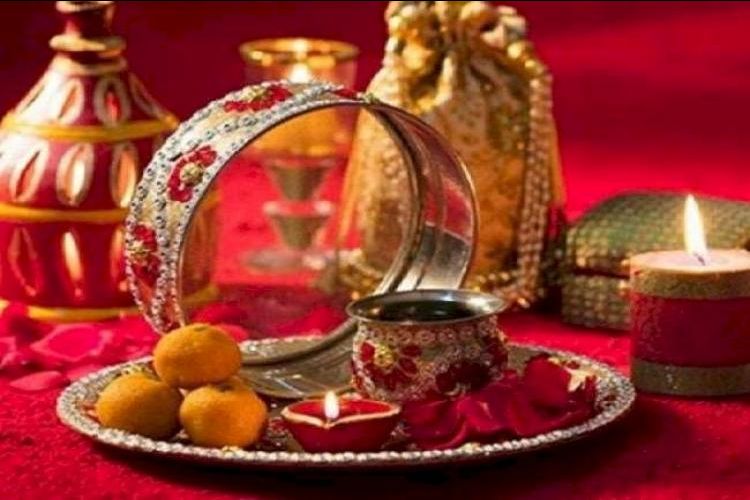 Karva Chauth is all about a woman's love and sacrifice. In Hinduism, Karva Chauth is one of the most auspicious festivals for women. On this day, married women keep a Nirjala (without water) fast not only for the long life of their husband but also as a symbol of love and affection.
According to the Vrath (Karva Chauth fast) Katha, there was a queen named Veerawati who deeply loved her husband. She also had seven brothers who loved her immensely. The story goes that one-day Veerwati was visiting her home during Karva Chauth while she was fasting for her husband's long life.
By evening, she began to feel a little faint and was eagerly waiting for the moon to come out so that she could eat something. Upon seeing her like this, her brothers could not bear to witness this and begged her to eat something. However, when she denied, they devised a plan to ease her misery.
One of her brothers climbed up a pipal tree and held up a sieve with a flame behind it. Their aim was to trick Veerawati into believing that the moon was out and that she could break her fast. Upon seeing the flame, the innocent Veerawati believed her brothers and broke the fast.
Unfortunately, the moment she did, the news of her husband's passing arrived within a few minutes. She began to cry when a goddess appeared in front of her and revealed that she had been tricked by her brothers. Veerawati promised to keep the fast with full devotion and begged the goddess to return her husband to life. This is when Yama, the Lord of Death saw her devotion and restored her husband's life.
Karva Chauth is a festival in which married women pray to Lord Shiva and Goddess Parvati for the long life of their husbands. They dress up in ethnic clothes and adorn all the traditional symbols of a married woman such as Sindoor (red powder dot on forehead). Women from the neighbourhood gather at one place where they hear the Vrat Katha (story of Veerawati) and sing hymns. Later in the evening, a Puja is performed and once the Moon is sighted, the fast is broken.
My take on Karva Chauth:
Yes, I'm fasting today and totally unapologetic about it. Not that I'm a believer in the moon and stars but they play an important part in our lives.
Then why... simply because, my husband in my life means a lot. This is my way of thanking God for this boon Fasting. I value our relationship more than basic needs of food and water. It reminds us the strong partnership. This day gives me the joy of celebrating his presence in my life.
Dressing up: Once a year my forgotten jewellery like bichu and Paayal come out. Mangalsutra is worn with devotion and pride. Mehandi, sindoor and bangles come in my life with him so are invaluable. This day, every woman can be bride again.
Katha: The real life and legend mix like no other. Age old innocence is recited, and you blow your head to tradition rather than logic. We all know that logic works but not always. A scope for some miracle can't hurt.
Does my husband do the same for me: Yes, more than one can except. I can't handle another irritating person in my life.
Mother-in-law: This day I thank my mother-in-law from the bottom of my heart for her son. I have one now and proud to say that he's like his father.
My parents: I thanks to my parents for teaching me Indian culture, values and admiration for one another. Though I am not living in India but very proudly follow and culture and vales.
Waiting for the moonrise: One day in a year when I observe and abide by nature! One day in our city life, we take time to admire its beauty.
So best wishes for Karva Chauth to all of you. May Goddess Parvati showers her blessings upon us and our family! May your married life nourish your soul and every single thought about your spouse bring about a mile long smile. And may the moon come out soon today!!
Happy Karva Chauth!

Neera Sahni, Branch Librarian/Team Leader - Heritage, Phive - 5 Parramatta Square,  City of Parramatta, 2022