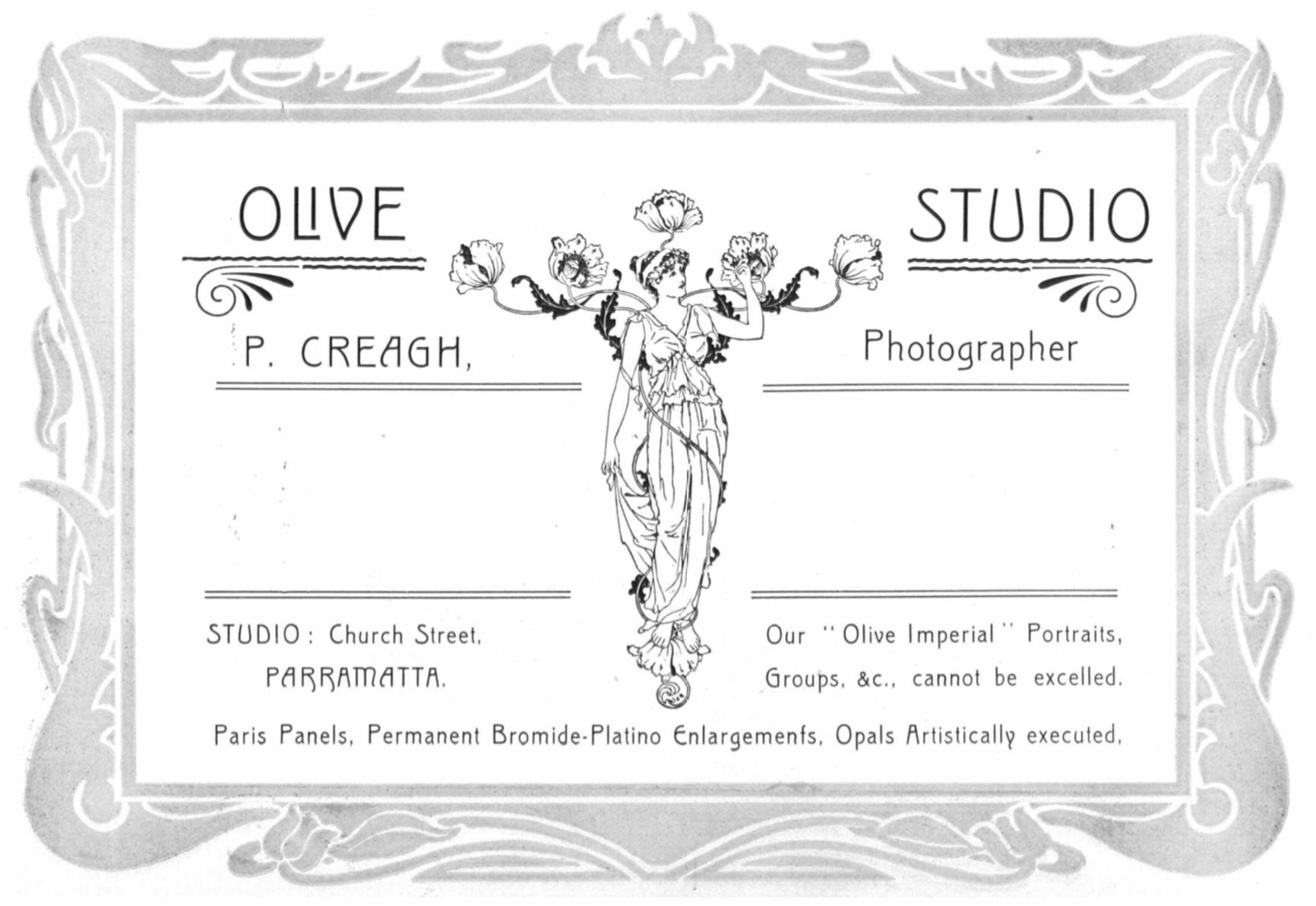 Olive Studios was a photographic studio on Church Street in Parramatta from around 1902. The proprietor was Parramatta's "artist photographer and picture-framer" Pearce (Percy) Rochford Creagh (c.1865-2.05.1958, aged 94)[2]. 
Creagh was born circa 1865 in Surrey, England, the son of William George Creagh and Rose Kate Creagh (nee Whiteford). By 22 February 1896, Creagh had migrated to Australia and at St. Davids Church on Arthur Street in Surry Hills, N.S.W., he married Rebecca Isabella Lee (nee Alwin) (c1865-1938), the widow of the late Joseph John Lee (d. 3183/1892 in Braidwood). After their marriage, he became the stepfather of Joseph L., William A. and Thomas 'Tom' Lee. In time, the family was joined by Doris Clare Haylor (née Creagh), Pearce 'Percy' William George, Olive Marie Mumford (née Creagh) and Maria Amelia Creagh. They initially lived in Granville.[3]

Creagh utilised the local newspaper and marketing to advertise his services to anyone who needed a photographer. From baby photos to "wedding groups, picnic parties, houses, landscapes, animal photography", he was willing to attend to anywhere and everywhere by special appointment.

Some of Creagh's photos of local events were published in the local newspaper like: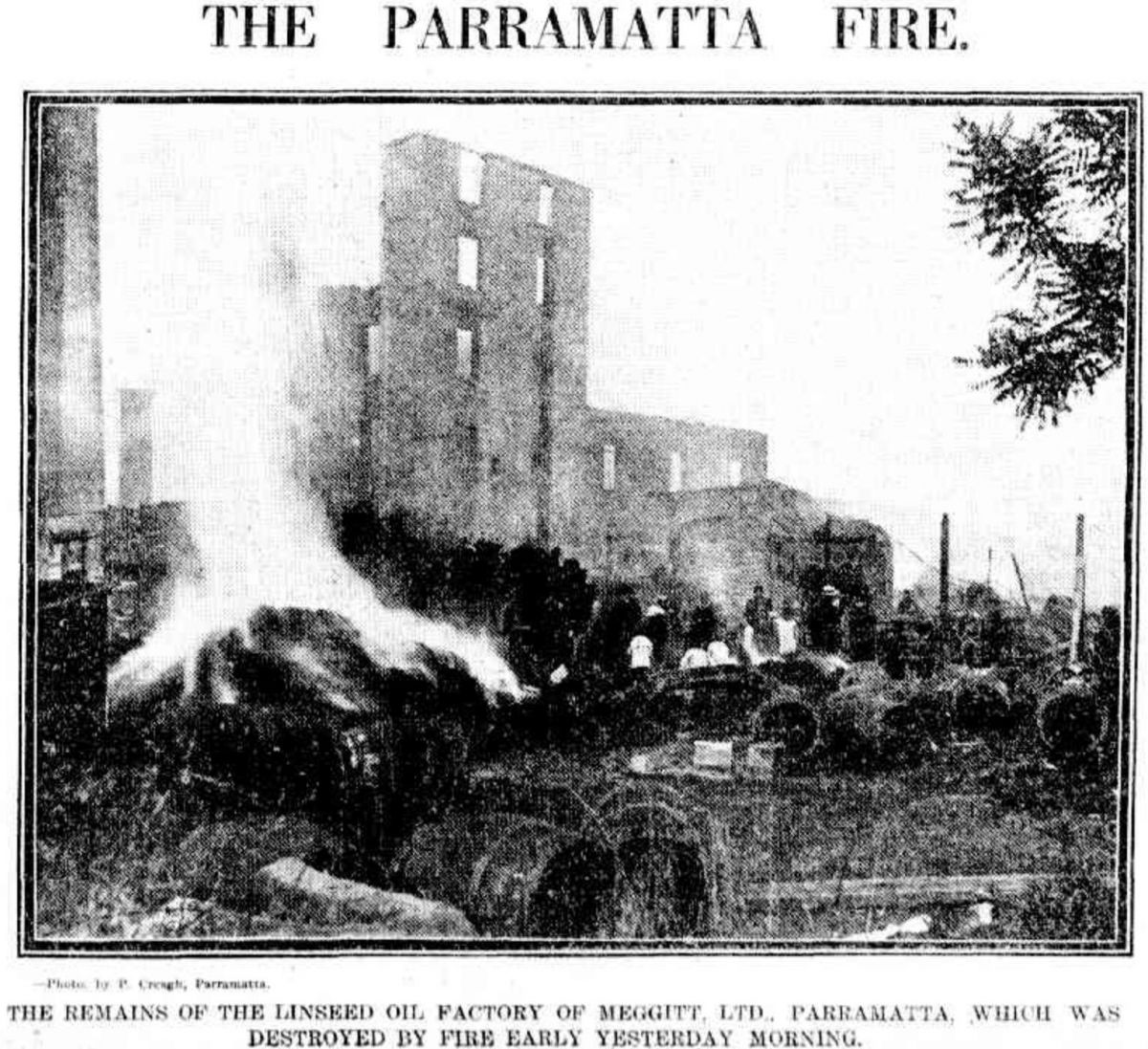 Going through the Sands Directory and local newspaper, Creagh's Olive Studio was established in 1883. In 1900, his studio was located on Woodville Road, Granville before relocating in 1902 to Church Street, Parramatta near Lennox Bridge. In 1907, he again relocated to larger premises on 192A Church Street, Parramatta, opposite the Post Office building which in 1923 was H. Bird Photographic Studios.[6] From 20 January 1914, he moved to his new studio on the north side of Macquarie Street, in between the former School of Arts and Mr W. F. Jago's Salesroom to its right and to its left Parramatta Cafe which was on the corner of Church and Macquarie Streets, the current site of the Murray Brothers building at 197 Church Street.[7]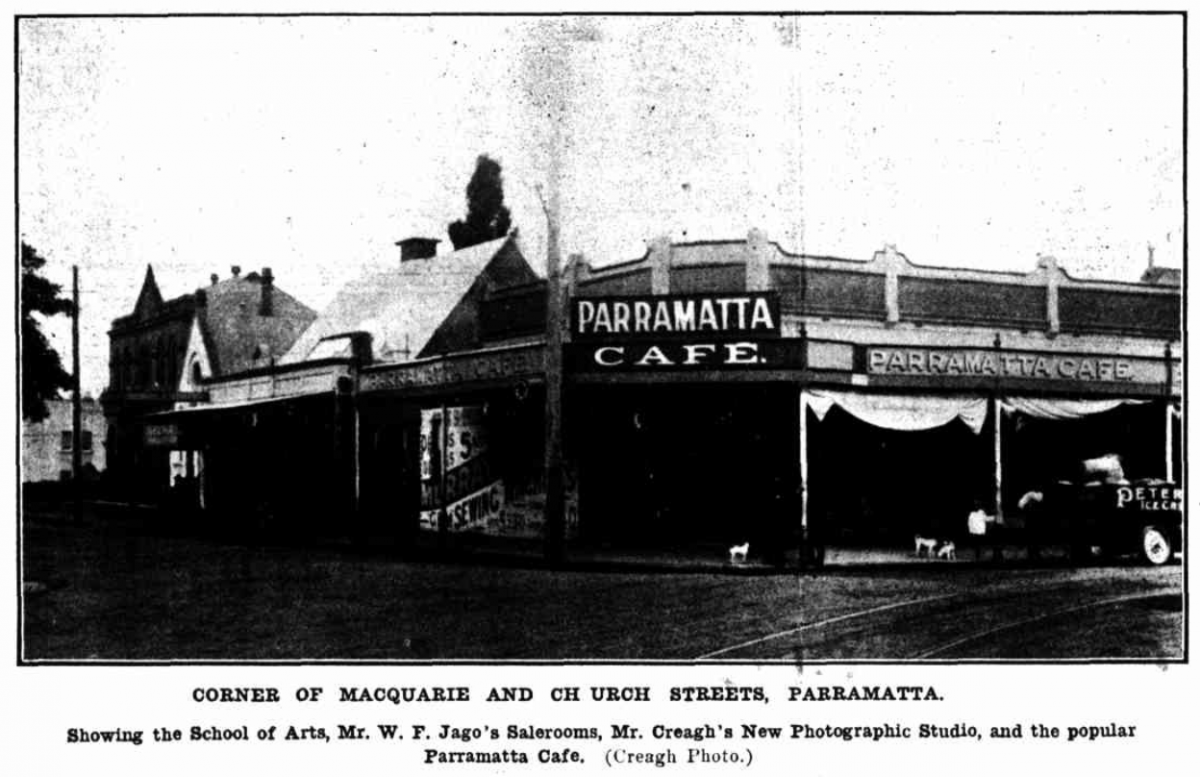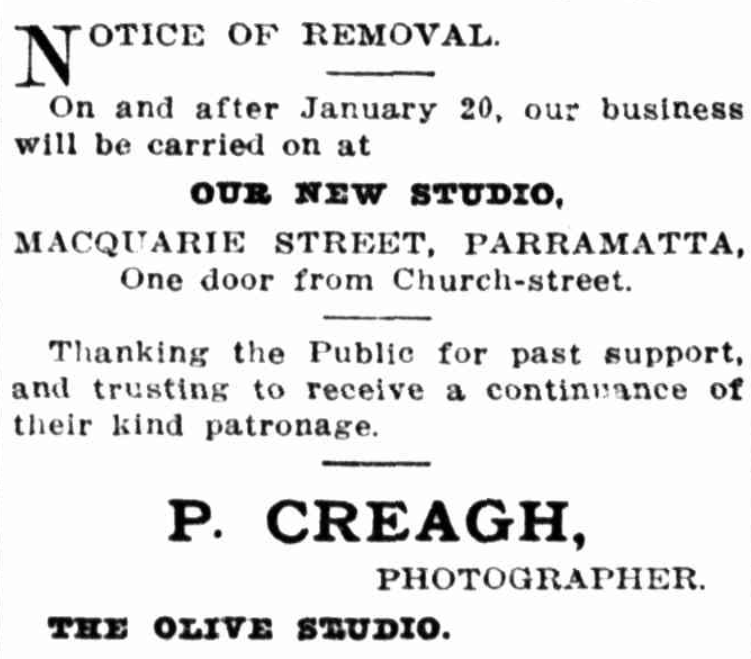 This Macquarie Street studio was later taken over in 1924 by Ermington-Rydalmere Council alderman and Mayor Alfred Edward Malinger (c1868-1942), who had previously ran Cabarita Studios for 30 years in Ashfield.[10]
During the Great Depression, he continued to work as a photographer until according the 1943 Electoral roll, he was listed as a storeman but still living at 24 Good Street in Westmead with his wife, son Percy and daughter Marie.[11]
On 2 May 1958, the Parramatta photo man Pearce Rockford Creagh passed away in hospital, aged 94. His last place of residence was Ocean View Road, Harbord and he was buried at Prospect cemetery where his beloved wife Rebecca had been buried earlier in September 1938.[12]
Below is a portfolio of some of Creagh's photos[13]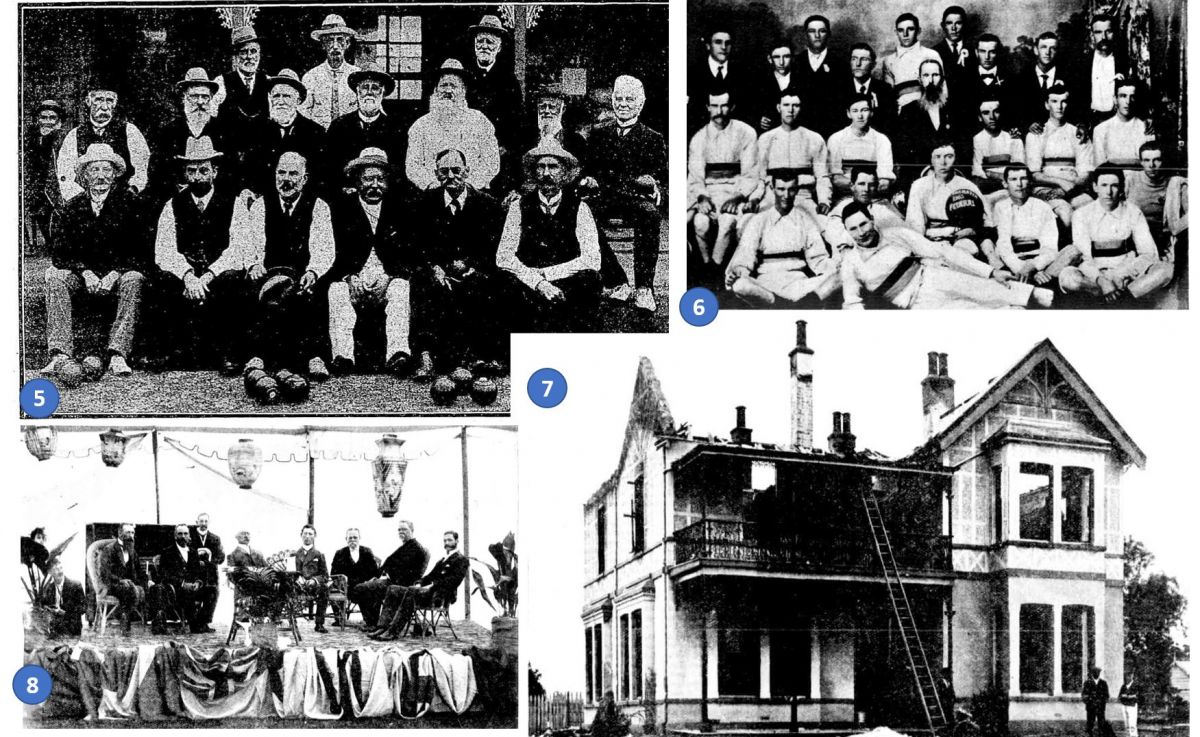 Anne Tsang, , Research Assistant, Parramatta Heritage Centre, City of Parramatta, 2021
References
Olive Studio : P. Creagh, Photographer [advertisement]  In Robert S. Hillier (compiler). (c. 1905).

Beautiful Parramatta : descriptive and illustrative.

Parramatta, [NSW] : Federal Printing Works, p. 55. Available online at

http://search.slv.vic.gov.au/permalink/f/1o9hq1f/SLV_VOYAGER1302817

The Olive Studio. [Advertisement]. (1900, December 14 & 21). Granville Independent and Parramatta Advertiser, p. 5. Retrieved from http://nla.gov.au/nla.news-article240071065 ; http://nla.gov.au/nla.news-article240071072 
Obituary [Mrs. Rebecca Creagh] (1938, September 28). The Cumberland Argus and Fruitgrowers Advocate, p. 2. Retrieved from http://nla.gov.au/nla.news-article104979176

Ancestry.com (2017) [Marriage record of Pearce Rochefort Creagh and Rebecca Isabella Lee] In

Sydney, Australia, Anglican Parish Registers, 1814-2011

 [database online].

Olive Studios, Parramatta [Advertisement]. (1903, April 4). Freeman's Journal, p. 30. Retrieved from

http://nla.gov.au/nla.news-article108258823

; Photographs. [Advertisement] (1903, December 5). The Cumberland Argus and Fruitgrowers Advocate, p. 9. Retrieved from

http://nla.gov.au/nla.news-article85686838

 
The Parramatta fire. (1914, December 1). The Daily Telegraph, p. 7. Retrieved from

http://nla.gov.au/nla.news-article238879522

City of Sydney Archives (2021). Sands postal directory. Available online at https://archives.cityofsydney.nsw.gov.au/nodes/view/495003 ; Photography. (1907, May 29). The Cumberland Argus and Fruitgrowers Advocate, p. 2. Retrieved from http://nla.gov.au/nla.news-article86161666 ; "Worth remembering" [Advertisement] (1923, October 20). The Cumberland Argus and Fruitgrowers Advocate, p. 9. Retrieved from http://nla.gov.au/nla.news-article105916756
Corner of Macquarie and Church Streets, Parramatta [photograph & advertisement] (1914, December 19). The Cumberland Argus and Fruitgrowers, p. 14. Retrieved from http://nla.gov.au/nla.news-page8962202
Notice of removal. (1914, February 14). The Cumberland Argus and Fruitgrowers Advocate, p. 10. Retrieved from http://nla.gov.au/nla.news-article85960784
Obituary [Mr. Alfred Edward Maling] (1942, May 13). The Cumberland Argus and Fruitgrowers Advocate, p. 7. Retrieved from http://nla.gov.au/nla.news-article107296839

Ancestry.com & Australian Electoral Commission (2010). Australian electoral roll [database online]

Creagh, Pearce Rochford [death notice]. (1958, May 3). The Sydney Morning Herald, p. 62 ; Creagh [funeral notice]. (1958, May 5). The Sydney Morning Herald, p. 21

Creagh's photographic portfolio includes