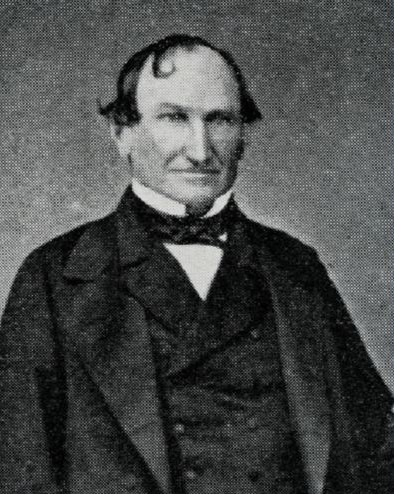 James Pye was the sixth child born to John and Mary Pye. He was born in Toongabbie in 1803.
When his father passed away he inherited land and resources in Toongabbie and along Windsor Rds, this was in 1830.
James was prominent in many circles in the Parramatta area and held many interests and concerns during his lifetime. He played an active and long lasting role in Parramatta's civic, social and agricultural growth.
Over his eighty-one years James Pye had many accomplishments:
He was a member of the Parramatta Road Trust in 1846.

In 1856 was elected to the New South Wales Legislative Assembly.

Alderman for Parramatta from 1862-84

Mayor of Parramatta in 1866-67.

A founding member of the Cumberland, Camden and Cook Agricultural Society

Actively and vigorously companied for Parramatta's water supply to originate from a dam built eventually built at Hunt's Creek, North Rocks. This included donating land and sandstone to the Council for this purpose.

When a member of the National School Board he offered financial security for the building of a National School building in Parramatta.

Securing two-hundred acres of land of the Parramatta Domain to be a park for the public.

Placed hundreds of pounds in the Municipality Bank for council wages and works to continue.

Presentation of one of the All Saints, Parramatta bells, along with many charitable donations to the churches in the area.

His orchards at Rocky Hall were internationally known and considered a model for others, with a report in 1870 stating: 'The orchards…of Mr James Pye are perhaps among the most complete…the apple trees of Rocky Hall are indeed a marvel..and the orange trees...it has been said by travellers of Spain and Lisbon to be of superior growth to any seen in those…countries…with its proprietor was of that class which is the strength and dependence of the country'

He was successful in the propagation of maize, turnips, and stall-fed cattle.

In his obituary written in the Sydney Mail it was said he was 'singularly shrew and perceptive…was of a very kind and charitable disposition…never made any display of his good and deed…his quiet and unassuming manners gained..respect and esteem of everybody'
He saw hard work and labour as 'sweetened enjoyment' and in Town and Country Journal of 1885 he wrote: 'I hope…that young people will shake off the idea that labour is a disgrace…. if they only knew the pleasure and comfort it will give them in their old age…they would...enter upon a course of activity and usefulness'
James Pye was married twice. At first to Sarah Best and then to Elizabeth Hibbard. Together they had a number of children, including; George, James, John, William, Mary-Jane, Thomas, Elizabeth, Sarah, Mercy and Amy.
James Pye passed away on the 30 December 1884 after being knocked from his horse by a runaway horse and cart. He was at his home Rocky Hall and is buried at St John's Parramatta. He was survived by his wife Elizabeth and children.
(From The Cumberland Mercury, Januray 3rd, 1885) … Alderman James Pye succumbed on Tuesday afternoon to the effects of the injuries he received by being knocked off his horse by a runaway horse and cart on Monday morning.
The deceased gentleman was the fourth son of the late John Pye, of Toongabbee, and was born on the 18th March, 1803, being therefore, at the time of his death, 81 years of age. From the little that can be gathered concerning his early life, it appears that he went to school for a period of about eighteen months in Sydney and this seems to have been the extent of his education, apart from what might have been gained under the parental roof. In those days the facilities for obtaining an education were not very great, schools were few and far between and the means of communicating with the metropolis were slow. Mr. Pye was, however, endowed with great natural ability, and this, to a certain extent, compensated for his deficient education. Like his father, he chiefly followed agricultural pursuits and was at one time very expert with both the plough and sickle ….. In 1856 Mr. Pye became a member of the first Legislative Assembly under responsible government and in conjunciton with the late Sir John Bayley Darvall, represented the North Riding of the County of Cumberland, but in 1861 retired …. At the first Parramatta Municipal election, in 1862, (sic.) Mr. Pye was returned at the top of the poll as one of the aldermen and he remained up to the time of his death a member of the Council.
He also occupied the position of Mayor from 17th February, 1866 to the 18th of February, 1867. At that period the Council was in great financial straits, but Mr. Pye generously became security for an overdraft in order to enable it to tide over its difficulties ….. Previous to the election for Forrest Ward in 1882, Mr. Pye had announced his intention of retiring form Municipal life but at the last moment was nominated and without any effort on his part, was re-elected. It may be said he died in harness, for at the time he met with the accident which brought about his end he was conveying to town a report he had received from Mr. Moriarty on the state of the dam wall at Hunt's Creek. Mr. Pye has been described as the "father" of our water supply scheme and it is not too much to say that had it not been for his perseverance, energy, and liberality the water would not have been brought into the town as early as it was …. In addition to allowing the stone of which the dam is built to be quarried on his land free of charge, Mr. Pye presented to the Council the site in which the engine house stands.
His exertions in connection with the erection and distribution of fountains throughout the town are too well known to need mention here, and it
only remains to be added that as trustee of the Anderson bequest fund he discharged his duty in an eminently satisfactory manner. Mr. Pye took a leading part in securing the people of Parramatta the beautiful block of 500 acres of land known as Parramatta Park.
In 1863 he was appointed a member of the Local Board of the new National school proposed to be erected in Parramatta and it was mainly owing to his exertions that the site was secured and the building now known as the Parramatta North Public school was erected. Mr. Pye generously came forward and became security for the entire amount to be raised and had it not been for his action Parramatta would probably not have possessed such a building for years to come.
He was also for years a member of the District Council …. The church of All Saints, Parramatta North was indebted to him for several donations. Mr. Pye's fame as an orange grower has spread far and wide throughout the colonies …. His orangery has frequently been the scene of a visit from distinguished agriculturalists … It is said that he spent an enormous sum of money on his Rocky Hall estate …..
The deceased gentlemen's funeral took place on Wednesday afternoon … The remains were conveyed from Rocky Hall to St. John's Church ….. Canon Gunther again officiated at the cemetery, and the coffin was lowered into the family vault ….

Neera Sahni, Research Services Leader, and Emma Stockburn, Research Facilitator Parramatta Heritage Centre, City of Parramatta, 2022
References:
Pye, James (1801–1884). Australian Dictionary of Biography; retrieved 31 October 2018. http://adb.anu.edu.au/biography/pye-james-4422
The Late Alderman James Pye: The Sydney Mail and New South Wales Advertiser (NSW : 1871 - 1912) 17 January 1885: 109. Retrieved 31 March 2022. http://nla.gov.au/nla.news-page16632464
A Genuine Public Spirited Man: the late Mr James Pye: Australian Town and Country Journal (Sydney, NSW: 1870 - 1907) 10 January 1885: retrieved 31 March 2022. http://nla.gov.au/nla.news-article71022166
Thomas, Christine, A Family of Significant Substance: 197 years of the Pye Family in Australia. Christine G Thomas, 1989.
Parramatta & District Historical Society, Men of Parramatta, Parramatta & District Historical Society, 2000.