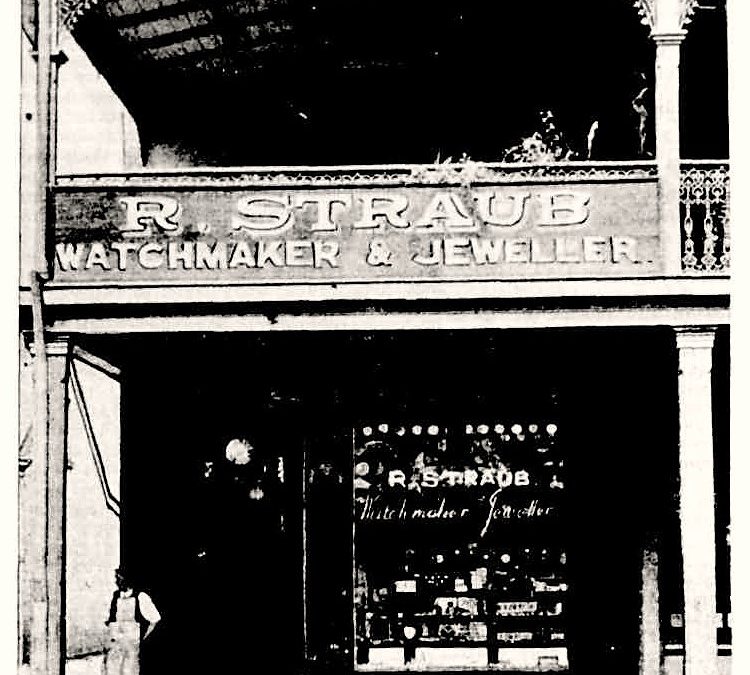 Richard Straub was a well known Parramatta businessman who operated a well-known watchmaker and jewellers establishment initially on Church Street, near Lennox Bridge before moving to 186 Church Street, Parramatta (east side) in between chemist Leslie W. Pye's building (number 184) and The Argus/Cumberland Argus building (no. 188), opposite the former Post Office building. That's where Greenway Arcade is now.
A German native, Straub migrated to Australia to manage and later on 10 February 1893 took over his uncle's J. Jerger and Sons watchmaker and jeweller business (established in 1889) on Church Street near Lennox Bridge when the Jerger family decided to move to Goulburn, New South Wales.
Staub was a trained watchmaker having trained and worked in Germany, England and Australia. He was naturalised in Australia around 1887 and in 1903 married a local Parramatta girl Miss Zella Carpenter (who died on 15 October 1958 in Granville, aged 70). They also had a daughter and son.
During World War One (1914-1918), Richard experienced discrimination and sadly never recovered as he died on Sunday 5 August 1917, aged 59 due to heart issues. He was buried at Rookwood Cemetery near Lidcombe. His widow Zella attempted to keep the business running but eventually the business was sold and became Douglas Shoe Store operated by Jim Douglas from 1918 to 1930.
George Thomas Erby, 222 Church Street, 1930-36 Around the great depressions of the 1930s, George Thomas Erby (died 28 June 1946) purchased the shop premises formerly occupied by Leslie W. Pye (chemist), Richard Straub (jeweller), and John Taylor (auctioneer), and added them to his original shop "Wycombe House" which he built in 1916.
On 11 June 1936, a public notice was published in The Cumberland Argus and Fruitgrowers Advocate (page 4) announcing Mr Erby's intention to retire. It would appear Wycombe House then became Ashley's Church Street Parramatta also known as "Parramatta's Fashion Store". Opened in September 1936, it was the ninth Ashley's store of the Buckingham Organisation Group established by Ashley James Buckingham (1898-1962), who later became a City of Sydney alderman from 1941-1944.
G. J. Coles and Company Limited, 1950s-60s In the early 1960s, G. J. Coles Company Limited acquired Ashley's and made extensions to their Coles Parramatta store which connected the site from Church Street through to Macquarie Street as published in The Cumberland Argus, 8 February 1961, page 3. Based on recruitment notices in the Sydney Morning Herald it appears the store had a food hall, snack bar and cafe section in line with then Managing Director of Coles Edgar Barton Cole's vision of delivering a chain of supermarkets that are "tomorrow's shops, today".
Greenway Arcade, 222-230 Church Street, 1981- present In early 1980, G. J. Coles Company Limited put their 2 storey L-shaped building with a usable floor area of about 4,300 square metres at 222-230 Church Street and 52-54 Macquarie Street, Parramatta up for public auction. The site had a total land area of about 2,833 square metres with a frontage of 21.8 metres to Church Street and 14.84 metres to Macquarie Street. It was initially sold in February 1981 to Lewis Developments Proprietary Limited, part of the Concrete Constructions group for $3.6 million who converted the building into a multi-tenanted arcade and possibly renamed as The Greenway Centre we know today. It featured 21 shops on the ground floor, air-conditioning and a large open area food court in the centre. The upper first floor was which had a separate entrance to/from Horwood Place was divided into 9 offices. By 23 May 1984, The Sydney Morning Herald reported The Greenway Centre had been purchased by the Aetna Properties Limited, part of the Aetna insurance group for $8.2 million.

Anne Tsang, Research Assistant, City of Parramatta, Parramatta Heritage Centre, 2020
References