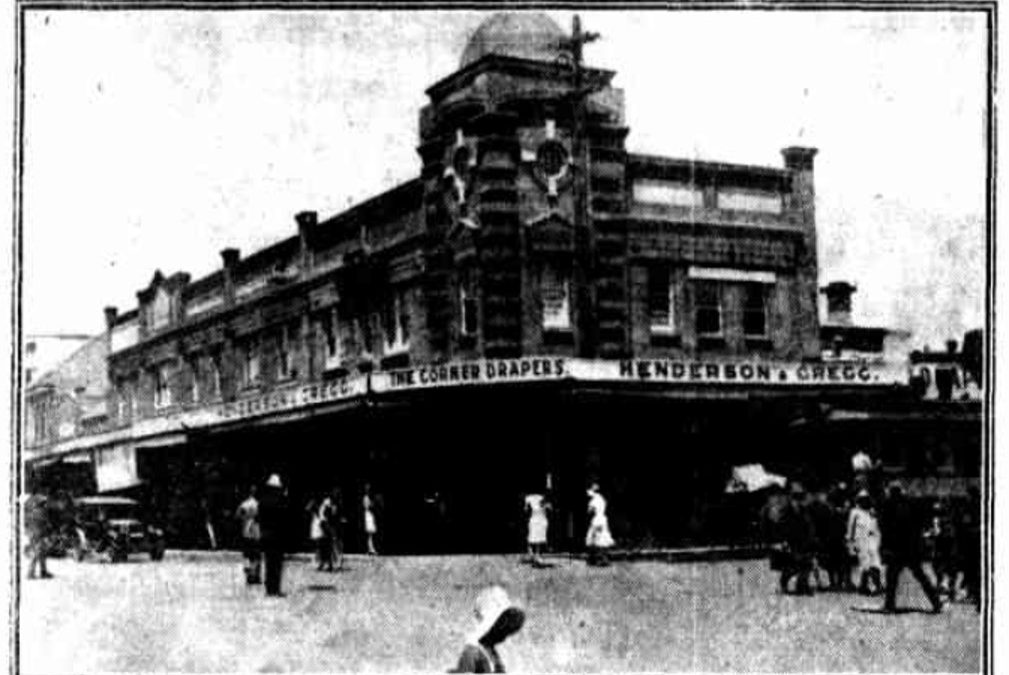 In mid-1923, Mr. James Reid Dill Henderson and Mr. Harold Gregg, business partners of Henderson and Gregg's opened their draper and milliners store on the south-west corner of Church and George Streets, Parramatta, having taken over Mr W Turnock's well-known draper business.[2] To mark the occasion, a 'sensational introduction sale' 'at unheard-of prices' was held[3]. Their previous general draper business was in Hamilton, Newcastle, N.S.W. was by then sold to John Foy Glynn with the right to use their name for 12 months from 1 August 1923 to 1924.[4]
The site of the Parramatta store was on the south-west corner of George and Church Street, Parramatta. It is currently occupied by the Commonwealth Bank at 235 Church Street. The site in the past was once the site of the local courthouse and Scottish Church before both were demolished. All that remains of these significant buildings is a circa 1838 heritage listed Court house wall and sandstone cell block and potential arch at the rear of the present site.[6] 
Henderson and Gregg's were a popular business and advertised frequently in the local newspaper. Below is one of their advertisement showcasing some of the merchandise they were selling in their prime.
In 1931, Henderson and Gregg acquired the adjoining premises (of Moran & Cato) to expand their business. The whole of the interior was remodelled to cope with increased business and an archway was constructed between the two buildings in addition to works which modernised the exterior building [9]
In December 1941, Gregg was elected to the then Baulkham Hills Shire Council as a councillor representing B Riding (ward)[2] and he served until 1944.[13] 
On 29 May 1942, Henderson and Gregg Pty Limited went into voluntary liquidation with Anstey Withers Rockwell (Chartered Accountants) of 62 Margaret Street, Sydney appointed Liquidator after a Special Resolution was passed.[14]
In 1943, during an inquiry into the suspension of then Shire Clerk Major H.C. Hain, Gregg stated he was a retired business director of Henderson & Gregg's having been a partner for 19.5 years and was by then a poultry farmer at Mornington, Castle Hill.[15] On 14 February 1948, he passed away at a private hospital in Strathfield. He was survived by his wife Clare Louise Gertrude Gregg and daughter Dawn Gwendoline Kirkwood.[16]
James Reid Dill Henderson of 11 Harris Park Estate, 42 High Street, Harris Park (Sec 11, lot 22 no 31603)[17] passed away on 17 June 1945 at his residence, aged 65. He was privately cremated at Rookwood and was survived by his wife Martha (née Thomas) and sons Gordon and Dugald.[18] His son Malcolm Haslam Henderson, predeceased him having served as sub-lieutenant of the HMS Sultan of the Royal Australian Naval Volunteer Reserve and died on 30 April 1942, aged 26 and buried at Kranji War Cemetery in Singapore (grave reference coll.grave 31. D. 1-17)[19]
In the years that followed, the building has since been demolished and as previously mentioned is currently the Commonwealth Bank.

Anne Tsang, Research Assistant, Parramatta Heritage Centre, City of Parramatta 2020
References